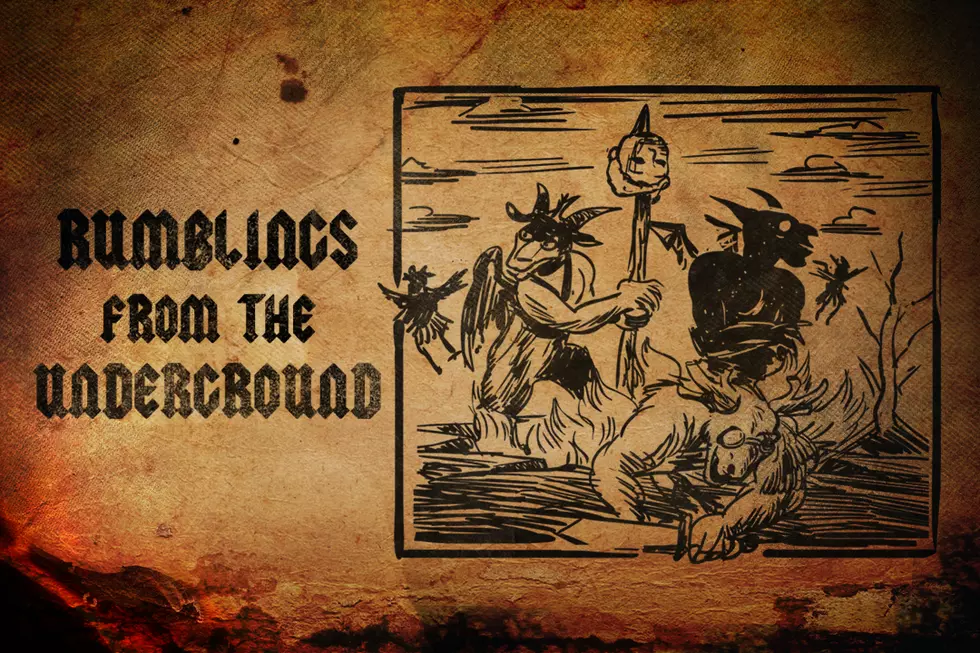 Rumblings From the Underground: The Golden Grass (Exclusive Album Stream), Mantar, Goatess + More
Loudwire
'Ello! In this week's Rumblings From the Underground I've got a double dose of goodness from sunny day rockers the Golden Grass! Directly below you'll find a stream of their sophomore album, Coming Back Again, and at the bottom of the page is a short interview with the guys as they discuss the record, the retro rock scene and opening a show for Deep Purple. If you like what you hear, the album comes out tomorrow (April 15) so go get yourself a copy here!
Of course there's still a little bit of news from the week and five short album reviews from Goatess, our spotlight heroes the Golden Grass, Mantar, Nucleus and Primitive Weapons. Start playing Coming Back Again and then get to some reading!
---
News
---
Atala are one stoner doom act you must keep an eye and at least two ears on. Their new song "Gravity" (heard here) takes the desert-wandering heft of Sleep and combines in with Mastodon-esque moments if you found one of their LPs and 45 RPM and slowed it to 33. That should be convincing enough, no?
Coffin Dust play a devilish blend of horror thrash and death metal, falling somewhere between Ghoul and Autopsy and anything found on Razorback Records. "Gore Ensemble" (heard here) is the newest track from the grimy quartet and it's full-on party time for the dead.
Alright, we heard from Coffin Dust and now it's time for Coffin LUST! All I should need to say is "Australian death metal" and you should be clicking here without any other preemptive. If you do need one, I'll oblige. Coffin Lust are what their names says: they sound like they can't wait to die. How's that?
---
Reviews
---
Goatess, 'Purgatory Under New Management'
Goatess are back with their sophomore effort, the brilliantly doomy Purgatory Under New Management. the album boasts eight songs totaling over an hour of Black Sabbath meets Sleep riffmania. Their music is keen on mounting tension with a sloth-pace and lumbering guitar work, often alining themselves with the ethos of early Om material, driving home repetition through a hypnotic state made clear from the start on album opener "Moth to Flame."
Singer Chritus (Christian Linderson — Lord Vicar, ex-Count Raven) can easily be mistaken for Ozzy Osbourne, a quality always welcome in this brand of doom. Goatess win song title of the year with "Crocodilians and Other Creeping Crawling Shhh..." and the song delivers as much as its title does.
---
The Golden Grass, 'Coming Back Again'
If you've made it this far, you've undoubtedly already familiarized yourself with the Golden Grass. Their sophomore record, Coming Back Again, is streaming in full at the top of the page, so start jammin' it if you haven't! The album starts off with a conscious finger on the pulse of society on "Get it Together." The guitar tone sounds like it came from Sabbath's Never Say Die, but the songs are far from the mediocrity of that record.
"Reflections in the Glass" is arguably the best song here, featuring vocal trade-offs and dreary guitar work interspersed with whimsical clean-picked moments and a union of the dueling singers. "Hazy Daybreak" serves as a pleasant and calming break, furthering the laid-back nature of the Golden Grass' style before the final two songs finish off Coming Back Again.
Check out the interview with the band at the bottom of the page.
Listen to the Golden Grass at the top of the post
---
Mantar, 'Ode to the Flame'
Mantar have been on my radar since I saw them level Rams Head at Maryland Deathfest last year. The duo had a devastating presence as frontman Hanno did his best to conjure the entranced spirit of Justin Broadrick circa 1990. Undeniably catchy riffs and the vocal exchange between him and drummer Erinc had me from the first few moments. Here we are one year later with the German outfit's sophomore album, Ode to the Flame, and it's everything I expected.
Every track here straight up rips, strapping tank treads on riffs and trampling everything ahead with a trail of smoldering ruins in its rear view. I didn't think anything could be this catchy and simultaneously and unequivocally crushing. Sludgy black 'n' roll with a morbid punk attitude — why say more?
---
Nucleus, 'Sentient'
Oh sick, a lost death metal relic from 1993! Well, maybe not... but it sounds like one! The press release mentions similarities to both Timeghoul and Demilich, which is perfect because if they didn't point it out, I was going to. Hell, toss in a nod to Disincarnate too! Now that I have your attention, Nucleus' Sentient is a top-tier death metal record that wears its influences on its denim jacket, but brings a fresh and exciting sound in tow.
The Dan Seagrave artwork is an immediate indicator of what to expect before even taking a listen. Worth every bit of the artist's legacy, Sentient is rounded out by powerhouse cuts like "Swarm" and the lumbering "Insurgent." Stop listening to me and start listening to Nucleus!
---
Primitive Weapons, 'The Future of Death'
Brooklyn post-hardcore heavyweights Primitive Weapons are back with their first album in four years. For a while it seemed the band who authored "Quitters Anthem" had taken their own words to heart, but they were just busy with other ventures like running the metal haven Saint Vitus. With music back at their collective forefront, they've dished out a volatile offering in The Future of Death.
The Future of Death is eight tracks spread across 34 minutes of uncompromising nut-stomping from the first notes of opener "Ashes or Paradise" to the final moments of the send-off "Widow Rehearsal." Between fits of fist-flailing rage are more somber moments, occasionally meeting head-on with tracks like "Whistle Past the Graveyard."
---
Interview With the Golden Grass
Coming Back Again has a looser feel than the first album. Was the idea behind this album to let things flow a little more?
Well the first thought regarding this question is that we were just more experienced as a band and we had over a hundred gigs under our belt including two European tours before we went into the studio to record our second album, whereas our first album was recorded only about three months after our first performance ever, so we were still a new band then in the beginning, and you can really hear the lack of looseness in our playing on that record, although we are still very proud of the compositions and our performances on the debut.
Plus we had been rehearsing extensively and rigorously before recording our second album. For about six months leading up to the initial recording date we had been demoing and rehearsing all of the material ad nauseam, so by the time we went in to track we really had everything internalized and we were really able to just breathe out the music. So it's quite refreshing to hear that this album is being received as having a looser feel even though compositionally it is more dense and more progressive than the first LP.
With all of this in mind though, there was no particular thought process or concept to make the album looser, you are just hearing the obvious byproduct of the hard work we've been putting into the group and that we sound like a relaxed and prepared musical unit.
With retro rock in full bloom, a lot of bands tend to focus on the occult and hone in on darker elements. The Golden Grass are a feel-good, hair-in-the-wind type of band with introspective lyrics. What was the main message you wanted to convey with this album?
I think that the current trend of dark music is something that we wanted to react against when we put this band together. There is absolutely no shortage of darkness, sadness, horror, pain, etc in the world, more so obvious now than ever before in history due to the digital communication age. And to be a conduit and continuation of those dark energies in an artistic way is about the most base and low vibrational response possible. It takes very little effort to reflect more pain and sadness and horror back into the world, but it takes tremendous efforts to find joy and brightness and lightness within yourself and the world and transmute the awfulness of reality into a positive artistic outlook.
So since day one our motto has always been feel good vibes, upbeat music, something to smile to, something to make you dance to, and energetically uplifting, and unfortunately there is such a lack of that in the current underground music scene that we are automatically linked as a '70s style rock band because that's the last time people were making music that felt this way! So for us, we are happy to tap into those same energies and, of course, we love that classic era too!
Furthermore the occult is of very deep and sincere interest to me and I don't think there is anything connecting occultism with darkness except trends and lazy research, and I hate that most people have misrepresented magic, occultism, etc in their 'dark' music. At the same time, of course, I do love a bit of black metal and death metal and neo-folk and other dark music, but there just seems to be no end to the amount of bands digging into the same cliche imagery and overused and misguided concepts these days.
With this album, we are not trying to say anything specifically new, its just taking the next step in documenting the new group of songs we've written, I think that individually and collectively the songs fall in line with what we've always been trying to do and we hope that the listeners is both uplifted by the nature of our sounds and challenged and inspired by the musicality of it.
You've opened for Deep Purple with just one album under your belt. What was the crowd reaction hearing such a new band play a distinctively older style?
This is probably the single best show we had ever played in the US. That's because we played one of the most legendary rock venues in the country [Capitol Theatre, New York] with an insanely good state-of-the-art sound system in a giant amphitheater filled up with people who love heavy and classic rock opening up for one of the most important bands ever related to what we do, so the energy and vibe was absolutely awesome — and most of the audience had no idea that there's even current bands like us in existence or any sort of underground rock scene, and to be honest I'm sure most people when they go see a legacy act like Deep Purple, usually the openers are terrible bar rock band that they could care less about, but since we kind of know what the hell we're doing I think we blew everybody's mind that night.
The show went pretty much perfectly and we got a standing ovation when we finished the set. We didn't really get to meet the guys in Deep Purple, but, to be honest, it wasn't really about that for us at all, it was more about getting to play a show for the perfect crowd in a killer venue for about a thousand people and from our point of view we totally slayed.
Thanks to the Golden Grass for the interview. Click here to snag your copy of 'Coming Back Again' click and for further information, click here.
---
Epic Rock Tales - GWAR's Oderus Urungus Has Cuttlefish Sex Organ Confiscated By Police
Top 25 Extreme Metal Albums of All Time