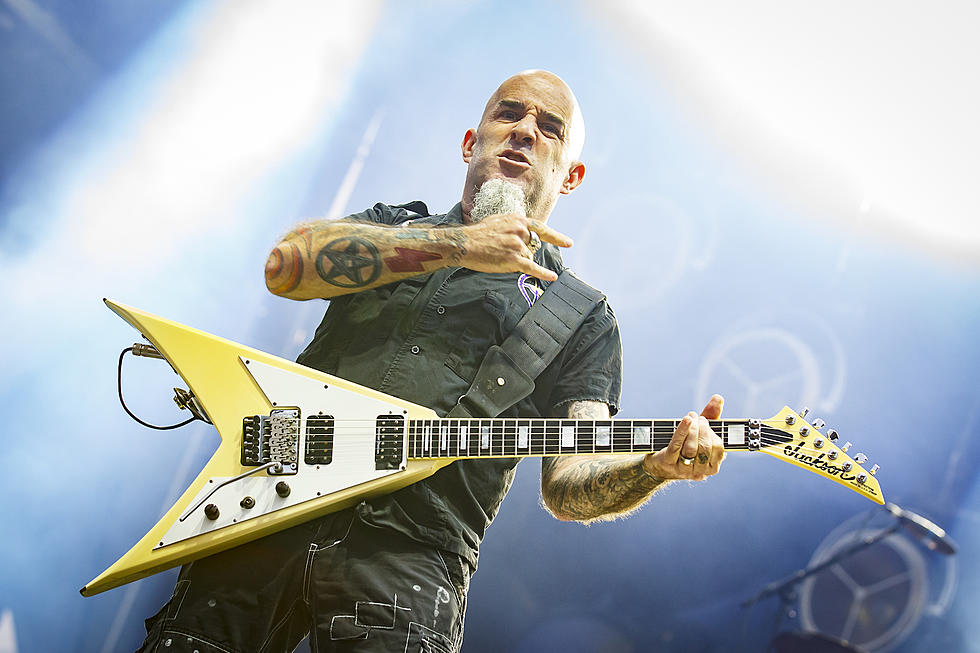 Scott Ian Names Best Song for Someone Just Getting Into Anthrax
Mark Horton, Getty Images
Scott Ian has named the one song that's the best introduction for people who are just getting into Anthrax.
The answer came via Revolver's ongoing "Point of Entry" series where artists identify their band's ideal gateway song for someone who has never heard their music before.
Past participants include Jonathan Davis (Korn), Amy Lee (Evanescence), Maynard James Keenan (Tool) and several others and now it's Ian's turn to take a stab at it, electing the Among the Living standout "Caught In a Mosh."
"It's like a greatest hits in one song. It's got so many different aspects. It's got hardcore, it's got rock, it's got metal. That main riff is like an AC/DC riff, but then you've got a hardcore breakdown in the middle, you've got the down-picking verses. It's fast, it's mid-tempo, it's slow. It's got everything," Ian boasts.
It's certainly one of Anthrax's most popular songs. "Caught In a Mosh" is the fifth most-watched video on the Big 4 thrashers' YouTube channel, their third-most streamed song on Spotify (behind "Medusa" and the cover of Joe Jackson's "Got the Time") and is by far their most-played song live, having been performed over 1,400 times per setlist.fm.
"And it's the one song — and someone will probably go to setlist.fm and correct me — but I'm pretty sure it's been in every live set since Among the Living came out. I think it's the one song that's never been out of the set," Ian adds, which is a testament to the song's greatness.
READ MORE: Anthrax's Scott Ian Names the Most Underrated Rhythm Guitarist in Metal
He also says it's "the most fun song to play" because of how busy the track is. "It really still keeps me on my toes," Ian admits.
Earlier this year, Ian broke down the heaviest Anthrax riffs in a video published by Revolver, naming "Caught In a Mosh" as one of those choice selections.
Regarding the part that comes before the lyrics, "Think before you speak / Or suffer for your words / Learn to give respect that others give to you / Oh, the best you can do," Ian said, "That buildup when we go into that [vocalizes riff and air drums] I just can't help myself — I feel the wind at my back. I can't help but stomp and bang my head whenever we play that part. That breakdown section of 'Caught In a Mosh' would have to be on my list [of heaviest Anthrax riffs].
Artists Name the Best Song to Introduce People to Their Bands
These are the tracks where fandom begins.
Every Thrash Metal 'Big 4' Album Ranked
An incredibly diverse collection of albums, ranked from worst to best!
Follow Loudwire's 'Early Thrash: The Beginning & The '90s' playlist
here
.