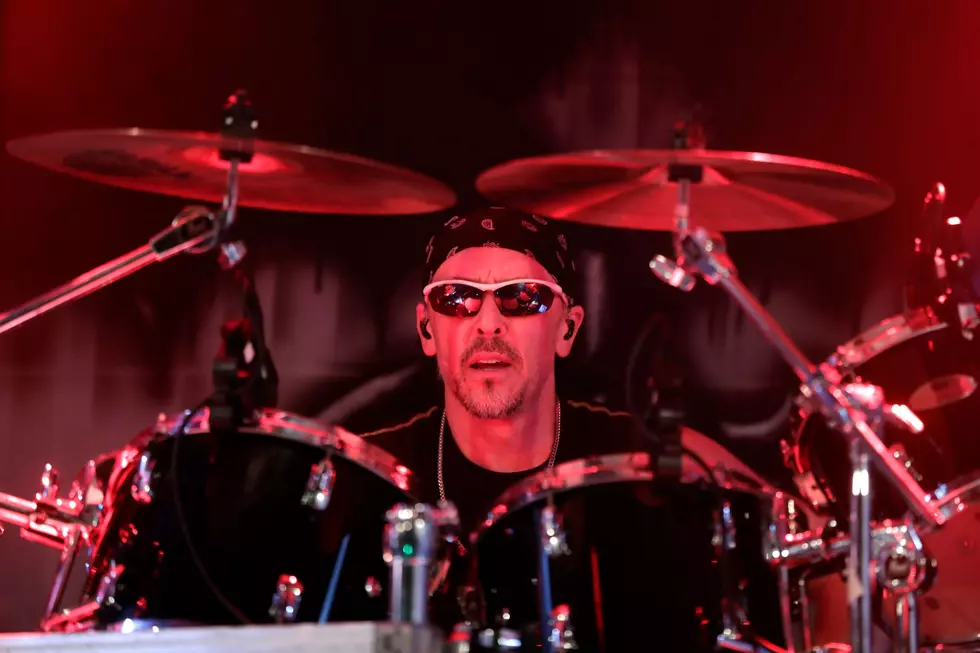 Scott Rockenfield Claims to Have Been in Contact + Presenting 'Music and Offers' to Queensryche Since 2017
Brill/ullstein bild, Getty Images
It was recently revealed that estranged Queensryche drummer Scott Rockenfield would see his lawsuit finally going to a jury trial in early 2024. Rockenfield had previously filed suit against fellow original members Michael Wilton and Eddie Jackson in 2021, alleging breach of contract, breach of fiduciary duty and wrongful discharge. Now, ahead of the proceedings, Rockenfield has issued a statement thanking fans for their support and offering his clarification of his status with the band over the course of his absence from the stage in recent years.
The issues between Rockenfield and the band appear to date back to 2017 when the drummer took time off from the band following the birth of his son. The group called upon Casey Grillo to fill in and help complete their touring commitments at the time, and the drummer has remained in the spot ever since.
In early 2018, the band issued a statement that read, "For those asking again about Scott and whether he has quit the band - he has not quit the band. He told us he's taking time off and we have no time frame on when he will return. We thought he would take few months off, obviously he doesn't want to tour right now. There is nothing more we can say about it and we can't be more honest about it than that"
Rockenfield's status with the band continued to be a source of confusion in recent years as well. Queensryche continued to play and record without the drummer, with singer Todd La Torre stepping in to handle drums on their 2019 album, The Verdict.
In January 2021, the drummer posted on social media that he had not left the group, insisting that he had not "quit, walked away, retired or abandoned" the band. In May of the same year, Rockenfield launched a new website with the title "Queensryche 2021," but once again no return to the band came about. Then, in October 2021, Rockenfield took his legal action against Wilton and Jackson. That takes us up to the present where a Jan. 16, 2024 court date at 9AM in the Superior Court of the State of Washington in and for the county of Snohomish has been set.
In his new posting to fans on social media. Rockenfield states, "I want to send out a BIG thanx to everyone who has commented/responded - regardless of it being good, bad, uninformed, or indifferent for that matter…But the facts are is that I have been in the 'music business' for over 40 years now (and yes, it's a business like any others), and there are situations in life/business that may arise that need to be addressed and/or resolved."
Rockenfield notes, "To clarify, I was in full band work/communication since 2017, and continued to present music and offers that would benefit the band and our brands etc." So despite his public absence from records and the stage, Rockenfield's statement would seem to indicate that he still remained in touch with the group and worked with them.
"I hold no ill will to anyone, including my 'business' partners," says the drummer. "But I am also not going to be pushed around and/or not allowed to have what I have built and owned for over 40 years now…I started QR in my parents house when I was 17, and now as I begin my life turning 60 this month I'm going to stand tall and seek a result from a jury to determine if my 40 years are worth anything to me…it's as simple as that."
Rockenfield continues, "I have been and am still/currently an equal 1/3 owner/shareholder of the QR brands/trademarks, and the facts are that my attorneys have been in 'communication and attempting' for almost 5 years now to attain an amicable resolve to these QR band matters to hopefully avoid any disruption to the QR brands etc, but we have been repeatedly denied (yes you read that correctly, we have been in communication and offering a resolve for over 5 years now ). Unfortunately these attempts have led nowhere."
The drummer says he now feels he's had "no choice" but to go to a "jury of peers" to resolve matters. "There are many truths that will need to be addressed," he concludes. "And so as I've said before, 'let's rock.'"
You can read Rockenfield's posting in full, which includes a copy of the court notice for the trial as the visual, below.
READ MORE: Todd La Torre Promises Rare + Never Before Played Songs on Queensryche's 2023 Tour
In the time since Rockenfield filed his suit against the group, Queensryche has recorded another album, 2022's Digital Noise Alliance. This time Grillo, who had been Rockenfield's fill-in, was behind the drumkit in the recording of the record. The group also continues to tour with scattered dates booked through the summer and fall. Get your tickets here.
11 Bands That Never Reunited With Their Classic Singer
Pour one out for these former vocalists.