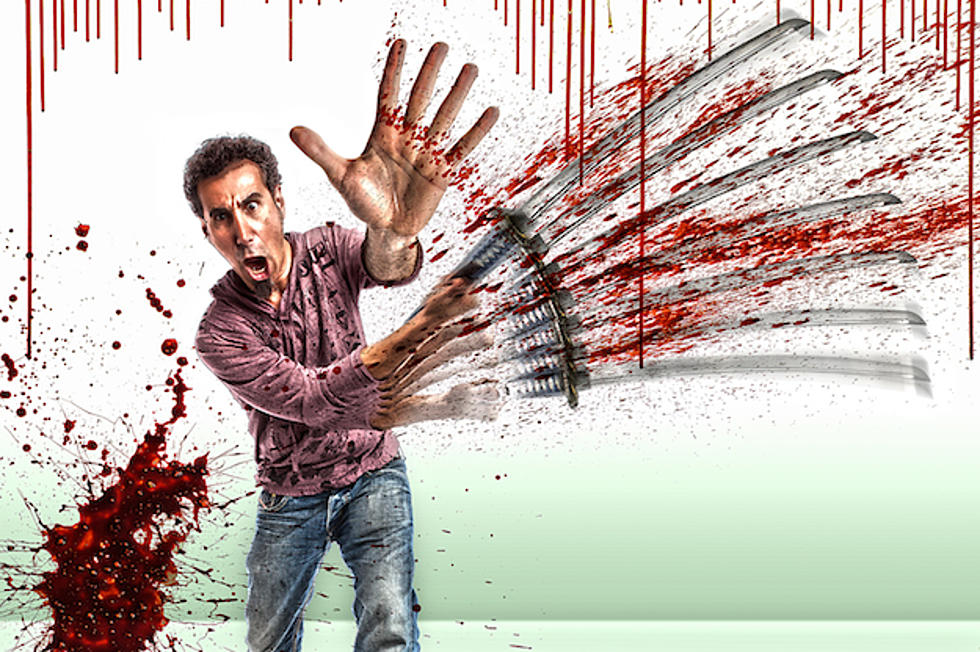 Serj Tankian Unveils Music From His Various Solo Projects
System of a Down singer Serj Tankian has not only been busy wrapping up his latest solo album, 'Harakiri,' but he's also got three other projects in the works, as well. Now fans can hear the diversity of the music that he's been working on with a handful of newly posted tracks.
First up, Tankian has given his track 'Uneducated Democracy' over to RecordStoreDay.com, where it's currently streaming ahead of the singer's July 10 'Harakiri' album release. The track fits in perfectly with what audiences would expect from Tankian. The thoughtful lyrical content takes on the education system and its effect on the world. Tankian belts in rapid-fire frankness, "Without an education there is no democracy / Without an education there is only hypocrisy."
But where 'Uneducated Democracy' fits comfortably within his oeuvre, the three other tracks that have surfaced all show him taking a few risks. Fuktronic is Tankian's electronic side project, and the song 'Chase' is filled with guest vocalists. When Loudwire recently spoke with Tankian, he said, "Fucktronic is a project I did with Jimmy Urine from Mindless Self Indulgence and it's a bunch of electronic tracks with actors talking on them and basically enacting a British gangster film."
The untitled track from Tankian's Jazziz Christ project takes yet another turn, with its deep bass, jazzy piano playing, soothing horns, and groovy beat providing the perfect chill out instrumental piece. Tankian told us, "For 'Jazziz Christ,' it's a jazz record I put together with three amazing jazz players. We're gonna put that out hopefully through a jazz label and do a couple of cool events – again after 'Harakiri's cycle."
The final track to surface comes from Orca, Tankian's more orchestral project. Only a sample of 'Act 1' has made it online with a moving horn and string section soaring into the orchestral vision that the musician has been enthralled with over the last several years. The singer says it's his hope to eventually combine 'Orca' with his 'Elect the Dead' symphony work for a tour at some point.
As for the three side projects, he adds, "They're not all like record/album/tour/press, that kind of record - some of them are more conceptual and have other components, but they'll all be coming respectively down the line." Read Loudwire's recent interview with Serj Tankian here and listen to the new songs below.
Listen to Fuktronic's 'Chase'
Listen to an Untitled Clip From Jazziz Christ
Listen to a Short Sample of Act 1 From Orca