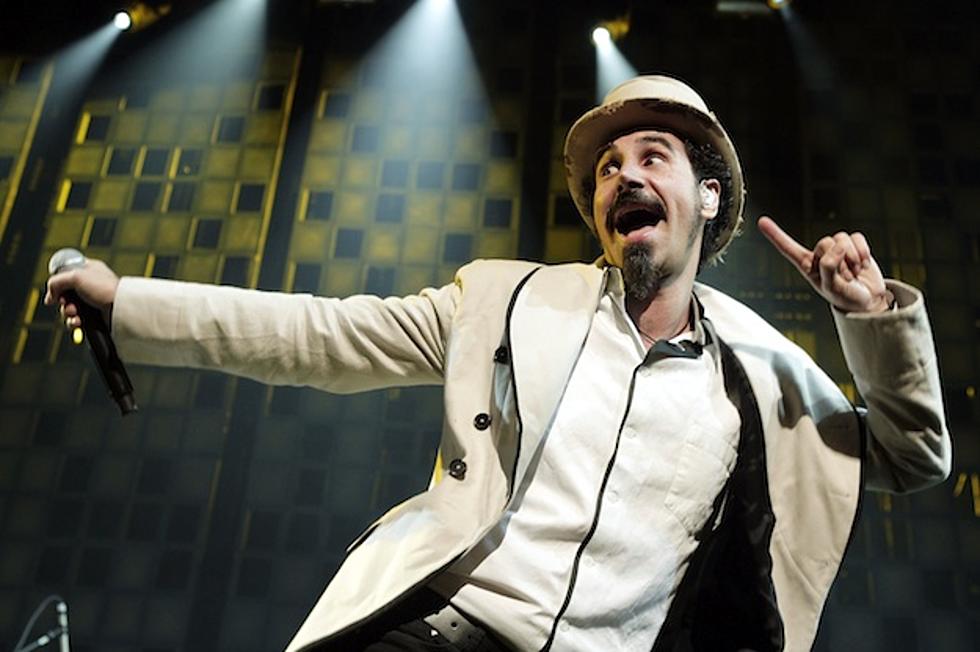 System of Down's Serj Tankian To Release New Solo Album 'Harakiri' in July
System of a Down singer Serj Tankian has announced that he will release his third solo album, 'Harakiri,' on July 10. The disc will be preceded by the first single 'Figure It Out,' which is set to surface shortly.
Tankian himself produced the album, which contains contributions from his touring band, the F.C.C. -- guitarist Dan Monti, bassist Mario Pagliarulo and drummer Troy Zeigler.
'Harakiri' follows Tankian's previous solos albums, 2007's 'Elect the Dead' and 2010's 'Imperfect Harmonies.' The new disc contains 11 songs, the titles of which are highlighted in bold in the creative statement from Tankian below:
"The Cornucopia of love/hate affairs with Gaia have made us scream "Figure It Out! CEOs are the disease." Where abusive capitalism's only fate is human/environmental devastation. The Ching Chime, diminutive drama of a gangsta Butterfly revealed that humanity's tears actually outweigh yearly rainfall on the planet.

We have witnessed Harakiri on a grand scale tearing out the Occupied Tears of victims preyed on by victims turned aggressors creating a Deafening Silence through which we hear a voice plead, "Forget Me Knot, my child."

Reality TV has become the searing indictment of a society best described as the Uneducated Democracy. The daughters of the evolution Weave On with blood dripping down their guilty hands onto the flag as the word republic is replaced by empire." - Serj Tankian
Tankian goes on to explain the title of the album, tying it into a personal experience that happened to him last year:
"The year 2011 started with a fire. Some kids in Piha, NZ were setting off fireworks that landed on my neighbor's property and lit the whole hill on fire.  I knew it was going to be a hell of a year and it certainly was. Within 5 days of that, reports came out about birds and fish dying in massive numbers globally.  The omen was not lost on me.  Varied creatures on earth were committing massive hara-kiri (the Japanese term signifying ritualistic suicide.)  Do they know something we don't about the coming times or the sustainability of the environment?  That is the day I started writing this record."
As for the sound of the album, Tankian reveals that its "much more driving and punk oriented with influences ranging from goth to electronic to '80s vibes, dynamically heavy rock to epic melodic songs."
Tankian was recently heard on the 'Batman: Arkham City' video game soundtrack with the song 'Total Paranoia.' Coming up, Tankian will appear along with filmmaker Atom Egoyan this Sunday (April 22) to discuss the lasting impact of the Armenian genocide at the Hammer Museum in Los Angeles. In addition, System of a Down will perform this summer at the Heavy MTL and Heavy T.O. festivals in Canada.