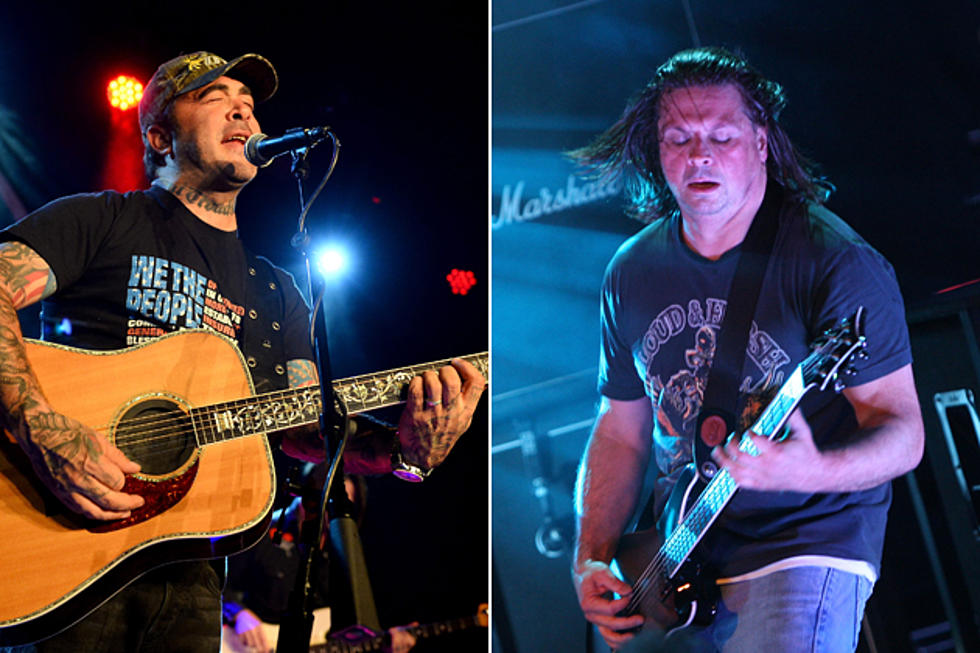 Staind's Aaron Lewis + Mike Mushok Talk Return to Touring, Summer Concert Tips + More
Ethan Miller / Jason Kempin, Getty Images
Staind have been making the festival rounds this spring, recently stopping at the Welcome to Rockville festival where our own 'Loudwire Nights' host Full Metal Jackie got a few minutes with Aaron Lewis and Mike Mushok. The guys talk about being back on tour after a lengthy layoff, revisiting their catalog and Aaron Lewis shares a crazy story about a recent show that ended with a fire. Check out the interview below.
We've got Aaron Lewis and Mike Mushok from the band Staind. So good to see you guys, thanks for taking the time to hang out.
Aaron Lewis: Our pleasure.
It's been a long time since we've had a chance to have a Staind tour. What did you guys miss most about being on stage?
AL: What's going to happen ... onstage. That was really the magic that always kept it going. All of this stuff, everything else stands in the way of you walking on stage every night. That's really what it's all about.
Mike Mushok: I'm just looking forward to getting back to playing these songs again. It's been a minute since we've been able to do it. It's been fun getting back to rehearsal, getting back into the swing of things.
For festivals like this, days full of rock and sun, alcohol. What are some tips you'd give to concertgoers to make it through the day?
AL: Stay out of the sun and don't drink too much alcohol.
MM: Pace yourself. We've seen in so many times. You'll pull up on a bus at 10AM and the parking lot is filled with people already nailing it. These are the same people that are face down by 5 in the afternoon, sunburnt, shirt off where you can see where their wife beater was. So red. That's why it's hard to play these shows later in the day. people just hit the ground running and by the time you go on stage, 9:30 or 10 -- they're already hung over … The sun beats you up quick.
It's hot out there, and even those places where there is air conditioning, the air conditioning isn't really working that great. I've never lived in Florida, but I would imagine I'd have frizzy hair all the time.
AL: It's important not to have that so don't ever move here.
What can we expect? Will there be a ton of Staind touring? Any plans for the future?
AL: We're doing this month of shows. I think there's 18 shows in the month of May, then I go back into the studio and record another country record.
What's that like, going back and forth playing Staind and doing your country stuff?
AL: When I was doing it with my first record when we were recording our last Staind record and I was working my new country records, it was trying at best. It was tough. So, last night was my last country show for the month. Now we do Staind for a month, then I'll switch back.
I'd have to imagine the workload is probably exhausting, but also switching gears. Totally different mindset I'd imagine.
AL: Yeah. I played a honkey tonk last night that was -- the floors probably hadn't been cleaned in 40 years. It was in the middle of nowhere in Louisiana, we left and two hours later the place burnt to the ground.
OMG, that's terrible. Do they know how that happened?
AL: Bear Creek Saloon in Montpelier, LA.
AL: No, but this venue that had been there for forty years that everyone you can think of on the country side of things has played at, is gone.
And you were the last artist to play there.
AL: You couldn't stuff another body in there last night. It was crazy.
Wow, crazy. Burned to the ground.
AL: Completely to the ground.
Thanks for taking the time.
Thanks to Staind for the interview. You can listen to 'Loudwire Nights' with host Full Metal Jackie Monday through Friday at 7PM through Midnight on more than 20 stations across America. To find out where you can hear 'Loudwire Nights,' click here.