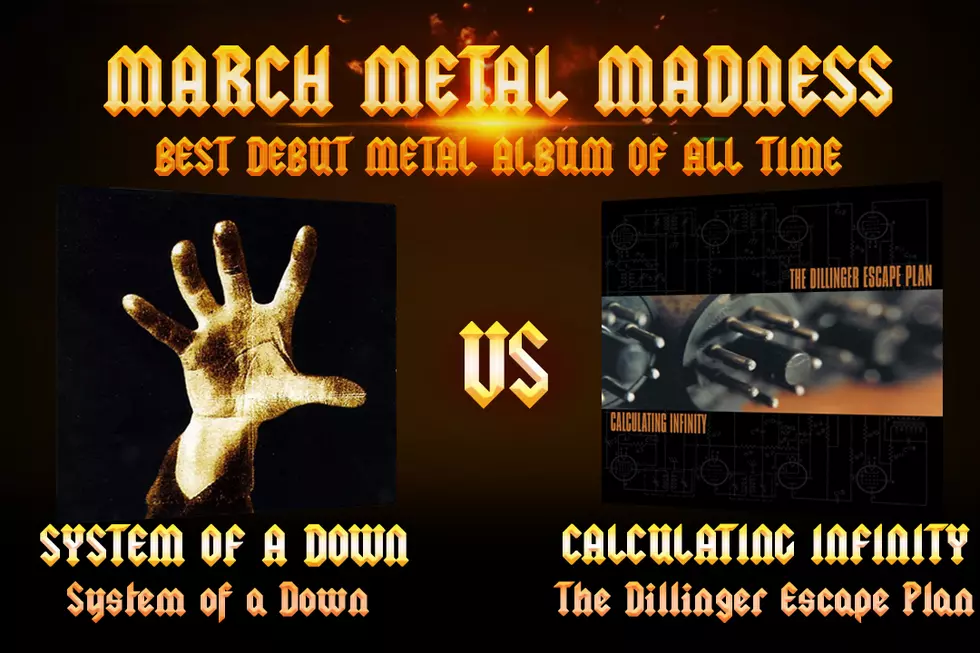 System of a Down vs. The Dillinger Escape Plan – Metal Madness 2017, Round 1
American / Relapse
Here in the Headbanger Region of Round 1 of the March Metal Madness tournament to determine the Best Debut Metal Album of All Time, we've got two of the wildest bands going head-to-head!
System of a Down took the groove-intensive sound of nu-metal to totally different places with their quirky, chaotic style and the dynamic vocal presence of Serj Tankian. System of a Down hinted at greater things to come, but with songs like 'Sugar" and "Suite-Pee," it serves as an inspirational starting point for a band that captures so many styles and cultural influences.
When The Dillinger Escape Plan released Calculating Infinity in 1999, their reckless penchant for wild tempo changes and atonal fretwork defied current trends while putting mathcore on the map. Pooling together outside influences like jazz, Dillinger created one of the most jaw-dropping slabs of extreme music we've ever known!
So which album will move on to Round 2 of March Metal Madness 2017? Vote below for either System of a Down's System of a Down or The Dillinger Escape Plan's Calculating Infinity as the Best Debut Metal Album of all time in the poll below!
(Voting in Round 1 will end on Friday, March 17, at 10AM ET. Fans are able to vote once per hour, so keep coming back to make sure your favorite debut album advances to the next round!)