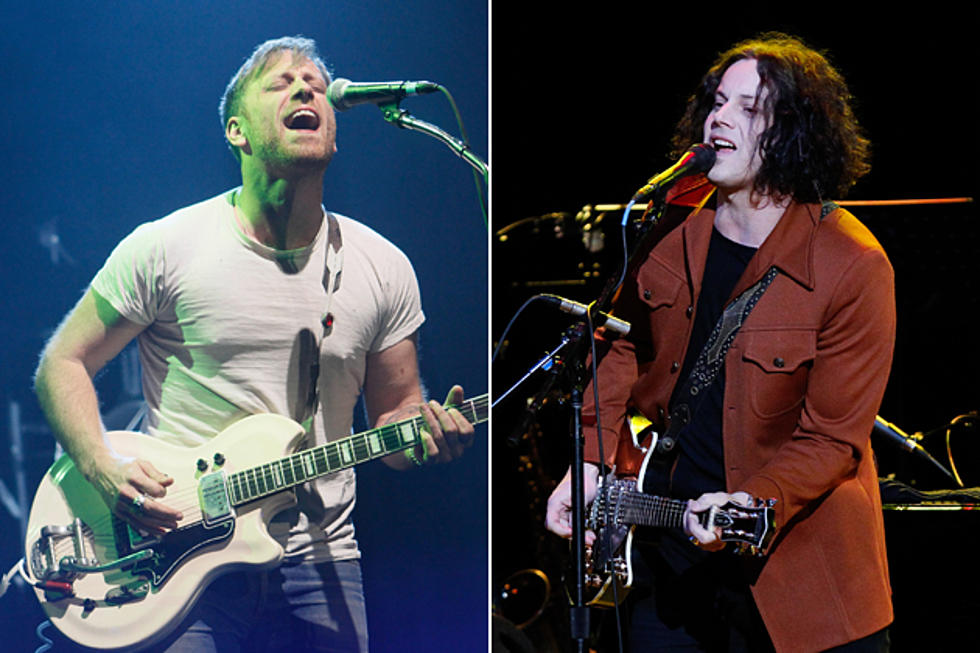 The Black Keys Downplay Jack White Feud, Rip TMZ
Janette Pellegrini / Terry Wyatt, Getty Images
In a private email sent by White to his ex-wife Karen Elson that was made public during a court custody battle between the couple, White requested that she remove their kids out of the same class with Dan Auerbach's daughter, stating, "My concern with Auerbach is because I don't want the kids involved in any of that crap. That's a possible 12 f---ing years I'm going to have to be sitting in kids chairs next to that a--hole without people trying to lump us in together. He gets yet another free reign to follow me around and copy me and push himself into my world."
But while you might suspect a response would have been coming, it's not exactly the one you'd expect. Drummer Patrick Carney, when questioned about the feud between Auerbach and White, did state in the current issue of Rolling Stone that White "sounds like an a--hole," but added that he felt some sympathy over how the feud came to light. Carney explained, "I actually feel embarrassed for him. I don't hold grudges, man. I really don't. We've all said some f---ed up s--- in private and divorce is hard." Auerbach added, "I don't know him, so it's extra-unexpected," before Carney continued with a rant against the gossip-happy media who fan the flames of such stories.
"I really think personal things are personal things. Like, TMZ? Honestly, they should be f---ing ashamed of themselves, that they make a living dragging poor souls that have nothing, that aren't famous, into this world. Everybody should be scrutinized? I don't believe that. I think that if you come off with a strong platform or moral agenda, then, yeah, maybe you should be scrutinized if there's a conflict there … But if you're a f---ing rock musician, you're a f---ing actor, you're a f---ing model or whatever. It's your job, you know what I mean? No one's doing anything illegal, it's just that people are living lives that get complicated."
Carney adds that he felt that he and Auerbach should have never known of White's private feelings, adding, "Those e-mails that Jack White wrote that got leaked, as f---ed up as that s--- is, that was a private conversation, and it doesn't register to me. You know how horrifying it would be if all of our private s--- was aired? And people go sniffing around looking for this s---. And ultimately it's no one's business."