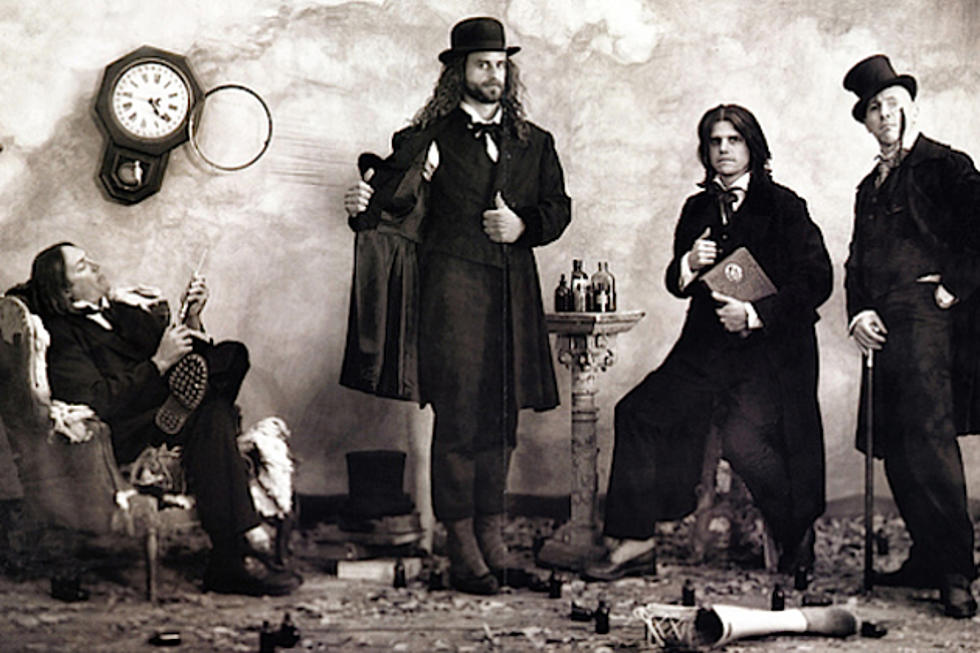 Tool Reveal Longstanding Lawsuit Is Stalling Creation of New Album
Tool Dissectional
For the better part of a decade, Tool fans have been rabid for a new album. And when your band molds such a passionate, almost cult-like fan base, followers can become enraged when new music withdrawals linger for too long. In a new interview, guitarist Adam Jones reveals that a big part of the reason for the delay is a lawsuit that Tool are currently dealing with, adding, "It's time that they [fans] understand what's going on."
According to Rolling Stone, a new Tool album is still far from completion. Although the group has enough ideas to fill a full-length, only one track that is nearly finished. The song spans over 10 minutes in length, and according to Jones, "goes through lots of changes and it's got really heavy elements."
Drummer Danny Carey adds, "It's all a little more 'metal' sounding, if I may. I'm having fun drumming on it. There is one other song [beyond the 10-minute tune] that I would say is pretty much there. It's another one that's pretty gnarly with some good double-kick [drumming] going on in it."
As for the lawsuit Tool are currently dealing with, Jones goes into serious detail. "The fans are pissed at us," Jones begins. "And while part of me is selfish and goes, 'I'm not necessarily doing it for them,' it's time that they understand what's going on."
Back in 2007, an associate of the guitarist claimed that Tool had used his artwork without giving due credit. The lawsuit filed from this incident became compounded when an insurance company Tool hired for the band's defense also ended up filing a suit against Tool over "technicalities regarding the case." Seven years later, Tool still find themselves wrapped up in litigation with the insurance company, with the case set to go to trial in January.
"It's costing millions and millions and millions of dollars to defend us," Jones explains. "And the fans are all going, 'We want a new Tool album. What the f---?' And you don't want to pull people into your problems, because they don't understand. But the point is, we're fighting the good fight. We're going to trial and we want to crush them. But every time we've gotten close to going to trial, it gets postponed and we've wasted money and time and it has just drained our creative energy. We bought an insurance policy for peace of mind, but instead we would have been better off if we never had it and just dealt with the original lawsuit."
Danny Carey, excited by the band's current creative mojo, hopes that a new Tool album will be recorded by the end of 2014. Jones didn't put his own potential timestamp on the release, but the guitarist promises that Tool are "not going to settle for doing anything but our best work, and the fans appreciate that."
Stay tuned for updates on Tool's upcoming fifth full-length album and developments concerning the band's legal issues.
Watch Tool's Maynard James Keenan Body Slam a Fan in These 10 Hard Rock Smackdowns: