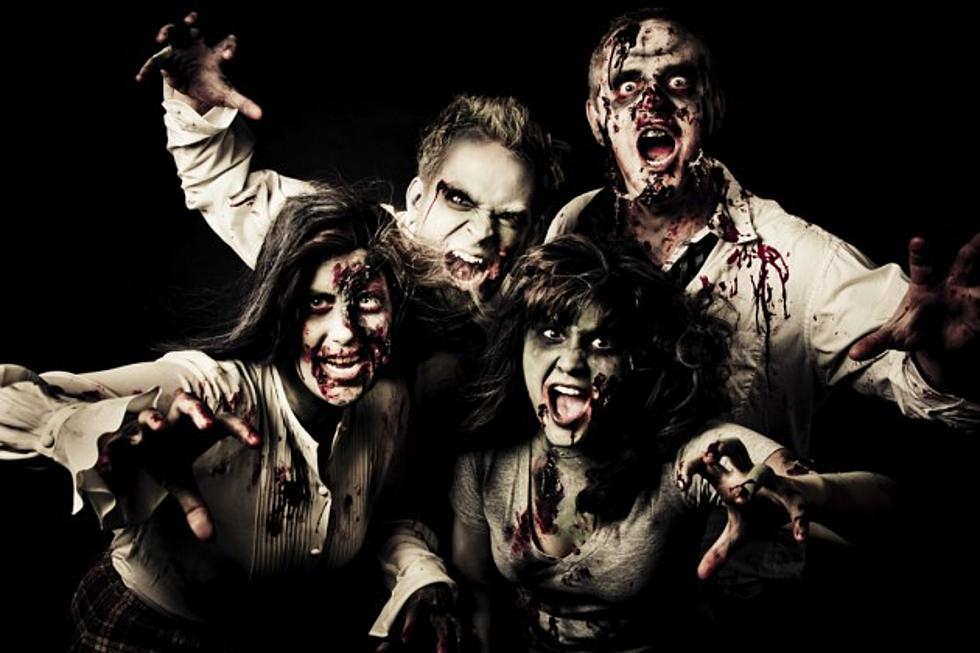 Top 10 Songs About Zombies
Thinkstock / Getty Images
Don Jamieson is a guest contributor to Loudwire. He is the co-host of That Metal Show, which recently completed its 14th season on VH1 Classic. You can also catch Jamieson on the stand-up comedy circuit. Keep up with him at his official website or his Twitter page. Please note that Don Jamieson's opinions do not necessarily reflect those of Loudwire. Check out his picks for the Top 10 Songs About Zombies below:
"Out of the darkness the zombie did call, true pain and suffering he brought to them all. Away were the children to hide in their beds, for fear that the devil would chop off their heads" -- Rob Zombie, "Call of the Zombie"
Let's face it, in the year 2015 … zombies are IN. Zombies are cool. Zombies are like the Lamb of God of the undead. But zombies in popular culture are typically seen as mindless, reanimated human creatures sometimes known as record company executives.
Everywhere you look there are zombies. There are Zombies on TV: The Walking Dead, iZombie, Z Nation, The Returned and the first Republican debate lineup. There are zombies in the movies: Night of the Living Dead, Dawn of the Dead, Day of the Dead, Return of the Living Dead…for dead people these zombies never rest!
And most importantly, there are zombies in music. Luckily, the following 10 morose melodies won't tear at your flesh or make you bleed … unless you play them really loud:
10

"I Walked With a Zombie"

Wednesday 13

Album: Transylvania 90210: Songs of Death, Dying & The Dead

Living Dead lyrics: "You're the only one for me, I'm in love with a decomposing zombie…"

A downright zombie anthem that you and all your undead friends can sing along to and lyrics that describe what it's like to be married to Larry King.

9

"Zombie Blood Curse"

Six Feet Under

Living Dead lyrics: "This is a curse that can't be stopped, it has been haunting you for years…"

Almost as scary as the unstoppable, haunting curse that is Limp Bizkit.

8

Album: Scream Bloody Gore

Living Dead lyrics: "Vomit for a mind, maggots for a c--k, with his axe the corpse will chop…"

"Honey, what are you thinking for our wedding song? I'm torn. Do we go 'Wind Beneath My Wings' or 'Zombie Ritual'"?

7

Living Dead lyrics: "We are alone, we are the night, we are the ghosts that come to life…"

A bonafide radio hit about zombies that could make even the stiffest of the undead rise from the grave and shake his ass bones.

6

Album: Bloody Pit of Horror

Living Dead lyrics: "The creatures of the underworld are an imposing bunch, but zombies are my sweetest slaves as long as they get lunch…"

"Hey Oderus, if we're gonna spend all day stoking the Bloody Pit of Horror, the least you can do is send out for a few pizzas!"

5

Living Dead lyrics: "Dead soul, stone cold, out into the night…" or "Severe anguish as my body evolves, the pain of life after death it resolves…"

If the "undead" are not really dead then wouldn't "live undead" be a double-negative? I mean, I can handle Dave Lombardo not being in the band and can even occasionally listen to Diabolus In Musica, but Slayer using improper grammar is the final straw!

4

"Pit of Zombies"

Cannibal Corpse

Living Dead lyrics: "Pit of zombies, chasm teeming with undead, their jaws await me, a gruesome end…"

This sounds mind-numbingly unbearable, torturous and like watching The Voice for an hour.

3

"Zombie Stomp"

Ozzy Osbourne

Living Dead lyrics: "Always dancing on thin ice, I guess I'll have to pay the price, hey hey do the Zombie Stomp…"

The "Zombie Stomp" is a cross between moshing, slamming and goose-stepping while trampling on the rotting carcasses of the living dead.

2

"Living Dead Girl"

Rob Zombie

Living Dead lyrics: "Crawl on me, sink into me, die for me, living dead girl…"

That's a lot to ask of a girl living or living dead. I'm happy just to get a massage and a happy-ending.

1

"Zombie Eaters"

Faith No More

Living Dead lyrics: "So hug me and kiss me, then wipe my butt and piss me…"

I don't even know if this is a song about zombies but it's so cool and weird that it shoots straight to No. 1 on my list. Above lyric also reminds me of my last visit to grandpa at the nursing home.