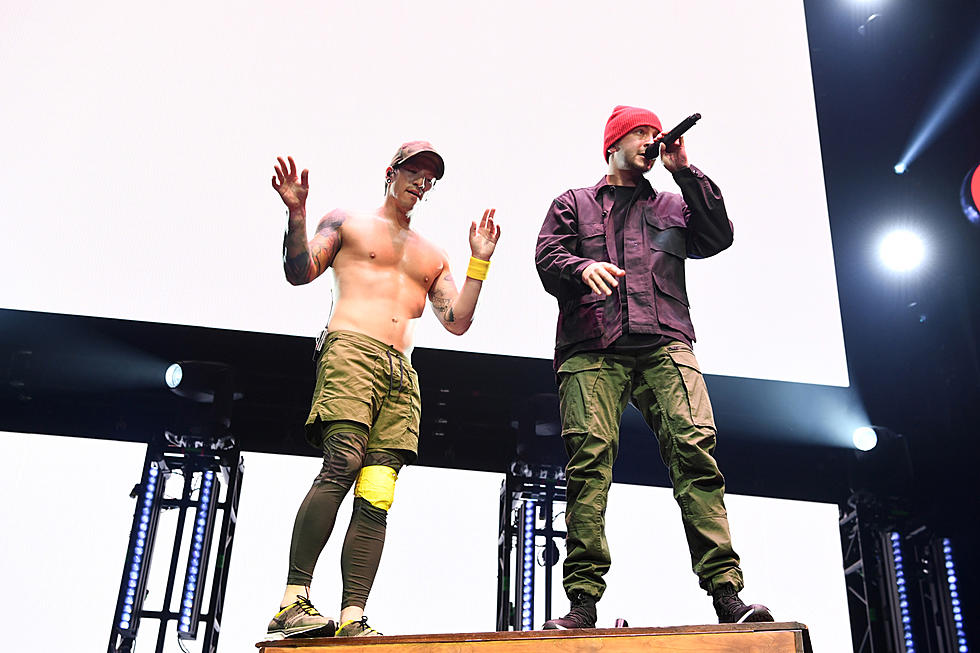 Twenty One Pilots Forced to Cancel Toronto Show Due to NBA Finals
Emma McIntyre, Getty Images
When the Toronto Raptors punched their ticket to their first NBA finals appearance in franchise history with a game 6 win over the favored Milwaukee Bucks on Saturday night (May 26), the city erupted in celebration. The exciting moment 25 years in the making was great news for Raptors supporters, but has turned into bad news for Twenty One Pilots fans. The Columbus, Ohio duo were forced to cancel their second of two shows at the Scotiabank Arena in Toronto due to the load-in and set up for the NBA Finals.
The venue sent a tweet alerting fans of the cancelation, "Reminder for @twentyonepilots fans: Due to the needs by the league for the technical load-in & set up for the NBA Finals, the concert on 5/29 has been cancelled."
Twenty One Pilots took to Twitter to congratulate the Raptors and to share the news with fans. "We have to cancel night number two of our Toronto shows for the @NBA to have arena access." Ticket holders have been refunded and were given a code for a chance to purchase tickets to tonight's show (May 28).
The Toronto Raptors franchise was founded in 1995 and toiled in mediocrity for years. Back in July, the team controversially traded fan favorite star DeMar DeRozan to the San Antonio Spurs for Kawhi Leonard and Danny Green, which helped propelled them to their first NBA Finals appearance in franchise history. The city of Toronto hasn't won a major sports championship since the Blue Jays won the second of back to back World Series 26 years ago in 1993.
The Raptors will take on the high powered Golden State Warriors for the championship. The Warriors have appeared in five straight NBA Finals, winning three titles in the past four years. Game one of the NBA Finals will tip off in Toronto on Thursday night (May 30) at 9PM ET on ABC.
Twenty One Pilots will take the stage in Toronto tonight (May 28) and will head to Van Andel Arena in Grand Rapids, Mich. on Friday (May 31). See all their tour dates here.
Top 40 Rock Songs of 2018