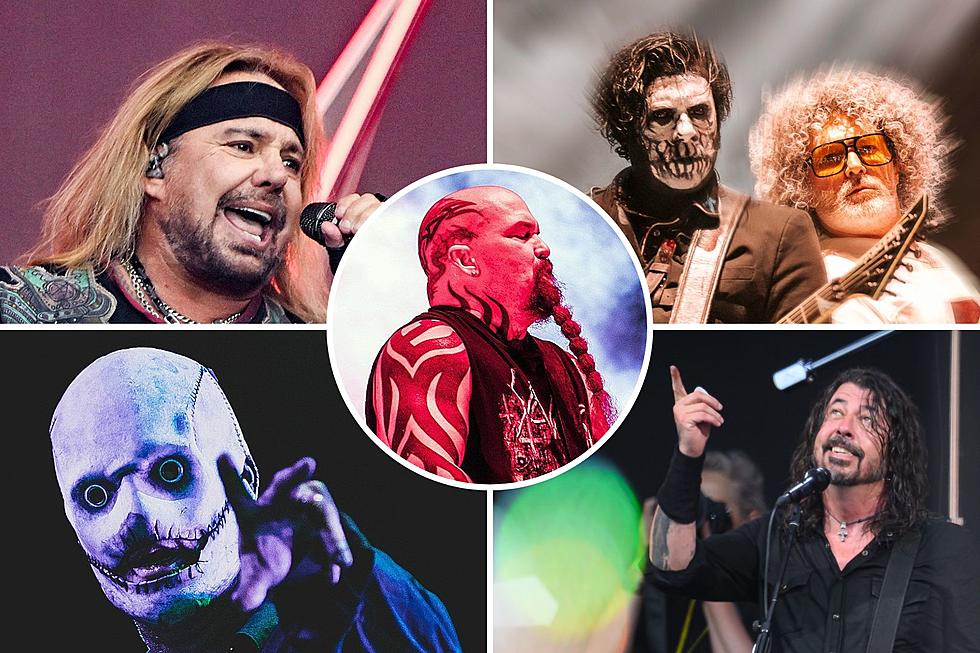 Welcome to Rockville 2024 Lineup Revealed, Including Kerry King's Solo Band
Anthony Devlin, Getty Images for Live Nation UK / Steve Thrasher / Anthony Scanga / Leon Neal, Getty Images / Matt Stasi, Loudwire
Welcome to Rockville is back and bigger than ever as we prepare for the 2024 edition. Danny Wimmer Presents has revealed the lineup for next year's edition of the hard rocking festival, featuring four big days of music to be headlined by Motley Crue, Limp Bizkit, Foo Fighters and Slipknot! It also is the first show revealed for the newly solo Kerry King of Slayer fame.
Last year was a record-breaking year for the festival, with over 170,000 music fans taking over the grounds at the Daytona International Speedway in Daytona Beach, Florida, and it looks like we're on par for another big year. This year's Welcome to Rockville will take place over the weekend of May 9-12, and Danny Wimmer Presents have revealed that a fifth music stage has been added, which will give fans a chance to check out an additional 50 acts over the four day weekend. That's 150 bands in total for Welcome to Rockville 2024.
In addition to the four previously mentioned headliners, this year's bill features Kerry King's new solo venture, Jelly Roll, Disturbed, Queens of the Stone Age, Judas Priest, Greta Van Fleet, Evanescence, Falling in Reverse, A Day To Remember, Breaking Benjamin, Bad Omens, The Offspring, Mudvayne, Koe Wetzel, Stone Temple Pilots, Primus, Cypress Hill, Sum 41, a rare appearance by Mr. Bungle and many others. And DWP have already revealed that more bands will be added in 2024 to the already impressive lineup. Plus, there will be the campground kick-off party revealed as well.
Nikki Sixx of Mötley Crüe said, "We couldn't be more excited to come back to Florida. Welcome To Rockville is one of the biggest festivals in the world, and it's going to be a highlight for us in 2024."
Other acts on board for 2024 include In This Moment, Architects, Royal Blood, Anthrax, Black Veil Brides, Polyphia, Skillet, Theory of a Deadman, Flyleaf with Lacey Sturm, Wage War, Clutch, Tech N9ne, Mammoth WVH, STARSET, Living Colour, Machine Head, Insane Clown Posse, In Flames, Slaughter To Prevail, The Ghost Inside, The Struts, P.O.D., Code Orange, Electric Callboy, L7, The Amity Affliction, Baroness, Shadows Fall, Atreyu, August Burns Red, Of Mice & Men, All Them Witches, Apocalyptica, THE CHATS, Kittie, Movements, Sebastian Bach, Jehnny Beth, Stabbing Westward, All That Remains, Kid Kapichi, Reignwolf, Dirty Honey, Fear Factory, Enter Shikari, Polaris, Saliva, Magnolia Park, Amigo The Devil, Austin Meade, The Word Alive, New Years Day, Kublai Khan TX, Bob Vylan, Mushroomhead, Red Fang, Currents, Helmet, Drain, Kim Dracula, Biohazard, Nitzer Ebb, Soulfly, Frank Carter & The Rattlesnakes, FLAT BLACK, Nova Twins, Miss May I, Skindred, Alien Ant Farm, Drowning Pool, Taproot, ORGY, Destroy Boys, Taipei Houston, Terror, Gel, Fleshwater, Scowl, Militarie Gun, Nita Strauss, Dead Poet Society, LACUNA COIL, PLUSH, SiM, Cold, Powerman 5000, Nonpoint, HED PE, Trust Company, Point North, Blind Channel, Adema, The Chisel, SPITE, Harms Way, Bodysnatcher, I SEE STARS, RAIN CITY DRIVE, Crobot, Sleep Theory, Imminence, Tim Montana, Gatecreeper, Return To Dust, StrateJacket, Eva Under Fire, Afterlife, Bad Nerves, Another Day Dawns, GIDEON, FIRE FROM THE GODS, Catch Your Breath, Calva Louise, VUKOVI, Citizen Soldier, KILL THE ROBOT, Moon Fever, Dying Wish, thrown, Stick to Your Guns, HotBox, TX2, Lø Spirit and Fuming Mouth. A full lineup poster can be viewed below.
READ MORE: Five of Nikki Sixx's Favorite Motley Crue Deep Cuts
Tickets for Welcome to Rockville are now on sale, with payment plans available for just $24 down. Head on over to the festival website for more information.
All 18 Musicians Who's Been in Slipknot
Here's every musician who's been a member of Slipknot.
Gallery Credit: Lauryn Schaffner