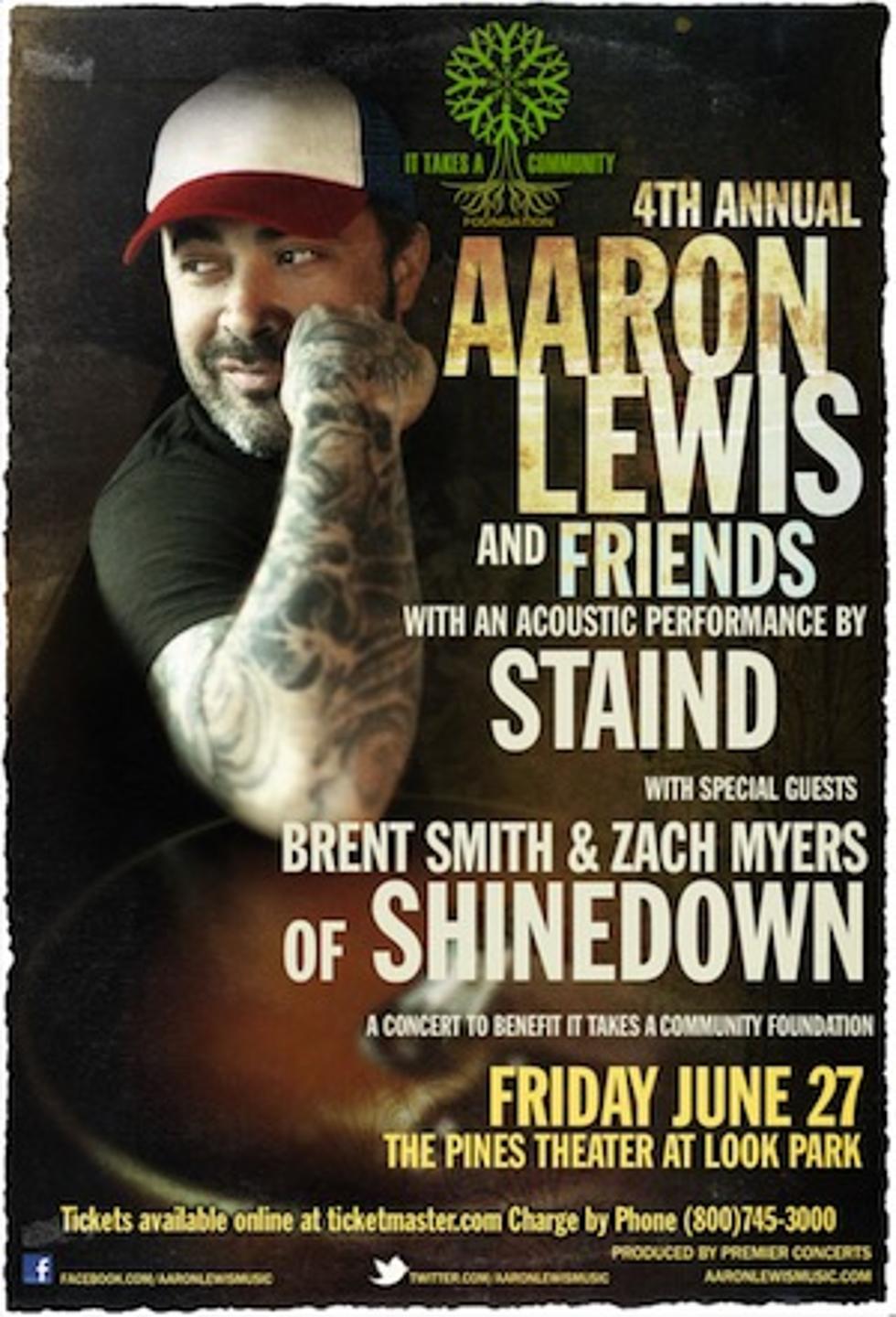 Aaron Lewis Calls on Staind, Brent Smith and Zach Myers for 2014 Benefit
2014 Aaron Lewis and Friends Benefit
Aaron Lewis remains committed to servicing the educational needs of the children is his area and will be staging the fourth annual Aaron Lewis & Friends concert to benefit his 'It Takes a Community' foundation.
Lewis didn't have to look far to find a headliner for this year's event, as his band Staind are back in action after taking some time for the members to pursue other projects. The benefit will be one of the few times that Staind has ever played an acoustic show, which makes this event one that fans don't want to miss.
Lewis also called upon a couple of his pals in Shinedown, as Brent Smith and Zach Myers will join the festivities with their own acoustic set. Smith and Myers branched out from Shinedown earlier this year, performing a collection of fan-chosen cover songs. Given that and the band's own catalog, Smith and Myers should have a pretty interesting set to provide for those in attendance.
Aaron Lewis founded 'It Takes a Community' with his wife when the state of Massachusetts eliminated funding for the R.H. Cornwell School in Worthington, Mass. The school had served the children of the hill towns in the area since the '40s and the loss of the facility was devastating the community.
The support provided by the 'It Takes a Community' foundation paved the way for the school to be reopened as a private community school. After reaching their initial goal, the 'ITAC' foundation now provides funding and guidance to a wide array of organizations that play a vital role in connecting people within rural communities.
This year's benefit concert will take place at The Pines Theater at Look Park in Florence, Mass., on Friday, June 27. Tickets can be purchased via Ticketmaster or by calling (800) 745-3000.