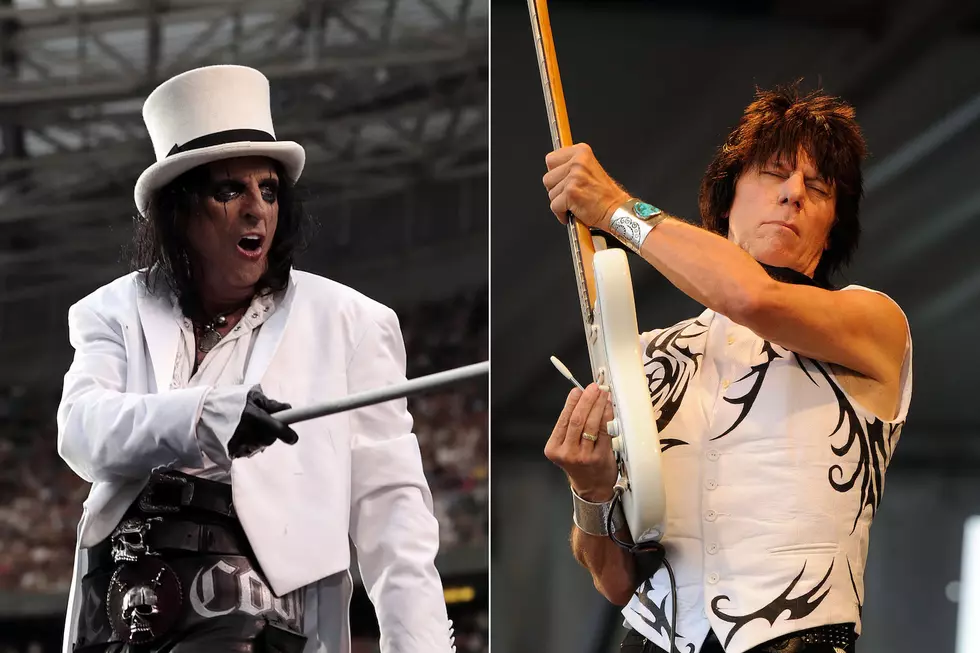 Alice Cooper Calls Jeff Beck Greatest Guitarist of All Time, Recalls Opening for Yardbirds When He Was 16
Cole Bennetts, Stringer/Getty Images / Rick Diamond, Getty Images
Alice Cooper is one of the many musicians in the rock 'n' roll world who've posted on social media to pay their respects to legendary guitarist Jeff Beck, who died on Tuesday (Jan. 10) at 78. In his post, Cooper called the late rocker the greatest guitarist of all time, and recalled opening for The Yardbirds when he was just 16.
One of the earliest renditions of Cooper's band, when he was still in high school and known as Vincent Furnier, was called The Spiders. In Cooper's tweet, he said that The Spiders opened for The Yardbirds, which Beck was a member of from 1965 to '66, after the departure of Eric Clapton.
"When I was 16 years old, The Spiders, who became the original Alice Cooper band, opened for the Yardbirds. That night I experienced the greatest guitar player I had ever heard. Half a century later Jeff Beck is still the greatest guitarist, PERIOD," Cooper wrote. "The greatest of all time. He was a friend, and there will NEVER be another Jeff Beck. Ever."
This isn't the first time Cooper has regarded Beck as the world's best guitarist. During a video interview from a few years ago, Cooper confirmed that 1966 was the year The Spiders opened for The Yardbirds, and explained how the performance came to be.
"We played a local place called the VIP Club. Every band played The Beatles, or some played The Rolling Stones, we were The Yardbirds band. We played all Yardbirds songs," the shock rocker remembered. "Being the house band, big bands would come in from England. So, we're going to open for The Yardbirds — the real Yardbirds with Jeff Beck and Jimmy Page, both in the band."
"Everybody says, 'Who's the best guitar player?' This is what cinched it for me," he continued, describing his memory of Beck holding the guitar in front of him and playing triplets as he slowly dropped it by its neck in his hand. "He catches it right on the last note where it's feeding back, and we went, 'What? That's impossible!' That was 1966, so how good is Jeff Beck now... He's probably, technically, the best player."
Watch the interview clip below.
Alice Cooper Calls Jeff Beck the Greatest Guitarist of All Time
Top 66 Hard Rock + Metal Guitarists of All Time
Counting down rock and metal's greatest guitar players.