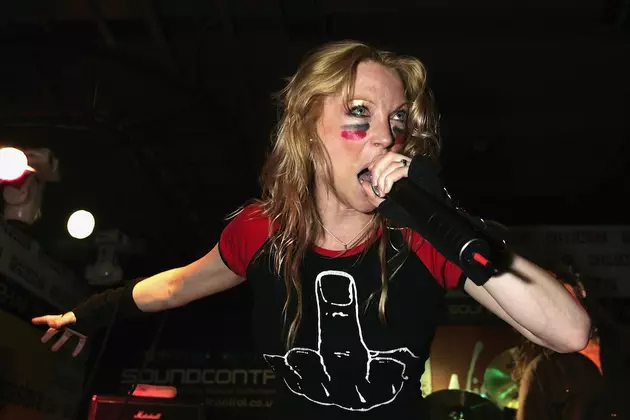 Angela Gossow Opens Up About Arch Enemy Departure, Recruiting Her Replacement + Managerial Role
Jo Hale, Getty Images
Angela Gossow shocked the metal world in 2014 when she announced she would be stepping down as Arch Enemy's frontwoman after 13 years of service. The departure coincided with the addition of new singer Alissa White-Gluz, formerly of the Agonist, as Gossow put primary focus on her behind-the-scenes role as the band's manager and even helped recruit her replacement onstage.
Speaking with Roppongi Rocks, the former singer opened about why she left the band, stating, "There's a time and place for everything. I started out in 1991. I was simply losing the joy to be doing this, living a life on the road. So I decided to step down rather than pretending." Discussing how she took over as the band's manager in 2008, Gossow revealed that she changed the financial model, ensuring the rest of the band takes home more money than she does.
She explained how bands can save money by booking certain touring markets themselves as well as by securing plane tickets and visas early, while adding that missing shows due to improper paperwork can spell doom. "It's a manager's duty to keep a good cash flow, review label and publishing statements, make sure all shows, etc. are being paid for, know the places you need to get an advance, take no risk with work permits, hire good crew and organise everything well ahead of time," Gossow said, adding, "Losing money and having stressful moments is threatening for a band's existence. Be on top, sober and alert. Know what you are doing. Numbers don't lie."
When asked if she had White-Gluz in mind as her successor prior to formally stepping down, Gossow explained, "Kind of. I took notice of her a couple of years ago, she came to an Arch Enemy show in Montreal and told me Wages of Sin was her reason to get into growling. I checked out her stuff, I was really impressed. When I started to think about my future and the future of the band, I decided to approach her." Hitting on what it takes to be a professional touring musician, she continued, "You'll be out there performing no matter how you feel, you got a responsibility. You need to step it up big time to become a professional touring and recording musician. You need discipline, health and talent. She's got it all."
Gossow, who also manages Arch Enemy guitarist Michael Amott's Spiritual Beggars project, revealed she will be taking on another familiar client, exclaiming, "I've started to manage Alissa's new solo project, there will be an announcement soon. Stay tuned!"
Arch Enemy experienced turnover at the guitar slot as well when Nick Cordle left in 2014. The band quickly filled the void, securing former Nevermore guitar stud Jeff Loomis, who has remained with the band since.
See Angela Gossow, Alissa White-Gluz + More Supreme Rock Goddesses
Aaralyn + Izzy of Murp Critique Female Extreme Metal Vocalists