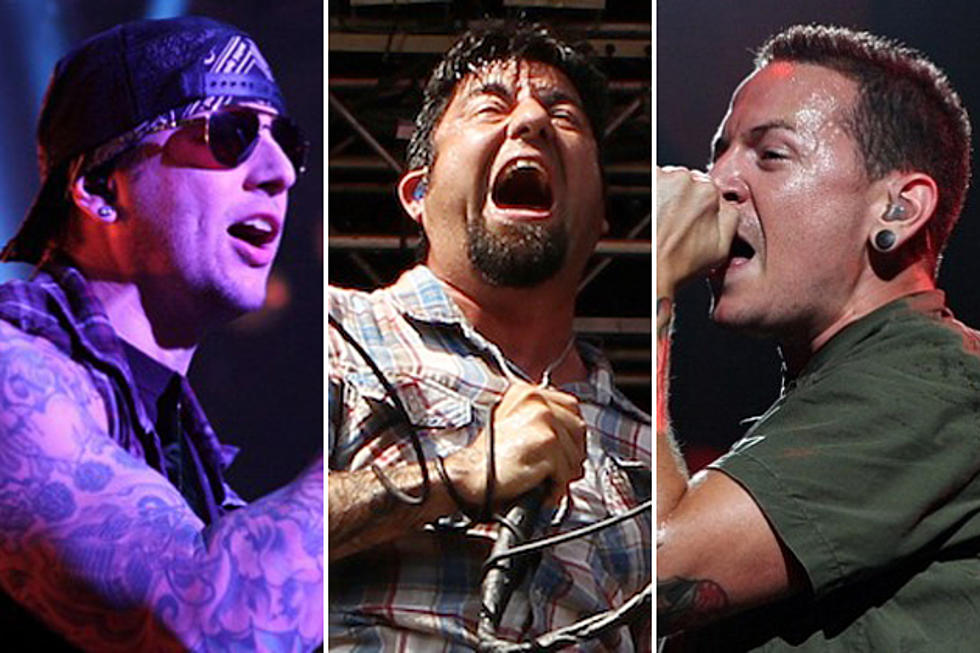 Avenged Sevenfold, Deftones, Linkin Park + More Reveal Record Store Day Release Plans
Mary Ouellette, SheWillShootYou.com (2) / Mark Metcalfe, Getty Images
Record Store Day (April 20) is fast approaching and a number of top hard rock bands have begun revealing what they plan to do to mark the occasion.
Avenged Sevenfold are plotting a pair of limited edition exclusive releases. 'Carry On' will be available as a 12-inch vinyl picture disc. On one side is the original studio version of the song as created for 'Call of Duty: Black Ops II.' Meanwhile, the b-side offers a previously unreleased instrumental version of the track. The disc features the 'Call of Duty: Black Ops II' artwork, as well as the Avenged Sevenfold deathbat. Only 5000 copies are being pressed. The other Avenged Sevenfold offering is a 12-inch vinyl and DVD deluxe edition of 'Live in the LBC & Diamonds in the Rough.' Only 3500 copies are being offered for the Record Store Day festivities.
Deftones are offering the first of seven exclusive vinyl releases on Record Store Day (April 20). 'Live: Volume 1 - Selections from Adrenaline' is being released as a single disc 12-inch vinyl EP. The music comes from a live performance at Buffalo's Memorial Auditorium in October, 1996.
Linkin Park's contribution to Record Store Day will be a two-song 10-inch EP, complete with an exclusive poster and sticker that will be limited to 3,000 copies. The two songs are 'One Step Closer' and 'My December' from the band's breakout album, 'Hybrid Theory.'
Music fans can also look for Biffy Clyro offering a 7-inch EP featuring their single 'Black Chandelier' pressed on black and clear splattered vinyl. The 7-inch features the titular song plus the previously unreleased b-side 'City of Dreadful Night.' Also, the Black Keys and the Stooges are teaming up for a split 7-inch on colored vinyl. It features the Stooges' 1969 track 'No Fun' on one side, with the Black Keys providing their 2002 cover of the song on the other side.
All of these vinyl offerings will be available at participating independent records stores on April 20. To learn more about Record Store Day, check out the event's website here.