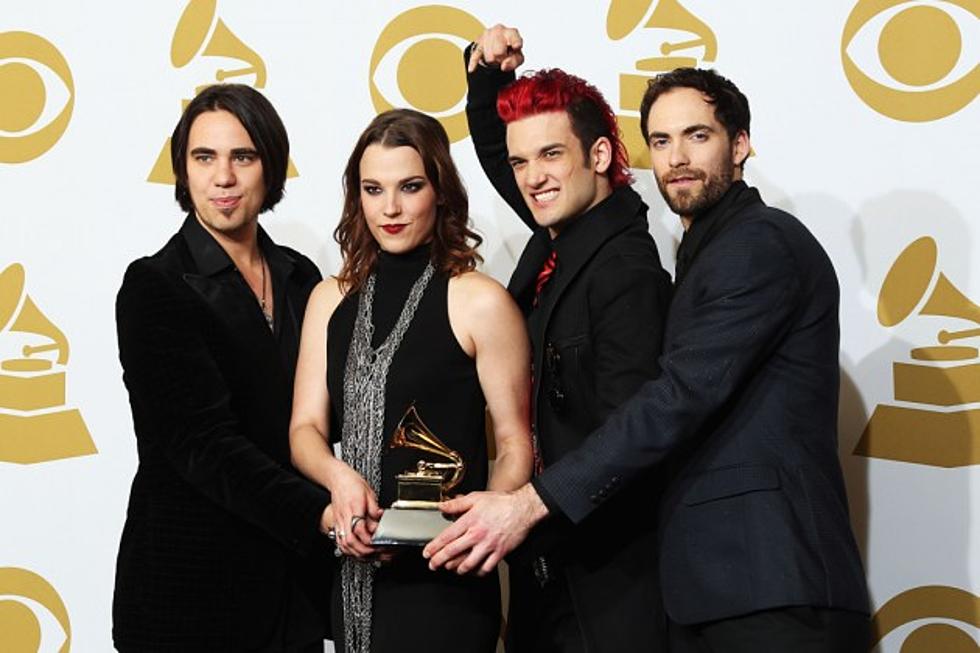 Frederick M. Brown, Getty Images
In just a very short amount of time, Halestorm have become one of the top rock bands going. Led by the powerhouse vocals of Lzzy Hale, the group has churned out their fair share of hits over the last decade and made a name for themselves as one of the hardest touring bands around.
Lzzy and her brother Arejay Hale, the band's drummer, were raised on a steady diet of rock and metal and those influences have seeped their way into the band's sound. Rounded out by guitarist Joe Hottinger and bassist Josh Smith, the group is a finely tuned rock outfit that is truly hitting their stride after three successful discs for Atlantic Records. And you can catch them rocking the 2015 Loudwire Music Festival. Details here.
You'll want to crank it up, rock it out and sing along as Loudwire counts down the 10 Best Halestorm Songs.
10

"Mayhem"

From: 'Into the Wild Life' (2015)

Chaotic from the word go! "Mayhem" is a very appropriate title for this rocker which features wailing guitar licks from Lzzy Hale and Joe Hottinger and hard-hitting beats from Arejay Hale right out of the gate. As Lzzy Hale says, "A little mayhem never hurt anyone / Where'm I gonna get some?" How about right here, right now?!

9

"Mz. Hyde"

From: 'The Strange Case Of...' (2012)

Like many rockers, Lzzy Hale has found that there is the public persona that most fans see and the private person in those moments offstage. Hale managed to merge both of those sides into one for "Mz. Hyde," one of the more rocking tracks off The Strange Case Of... album. Welcome to her "other side," rock out with "Mz. Hyde."

8

"It's Not You"

From: 'Halestorm' (2009)

Need more cowbell? You can get your fix with Halestorm's 2009 single "It's Not You." The second track to drop off the band's self-titled release is a driving rocker and one helluva kiss off from Hale. The vocalist tells an ex that she's in love with somebody and "it's not you" and then proceeds to tear down any confidence that guy might have. Simply put, don't mess with Ms. Hale.

7

"Here's to Us"

From: 'The Strange Case Of ...' (2012)

Though there have been bigger rock hits, no song may have done more for Halestorm in reaching a broader audience than "Here's to Us." With a little bit of barroom country soul, this anthem crossed over to genres outside of rock and was even covered on the TV show Glee. So here's to Halestorm, raise your glass. Sing along, cause you know you want to.

6

"Amen"

From: 'Into the Wild Life' (2015)

Halestorm get their slow burn on with the anthemic "Amen." The song chugs along with Lzzy Hale delivering just the perfect amount of soulful sass in the verses while the "woo-hoo's" build the tension. Then the track kicks into gear in the chorus and has listeners ready to testify when Hale asks, "Can I get an amen?"

5

"I Miss the Misery"

From: 'The Strange Case Of...' (2012)

When is drama not a bad thing? When it generates such a rocker as Halestorm's "I Miss the Misery." As has been time tested, some women love the bad boy and in this song, Lzzy Hale belts about missing some of the friction caused by a tumultuous relationship. Sadly for the object of the song, she prefers the drama over the actual person causing it.

4

"Apocalyptic"

From: 'Into the Wild Life' (2015)

What would Halestorm sound like going into their third album? Rest assured, Halestorm fans, the band still rocks hard, as "Apocalyptic" proved. Blistering guitar work from Joe Hottinger and the power vocals of Lzzy Hale drive this song. Following on the theme of "I Miss the Misery," Hale offers her beau one final night of "apocalyptic" loving before cutting the cord on a relationship gone bad.

3

"Freak Like Me"

From: 'The Strange Case Of...' (2012)

Aggressive, heavy and filled with attitude, "Freak Like Me" has anthem written all over it. Halestorm move their "sick and twisted" fans toward action, rocking the lines, "If you're a freak like me, wave your flag / If you're a freak like me, get off your ass / It's our time now / To let it all hang out." If that doesn't spur you to action, the music surely will, as "Freak Like Me" is one of the band's catchiest tunes.

2

"I Get Off"

From: 'Halestorm' (2009)

"I Get Off" is the song that started it all for Halestorm, an ode to voyeurism where the person being watched is getting as much from the experience as the one viewing. The sentiment could also be applied to the band's live show, where the group clearly enjoys playing for crowds as much as fans do watching them perform.

1

"Love Bites (So Do I)"

From: 'The Strange Case Of...' (2012)

The chugging guitars, the frenetic drum beats and a pace that definitely upped the heaviness -- what's not to love about Halestorm's "Love Bites (So Do I)"? The song took home the Grammy for Best Hard Rock / Metal performance, so we're not alone in that assessment. This brazen, no holds barred rocker is a definite live favorite as well, making "Love Bites (So Do I)" our pick as the best Halestorm song.