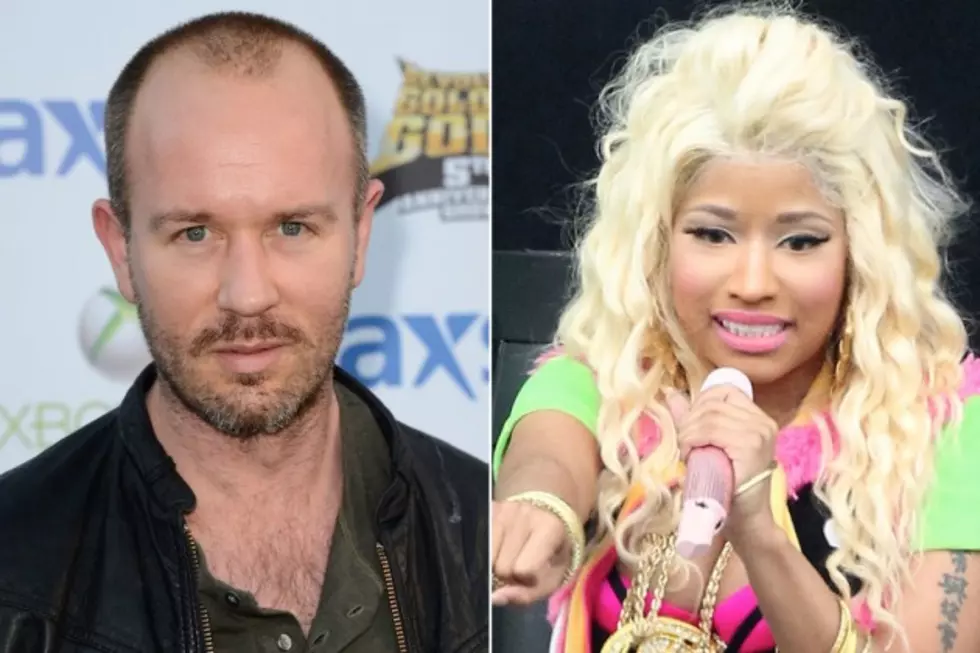 Brendon Small Reacts to Claim That Nicki Minaj's Controversial Video Is Inspired by 'Metalocalypse'
Frazer Harrison / Danny Martindale, Getty Images
Since posting her lyric video for 'Only,' female rap phenom Nicki Minaj has been heavily criticized for using what appears to be Nazi-like imagery as inspiration for the video's graphics. Minaj explained via Twitter that the video's creator was influenced by 'Metalocalypse,' but that show's creator, metal musician Brendon Small, has shot back at Minaj and company for associating 'Metalocalypse' with the 'Only' clip.
Minaj has undergone a firestorm of backlash since the video was released earlier this week, and she's been posting a series of tweets defending herself, including one in which she says 'Metalocalypse' and 'Sin City' were inspirations for the clip. Small originally put up a humorous tweet in response, but followed that with a longer retort.
Here's Nicki's original tweet explaining her 'Only' lyric video:
Later that same day, Brendon Small tweeted this response:
Following up on the story, Metal Insider spoke with Small. The Dethklok mastermind gave a more detailed response, addressing why 'Metalocalypse' has used wartime symbolism for the cartoon while questioning Minaj's intent:
They seem to be confused about art. Our video is influenced by Russian war propaganda art, very stylized WWII satire urging people to enlist in the Dethklok army. The story itself is about a man enlisting (and giving his life) to become a 'klokateer,' which is a glorified roadie. When we play it live people are pretty transfixed. I wanted to make a video that convinced regular people to join the army (granted, one that doesn't exist) and who knows, maybe they would?

Minaj dressed people up like Nazis and held them captive by slowly speaking to them. Which, to me, is also funny.

Watching her video, I'm confused by how she's influenced by us. And ultimately I don't care, because I really don't think she's a Nazi – but that would be a funny reveal this point in her career…
Check out Dethklok's video for 'The Gears' and Nicki Minaj's lyric video for 'Only' below and draw your own conclusions.
Nicki Minaj, 'Only' Lyric Video