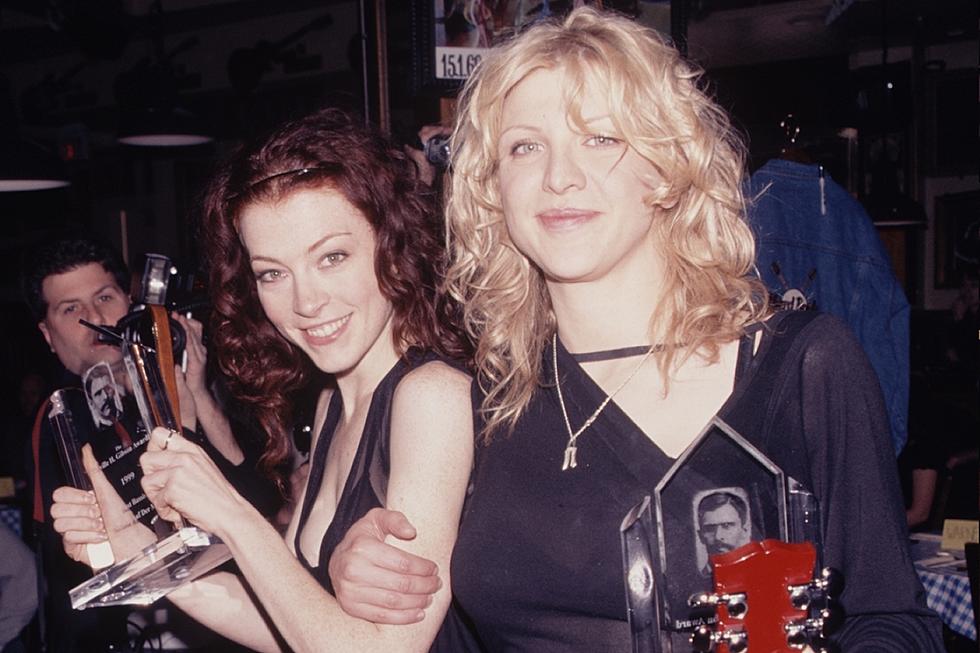 Trio of Classic Hole Lineup Members Jam Together
The LIFE Picture Collection/Getty Images
Have you missed "Miss World"? Dying to hear those "Doll Parts"? Hole recently staged a mini-reunion of sorts on a studio stage as three of the group's members recently jammed together.
Courtney Love recently posted, but since deleted an Instagram post with herself, bassist Melissa Auf Der Maur and drummer Patty Schemel with the caption, "Whose rusty af? Ladies!!!" The post also came with hashtags for #hole #rehearsal #tonight and #hollywood.
Not tagged or visible within the shot was guitarist Eric Erlandson, making the session one shy of a full-on reunion of the classic era lineup. Love appeared in the comments to be enjoying the session with her onetime bandmates, and when asked if Hole concerts might follow, she responded with two black heart emojis.
While the Instagram post was taken down, a photo remains from the session by another poster on Twitter:
Back in May, Love hinted to The Guardian that members of the band were "definitely talking about" getting back together. "There's nothing wrong with honoring your past," said Love. "I've just kind of discovered that. If you don't, people will rewrite history and you will become an inconvenient woman."
Those comments came after Melissa Auf Der Maur stated in April that she was open to the reunion idea. "We've all grown older, have become more gentle, and I have the feeling that now would be the right point in time to reactivate the band once again," Auf der Maur explained, "We did a few little gigs over the years but nothing substantial."
"Now it's been exactly 20 years since I've left the band, and I want a piece of our glory back," Auf der Maur continued of the group, who first disbanded in 2002. "Hole was a great band, and it's important to remember them properly."
See Hole in the Top 30 Grunge Albums of All Time