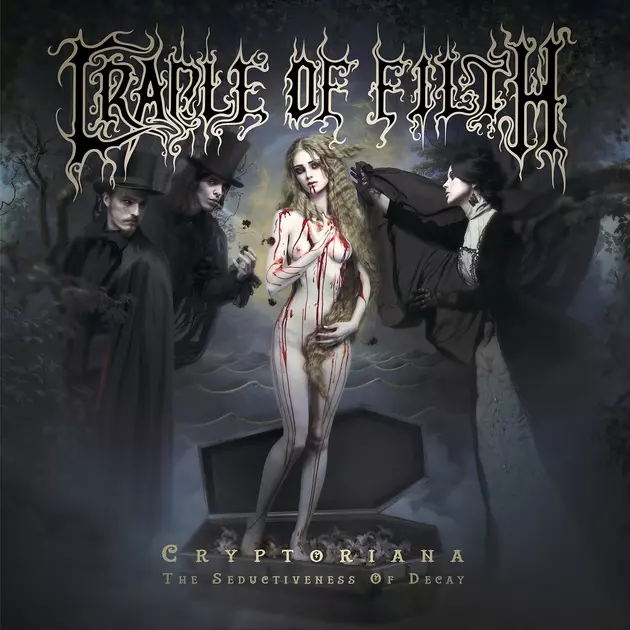 Cradle of Filth, 'Cryptoriana – The Seductiveness of Decay' – Album Review
Nuclear Blast
For more than a quarter century, British extremists Cradle of Filth have been unafraid to push the envelope. They helped popularize symphonic black metal in the '90s, and visual elements have always been an important part of their style. These days, their style has more gothic elements, and they remain a polarizing band. After 2015's very well received Hammer of the Witches, CoF return with Cryptoriana - The Seductiveness of Decay.
As to what the title means, frontman Dani Filth explains: "The album, both lyrically and artistically, is infused with Victorian gothic horror and thus the title is a reflection of that. Cryptoriana implies the Victorians' infatuation with the supernatural, the grave and the fervently ghoulish. The subtitle, The Seductiveness of Decay, further cements the attraction to death and the glittering lengthy process of self-annihilation."
The two minute opener "Exquisite Torments Await" serves as an introduction to the album, leading into "Heartbreak and Seance," a heavy track with galloping riffs and a gothic atmosphere, topped by Filth's growls and shrieks. This is the second album for guitarists Richard Shaw and Marek "Ashok" Smerda, who have developed an excellent chemistry and deliver a plethora of memorable riffs, fills and solos.
Tracks like "Achingly Beautiful" blend grandiose symphonic elements and choir vocals with crushingly heavy sections. Like most of their albums, Cryptoriana's songs are lengthy and epic, ranging from six to around nine minutes long. The ebbs and flows and shifting styles avoid any hint of dragging or overstaying their welcome.
With all the different styles on display, New Wave of British Heavy Metal probably isn't one you'd expect, but there are moments that are downright Iron Maiden-esque on songs like "Wester Vespertine" and especially the title track. Now Filth doesn't croon like Bruce Dickinson, but some of the guitar parts definitely have that Maiden vibe.
With Cradle of Filth's arrangements, there's always a lot going on, from swirling guitars to cinematic keyboards to choirs to female vocals (including a guest appearance from former Leaves Eyes singer Liv Kristine on "Vengeful Spirit"). There's a danger of overusing the bells and whistles and forgetting about the meat and potatoes of the song, but they strike an effective balance of atmospherics and melodies.
The album does go over the top at times, but that's part of the plan, and part of the fun. If it's reserved and understated you're looking for, you've come to the wrong place. Cryptoriana - The Seductiveness of Decay is exactly what you'd expect from Cradle of Filth: a mix of brutality, beauty and immersive lyrics that will transport you to the Victorian era.
See Dani Filth in 14 Rock + Metal Musicians With Insane Vocal Ranges