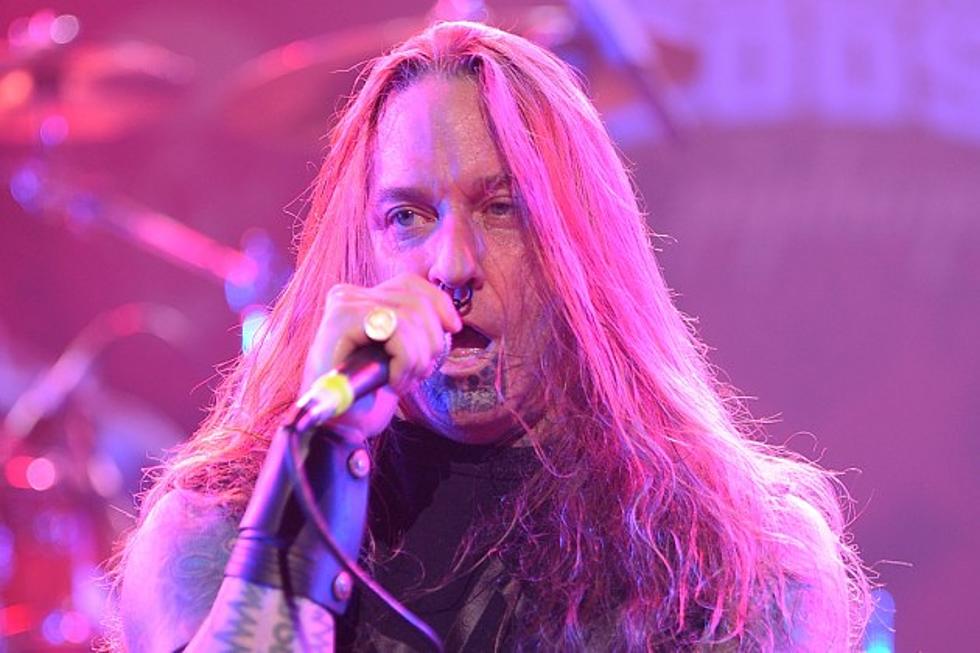 Dez Fafara Talks Coal Chamber Album Plans, DevilDriver Lineup Change + More
Frazer Harrison, Getty Images
Dez Fafara was the guest on Full Metal Jackie's weekend show. The rocker has a busy year ahead of him, which includes the first new Coal Chamber album in over a decade and more touring. Fafara is also looking forward to re-teaming with DevilDriver, who have undergone a lineup shakeup as well. The vocalist catches us up on both bands in the interview below.
We've got DevilDriver and Coal Chamber frontman Dez Fafara.
Thanks for having me. Thank you so much, good to talk to you!
So much great stuff to talk about, obviously the new Coal Chamber album is going to be out this year. Making an album together for the first time in over 10 years, what dictates the sound of the music more -- a band's previously established style or the way the band members have matured as musicians since the last album?
It's actually been 13 years since we've made music together. We let it grow organically and we did what we were going to do organically. So there is a growth in the music for sure. I think that if you were going to try and come back with Coal Chamber and do something kind of throwback tour, or a throwback record and throwback sound I don't think that would work. So I keep telling people, don't expect some throwback record. This is Coal Chamber in 2015. It's going to be a different story.
It's got a lot of really killer hooks, I think the band did an amazing job with the music. Mark Lewis on production was incredible. We had a great time doing the record, so there was a lot of fun surrounding it. That was the key word, let's have fun. I think people are really going to love this stuff. They're going to dig it and if you're a Coal Chamber fan, you're definitely going to love it. If you were never a Coal Chamber fan, I think you're going to come over to this side and dig it.
What was the biggest advantage to Coal Chamber touring again before writing and recording new music together?
I think it was all about let's get on a bus. Let's get in the submarine and live together, let's see how this goes. Let's see if we get along as well as we have been when we've been meeting outside of rehearsals. Let's bond. Before you do a record, you've got to bond. That's exactly what we did on those tours. We took it around the world and we did incredible. We started out in Australia in Soundwave and just took it around the world. It was a really good time for us and that's when we decided look, we're having a good time? Let's make music.
When Coal Chamber disbanded, Dez, you were pretty adamant that it was permanent. Musically and personally, what was missing that you've regained by doing this band again?
I think we had lost our way. I think the guys got involved with some things that took them down personally. I had been over a lot of the drama that can happen within bands and everything that was going on around us. I think it was just time to go. Reinventing like this, coming back with a record that feels absolutely incredible, I'm overjoyed with it. I can't wait to share it with people.
DevilDriver just announced Austin D'Amond as its new drummer. What makes him the right drummer for the band and what's the timeline for new music from that band?
The timeline is we're definitely going to write this year and probably record this year and drop it in 2016. What made him the right guy is he's more than capable. You can understand when members leave a band and Jeff [Kendrick] the guitar player left because he just didn't want to tour anymore and I totally understood that after the schedule we kept for almost 13 years. John [Boecklin] wanted to try and do some stuff on his own and it was more than OK with me after that length of time. So, when you do replacement members you want to get people who are more than capable or more capable than who you had.
I definitely am looking forward to playing with Austin, he's a great guy and a great drummer. He's got an incredible stage presence and when he came in for the audition he absolutely just smoked it. He's just an incredible guy and you get a real good vibe from him, which is another thing. We're going to tour a lot so you're going to have to have that. The guitar player is also -- we've also got a new guitar player but we're going to wait on the announcement on that. It's nice, I just got back yesterday from Los Angeles, from Mike's house meeting with the whole band. It's looking like it's on track to record mid this year.
What benefits are you experiencing that you never expected to come from being active in two bands?
Most of the time when you're recording and you put a record out you've got a tour for a certain amount of time then take time away from the marketplace with that certain band. So when I decided after a long time touring with DevilDriver to actually take time off, I didn't want to sit around for a year and a half, that's for sure. The benefits are I got to do music, which is what I love to do. I got to also keep touring and do something different. Coal Chamber is definitely different from DevilDriver in every single facet of the band. Touring, stage presence, everything. The benefit is just having two killer bands in your pocket, working them both and knowing how to not overwork them as well. So when one takes downtime, the other picks back up.
Always a pleasure to have you on the show and excited for all that's to come with Coal Chamber and DevilDriver.
You're more than welcome, thank you very much. We'll [Coal Chamber] be out touring March and April with Filter as our main support, Combichrist and American Head Charge. Look forward to that coming to a town near you, it's going to be killer.
Thanks to Dez Fafara for the interview. Those dates he mentioned with Filter, Combichrist and American Head Charge can be found here. Full Metal Jackie's weekend show can be heard on radio stations around the country — for a full list of stations, go to fullmetaljackieradio.com.