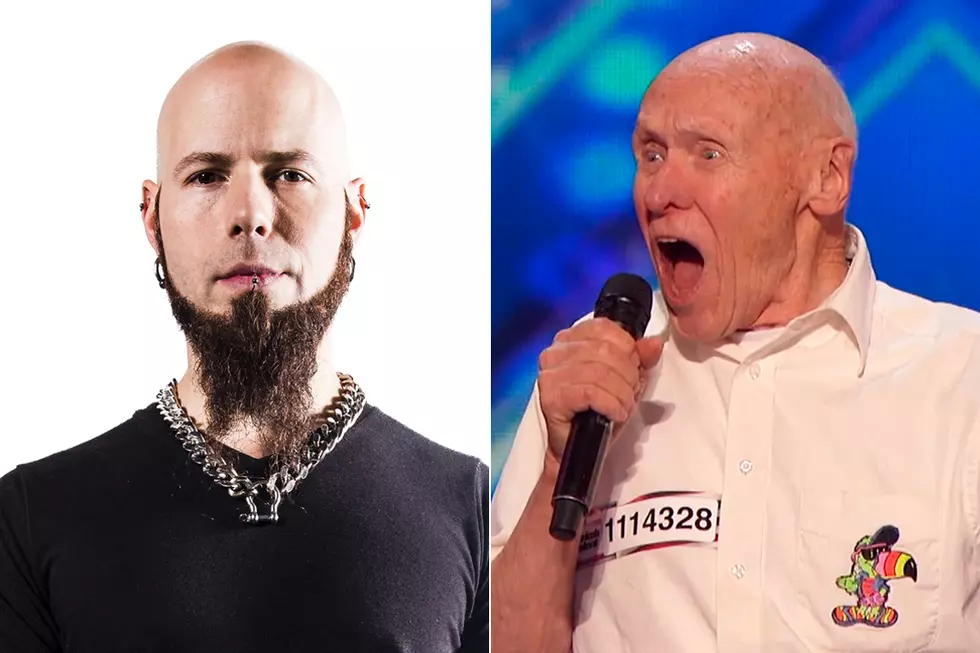 Drowning Pool's CJ Pierce Talks 82-Year-Old John Hetlinger's 'Bodies' Cover on 'America's Got Talent'
eOne / NBC America's Got Talent
There's a new metal star on the scene and his name is John Hetlinger. The 82-year-old former aerospace engineer and Navy pilot became an overnight sensation thanks to his appearance on NBC's America's Got Talent, when he surprised everyone by belting out the Drowning Pool classic "Bodies." Hetlinger made it through to the next round, as three of the four judges voted "Yes" (with Heidi Klum voting "No.") As expected, there's a lot of love for Hetlinger, including some from Drowning Pool, the originators of "Bodies." We chatted with guitarist CJ Pierce about the viral video favorite John Hetlinger and how the band is trying to reach out to invite him to a show and meet him. Check out the interview below:
It's been a pretty interesting 24 hours, eh?
It's been an interesting 24 hours, but it's been really cool because of John [Hetlinger] and his performance there singing 'Bodies' on America's Got Talent. I've been catching up with my family and friends because everybody's been hitting me up about it. Pretty much everybody's seen it and if they haven't they're going to see it because it's out everywhere.
So when did you first hear about it and give me your thoughts on what it was like seeing John perform?
I picked up my phone and I got a handful of texts from a number of people because I guess it got out yesterday ahead of the airing. We had a band group text on there as well, and then I watched it, and man, I am so entertained by it. It's awesome to just see an 82-year-old man get out there and just belt out some metal -- whether it was our song or any song, it was just killer to see him do that.
Absolutely! But he absolutely belted that song. Does he have a future as a vocalist?
Yeah, he does. You know we've had a revolving door, but Jasen Moreno is our man right now. But if he doesn't work out we always know we've got John on the backburner. We always just want to have a good time. That's how I look at it.
I've seen where you're talking about the opportunities of reaching out to him, possibly to perform with you guys at Chicago Open Air...
That would be great if he could do that. I still have a flood of emails and texts that I have not even gone through yet, but I'm hoping. The feelers are out there and I think it would be fun. Obviously he had a great time with the song and we have a great time with the song every night so it would be awesome to have him onstage with us. I just mentioned Open Air because it's the next big festival coming up that we're playing and if we're going to do it, I'd rather do it right and have him on a big show like that. So I'm hoping he does. We'd love to get in touch with him or hope he gets in touch with us and I'm looking forward to meeting him anyway. He just seems like a great guy anyway, working on the Hubble telescope and everything, that's freaking cool. And he was a Navy pilot. Good for him.
It's kind of cool -- 82-year-old guy, loves metal. What's the oldest Drowning Pool fan that you've met over the years? Have you run into the elderly being big fans of the band?
You know, they are. My grandfather is 94 and he's a fan, so he'd probably be the oldest I know. But man, we get a lot of fans of all ages, including this kid back in my car seat singing along. So from 8-year-olds to 80-year-olds, we've got a nice range of fan base there.
Have you envisioned if you do get up onstage with John, would you let him go or would you like to see he and Jasen sing together?
I think they should share it for sure, but I'd love to have him up there. You know the thing about that song, we always end the set with it. And it seems like every tour that we do we always bring up the other bands on the tour that open up for us and everybody comes up and sings with us and it's just one of those kinds of songs. Even last week, we played in Dallas and we had a young upcoming metal rocker Aiden Fisher, who is 12-years-old and he came out and played guitar on "Bodies" and just shredded. It was awesome. So I'm looking forward to sharing that with John and I'm sure the fans will go nuts when they see him, especially when he did such a great job on America's Got Talent.
"Bodies" has had such a life for the band. Can you discuss what it's meant to you over the years and share some of your favorite moments of it connecting with people?
There are so many great shows and so many great people and for me, we did a tour last year of Russia with P.O.D. and I jumped out into the crowd and playing guitar on my back. There are so many rock and roll moments because of that song. And we have the troops overseas and that's one of the songs that they put on and they say it's gets 'em in the right frame of mind to do their job and get them home safe. It's the gift that keeps giving over the last 15 years. They keep using it for different stuff and we appreciate it. I'm eternally grateful for that.
And you're playing the inaugural Chicago Open Air. What do you love about the festival atmosphere?
I love playing music and I got into it because I love being at a live show. So for me, especially doing the big festivals, but getting to play them and more off you get to watch the other bands play and get to hang out with everybody and get to meet new bands. You know, I teach, I produce and obviously I play in Drowning Pool. So anything and everything music, it's all good times.
Looking ahead, you're venturing off to Australia and New Zealand this summer...
Yeah! It's been a long time. It's been since 2002 since we've been there and we've tried to get back over there but things have just fallen through. It's always right place, right time, but we're looking forward to going to Australia. We have a great fan base there and had a great time with Dave Williams back in the day when we toured. Super cool people and amazing country and looking forward to that and we want to get back to Europe as well, looking at September / October and hitting the U.K. and getting all those fans. Our song's doing really well in Germany, go figure, so we want to get over to Germany as well.
We spoke earlier this year about Hellelujah, but time has passed since the release. Favorite moments of touring and might we see another single?
Well "By the Blood" was officially the first single and we put out "Snake Charmer" and "Hell to Pay," but we'd really like to push "Hell to Pay" as an official single. That's another song, both "By the Blood" and "Hell to Pay," that they're very reminiscent of what we played on the Sinner record. And it kind of goes back, but Jasen [Moreno] is bringing his new school style into it. And we've got great reactions and responses to those songs. They're still fun to play live. It's great when fans latch on to songs like that. But I'm also guilty of it where I love it when bands come out and they play their old stuff and we do plenty of that as well, so I think we've got a pretty well-rounded live show. We try to keep that in mind and keep all the fans happy.
Thanks to Drowning Pool's CJ Pierce for the interview. Look for the band on tour in support of their 'Hellelujah' album at these stops.
100 Metal Facts You May Not Know