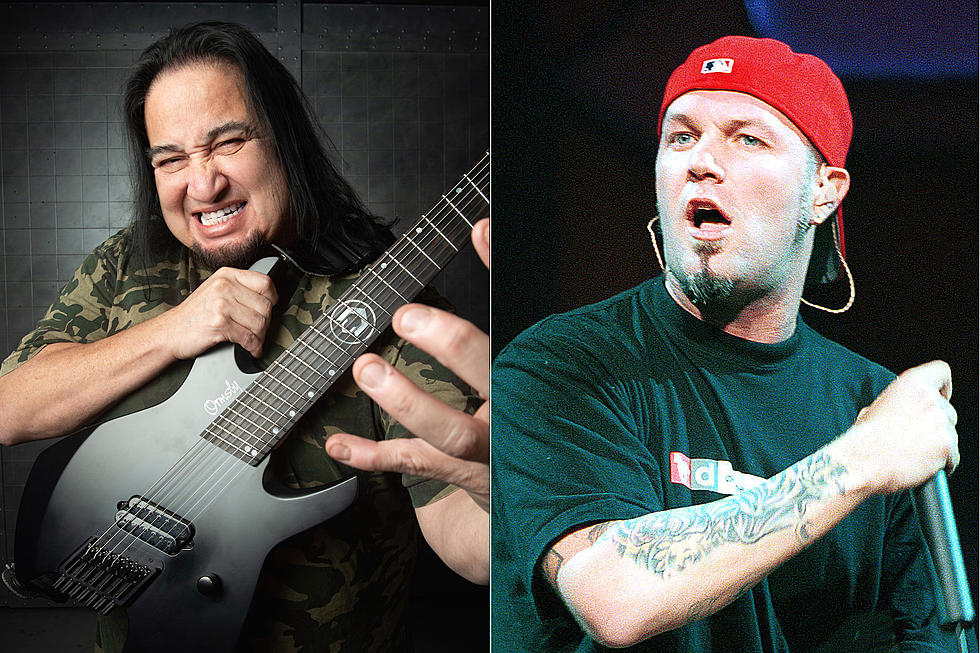 Fear Factory's Dino Cazares Once Turned Down a Limp Bizkit Audition
Stephanie Cabral / George de Sota, Hulton Archives/Getty Images
Fear Factory and Limp Bizkit both broke new ground for metal in the '90s and in the new millennium, there was an opportunity for guitarist Dino Cazares to audition for the nu-metal giants, but he elected to instead turn down the potential gig with the platinum-selling band.
As a guest on the 'Talk Toomey Podcast,' Cazares recalled first meeting Limp Bizkit while out on tour, as well as watching both them and Korn experience massive success in the mid-to-late '90s.
"We were on tour with Iron Maiden around '95 when they had Blaze Bayley. We were playing everywhere and we met the guys from Limp Bizkit. They came on our bus, they played the demo—their first demo—and they said that [producer] Ross Robinson was going to be producing the [Three Dollar Bill, Y'all] album and this and that and they were going be in L.A. and to come hang out," began the Fear Factory axeman (transcription via The PRP).
He continued, "And so Ross Robinson called us up and Limp Bizkit were there and I was able to be on their first record on a song called 'Indigo Flow'. But whatever, you know. Later on they had asked me to audition for Limp Bizkit when they lost Wes [Borland], I respectfully declined."
Borland temporarily left Limp Bizkit in 1997 and returned to the group that same year, but departed once more in 2001, which opened up the possibility for Cazares to fill the role.
Without going into much detail about why he never considered the audition, the guitarist, who will release Aggression Continuum with Fear Factory on June 18, simply recalled, "I was like 'nah.'"
SPOTIFY PLAYLIST: 2021's Best Metal Songs (So Far) — Featuring Fear Factory's "Disruptor" and more. Follow here.
"But way back I saw Limp Bizkit fucking blow the fuck up and how that happened. Same thing with Korn — I witnessed Korn blow the fuck up too. I was there, we were on tour with them," Cazares added, taking stock of nu-metal's booming popularity at the time.
It's an accomplishment that is not seen with such prevalence today and he further recalled, "The minute [Korn] fucking started selling fucking 70,000 records a week, it was stupid. It was fucking insane how they blew up. We were on [the 1995] tour with Megadeth, Korn, Flotsam and Jetsam and Fear Factory [were] opening up. Literally on that tour things started to take a shift for that band, because remember this was still their first album and they'd been working that [self-titled debut] album [Korn] for about a year and a half before it really started to take off."
He then compared those sales figures to Fear Factory's own at the time and stated, "So they blew the fuck up and I was witnessing all that and I'm like 'Fuck. We're selling like 5,000 records a week, 10,000 records a week,' and they're like, 'Oh I'm doing 50,000' and the next week, 'Oh I'm doing 70,000 and I'm like 'holy fuck.'"
In 2001, Fear Factory's Obsolete album was certified gold by the RIAA (for sales in excess of 500,000 units), marking their only certification from the organization.
2021's Best Metal Songs (So Far)
Loudwire's picks for the best metal songs of 2021 so far.