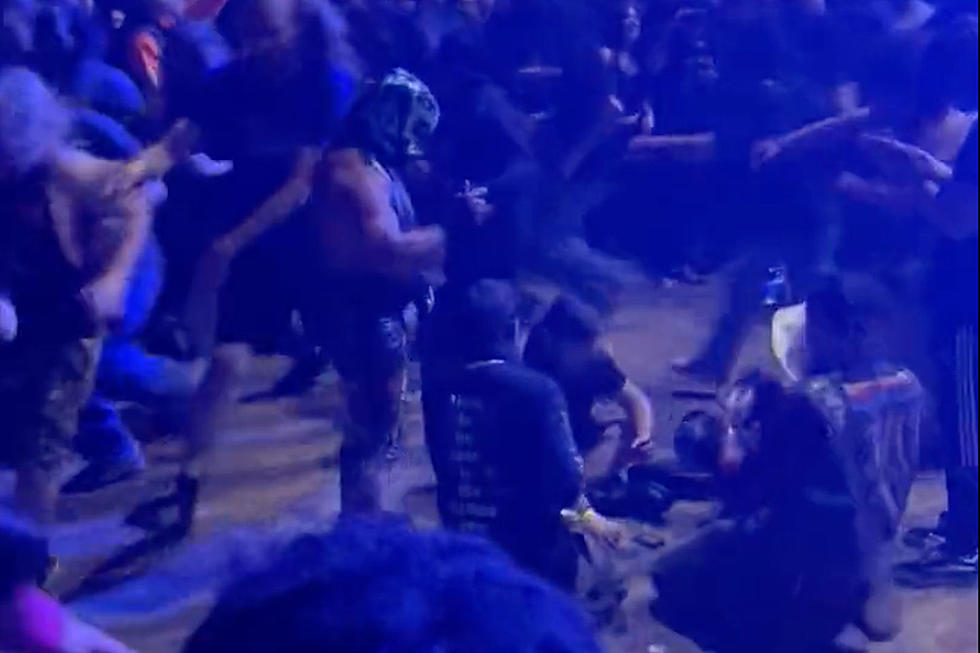 Death Metal Band Frozen Soul Invites Fans to Circle Pit Around 'Magic: The Gathering' Game
YouTube: Dumpster Jesus
Well, have we now seen it all when it comes to circle pits? There has been everything from fiery displays, pool noodles and a man with his can of beans to young children serving as the "eye" of the pit. So what else could happen in a circle pit? Well, during a recent Frozen Soul show, the pit got heavy around a game of "Magic: The Gathering," and it was done so at the band's request.
What Is "Magic: The Gathering"?
"Magic: The Gathering," or "MTG" as some gamers call it, is a collectible card game. According to the game rules, you can explore rich worlds, discover unique strategies, and develop your skills. Each player starts the game with 20 life. Get your opponent's 20 life points down to 0 and you win the game.
A player in the game takes the role of a Planeswalker, a powerful wizard who can travel between dimensions of the Multiverse, doing battle with other players as Planeswalkers by casting spells, using artifacts and summoning creatures as depicted on the individual cards drawn from their individual decks. A player defeats their opponent typically by casting spells and attacking with creatures to deal damage to the opponent's "life total."
The game was initially released in 1993 and over 20 billion Magic cards were produced between the years of 2008-2016 during a period in which the game's popularity grew substantially.
How Did a Game of Magic: The Gathering Break Out at a Death Metal Concert?
Per Frozen Soul's Chad Green on their social media, "Someone held up a magic deck in the pit and I made someone play him while everyone else circle pit around them, LFG! Wrecking ball magic madness!"
This impromptu game took place during the band's Oct. 28 show at Dallas's The Echo Lounge and Music Hall as part of the "Wrecking Ball Metal Madness" concert. As fan-shot footage can be seen below, the group of gamers are gathered in a circle starting their game when the crowd is then directed to form the circle pit increasing in intensity around them.
Per ThePrp.com, one fan in attendance noted that the game went on over the course of roughly three to four songs.
Frozen Soul played up the unique addition to their circle pit, noting on social media, "We stay castin spells @wizards_magic," and later suggesting, "Let's see how many retweets it will take to talk @wizards_magic into letting us design a custom magic card with @JamesBousema run it up."
As you might expect, this yielded a few jokes and comments from the band's social media community. One fan noted, "I hope Frozen Soul tours near me next spring so I can prepare my taxes in the mosh pit." Another added, "I want to play EDH w/ frozen soul."
READ MORE: We Answer the Most Frequently Searched Questions About Death Metal
Frozen Soul are in the midst of a North American tour, with dates in Atlanta, Greensboro, Richmond, New York and Philadelphia over the coming week, with more shows booked through a Dec. 2 finale in Houston. See all their scheduled stops and get ticketing info here.
The Weirdest Things People Have Done in a Mosh Pit
Everyone has an odd story from their time served as a pit veteran or warrior, whether it's actual sex acts happening in the mosh pit, or someone riding in on their motorcycle, we're sure some of these stories we're about to share are just half of the crazy stuff that's been seen down in the depths of the pit.
Gallery Credit: Yasmine Summan