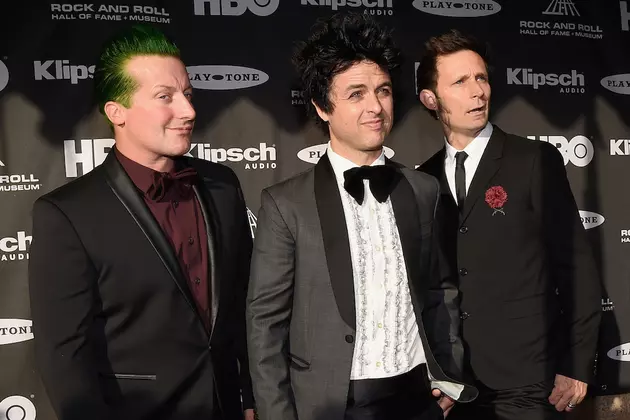 Green Day to Make August Return With New Single 'Bang Bang'
Michael Loccisano, Getty Images
Welcome back to paradise, Green Day fans! The veteran rockers are set to return later this month with a new single, as Billie Joe Armstrong has revealed the news via his Instagram account.
At this point not much is known other than the title -- "Bang Bang." Armstrong revealed in his posting that the song would arrive on Aug. 11 and that more details would be announced soon. Check out his posting on the matter, with a photo shot by Frank Maddocks, below:
Green Day have taken some well deserved time off since releasing their album trilogy back in the latter portion of 2012. But the time away has not been uneventful. Billie Joe Armstrong's rehab stint limited the band's promotion of their album trilogy, and after the cycle was complete the band took some time off as bassist Mike Dirnt's wife was battling breast cancer and band guitarist Jason White was dealing with tonsil cancer.
During the time away, Armstrong added to his growing film career, taking roles in a handful of movies including a starring role in the film Geezer. In 2015, the band regrouped for the first time in a year to prepare for their induction into the Rock and Roll Hall of Fame, and at the time Armstrong teased that there were "four or five" new songs in the works. As 2016 arrived, the band was back in the studio with Armstrong posting photos of their set up.
While official word on a new album has yet to be revealed, the announcement of a single arriving on Aug. 11 is a good sign that a fresh Green Day disc shouldn't be too far off. Stay tuned and we'll keep you up to date on album and touring news.
Check Out Billie Joe Armstrong in Our Top 10 Hard Rock Smackdowns: