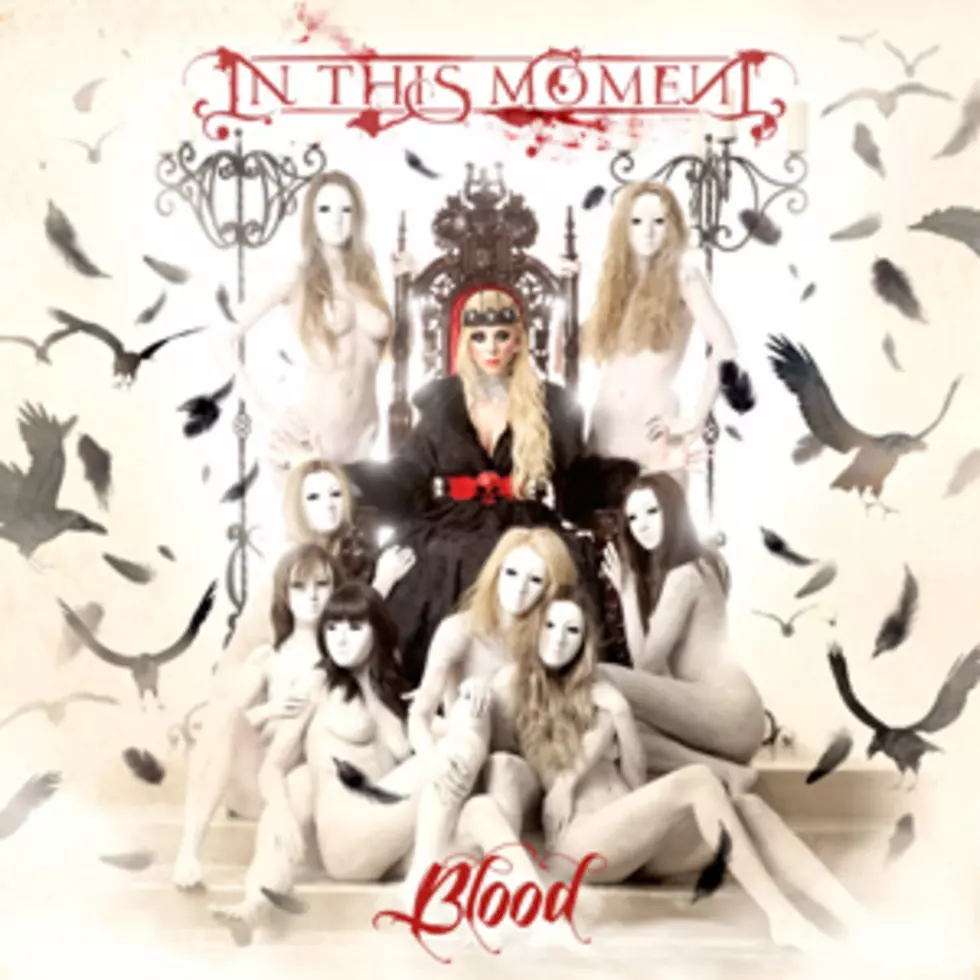 In This Moment, 'Blood' – Album Review
In This Moment have unleashed their fourth studio album 'Blood' and despite the lineup changes in the past year, the band seems to be a strong and cohesive unit -- and 'Blood' is a testament of that strength.
The disc kicks off with 'Rise With Me,' which is a prelude that has frontwoman Maria Brink crooning "Just say tonight / You'll die here with me" for about a minute and a half then smoothly leads into the title track 'Blood.'
It's no secret that the title track and first single 'Blood' is highly addictive with its powerful lyrics, catchy chorus and riffs which has you rewinding it as soon as it's over with.
'Adrenalize' is another track which is just as contagious as 'Blood.' Guitarists Chris Howorth and Randy Weitzel create some alluring riffs not only for this specific song but throughout the record. Brink brings conviction as she belts out the chorus "I must confess I'm addicted to this / Shove your kiss straight through my chest / I can't deny I'd die without this / Make me feel like a god / Music, love, and sex / Adrenalize me / I crave excess I want the sweat dripping down my neck / I can't deny I'd die without this / Make me feel like a god / Adrenaline and sex."
There are some achingly intense vocals in the song 'Whore' that really show the rawness of the album, as Brink sings, "So how can this be / You're praying to me / There's a look in your eyes / I know just what that means / I can be your everything / I can be your whore / I am the dark you created / I am the sinner / I am your whore / Let me tell you something baby / You love me for everything you hate me for."
In This Moment do a great job of setting up sensual verses before spiraling out of control into chaotic choruses on songs such as 'You're Gonna Listen' and 'Burn,' which have tantalizing vocals and guitar riffs.
Spoken-word snippets like 'It Is Written' and 'Aries' offer short breaks from the chaos and high energy of the album but still keep true to the lyrical intensity of the album.
'From the Ashes' has a an appealing factor especially with its thunderous and frenzied drum patterns and deep bass lines.
In This Moment are on the Uproar Festival this summer and among the new tracks that would create some massive circle pits is 'Beast Within,' which is a concert anthem as it begins "I don't know how I got here / We cannot get out / I'm surrounded by strangers as the music starts to pound / I see the bodies slowly swaying, moving side to side / I feel the animal is rising as I slowly come alive."
'Comanche' is also one that will get some pits going with wild drums patterns and some serious riffs as Brink repeatedly shouts, "Come on / Get on / Let me hear your war cry!"
Even slow paced songs such as 'Scarlet' and 'The Blood Legion' show off Brink's power through her deep harmonious vocals, while '11:11' is all about the soulful part of her voice as she pushes her vocal cords to max.
The album closes out with a cover of the Nine Inch Nails classic hit 'Closer.' This rendition of the song is for an acquired taste, as NIN enthusiasts might not be a fan of this version. However, In This Moment fans will definitely get a kick out of this treat.
'Blood' is a big step forward in the progression of In This Moment. As a vocalist, Brink can captivate and drag you in with her melodies just before she spits you out with her venomous growls.