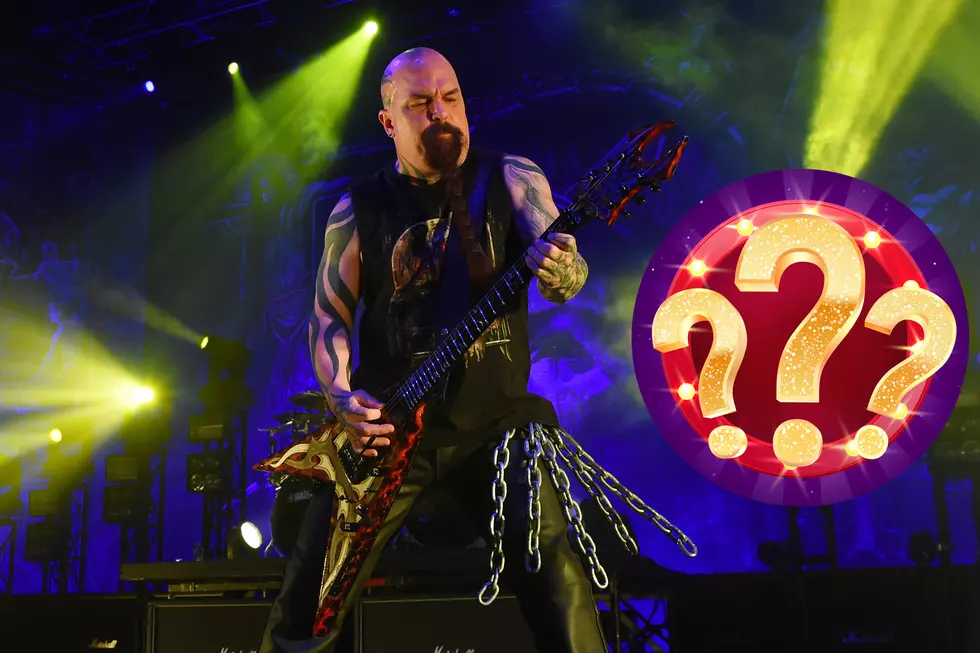 Is Slayer's Kerry King Teasing His 2024 Return?
Ethan Miller, Getty Images / Getty Images
Slayer's final show took place Nov. 30, 2019, and while guitarist Kerry King has been adamant about his desire to continue making music, things have been relatively quiet in the time since .... that is until now. It appears as though King has offered the first hint that he's about to return with new music.
King's publicist, Heidi Ellen Robinson, as well as the musician himself both shared a photo teaser on their socials. It reads, "Coming in 2024 ..." with King's familiar chains laying upon a grey carpeted surface.
At the conclusion of Slayer's final show, King notably removed his chain and let it fall to the concert stage floor below. He later explained to Dean Guitars (per Blabbermouth), "One of the reasons I did the chain drop at the last show was so everybody in the building could hear it. And it wasn't something I planned. We were doing the last run, and I said, 'I wanna do this on the last Forum show so people take it more seriously.' Like, 'King took off his chains. He left them on the stage. What the fuck, man?' So people hopefully got that. This isn't one of those, 'We're gonna be back next year and do it again.' The chains took me through Slayer. I took them off, dropped them onstage, and I walked off, and that's the end of Slayer for me."
Kerry King's Post-Slayer Plans
Shortly after the final notes rang out on Slayer's last show, Kerry King's wife let it be known on social media that there was "not a chance in hell" that Slayer would return. So far, the farewell tour has remained the farewell tour.
In 2020, hints about what King might do in his post-Slayer career started to come to light. King had signed a new deal with Dean Guitars right after the end of the run, and he told Guitar World, "Let's just say… Dean didn't sign me for nothing," By August of that same year, he noted that he had "more than two records worth" of solo music.
While King continued to work on new music, he did float the idea that he felt that Slayer had "quit too early," noting in 2021 that he was hating not being able to play for audiences. He later reiterated that stance in early 2023, "it was premature. The reason I say 'premature' is because my heroes from my childhood are still playing! I can still play, I still want to play," he adds, "but that livelihood got taken away from me."
In the fall of 2021, King revealed that he had considered a touring offer, but not one with Slayer. At the time, he stated, "I'm dragging my feet on letting the world know what I'm doing because there's no rush. I have a tour that I'm considering doing, but I'm not going to announce a band, I'm not going to announce a record, I'm not going to announce anything, but you will see me in the future — it will be fucking good."
In 2022, things appeared to be taking shape for new Kerry King music. The guitarist confirmed that he had been working with Slayer drummer Paul Bostaph. As for how things sounded, he explained, You know me, so you know what it's going to sound like. I played this new song for a buddy, and I said to him, 'If there's anything I've written in the last few years that sounds like Slayer, it's this.' And he said, 'That sounds like you could have pulled it off of any Slayer record.' I actually made that riff up backstage at a Slayer show. We were walking to the stage and I got my phone out and recorded it so I wouldn't forget it."
He also added, "Had it have been up to me then I'd have been out in 2020. But that thing called the pandemic fucked everything up for everyone. You know, I waited on that, because it had to run its course. I didn't want to be the guinea pig, I didn't want to learn how to tour again. I already did my dues; I don't want to have to prove myself again." He then added, "I won't be dragging my feet much longer."
READ MORE: Why Kerry King Agreed to Play Solo on Sum 41 Song After Saying No 10 Previous Times
That brings us to current day, with King, after a lengthy period away, displaying his chains and seemingly signifying his return to music in 2024. Are you psyched? Who will be joining him? Will it sound similar to Slayer? Stay tuned and see what the new year brings.
Slayer Songs Ranked
Ranking all 118 Slayer songs from worst to best.
Gallery Credit: Loudwire Staff