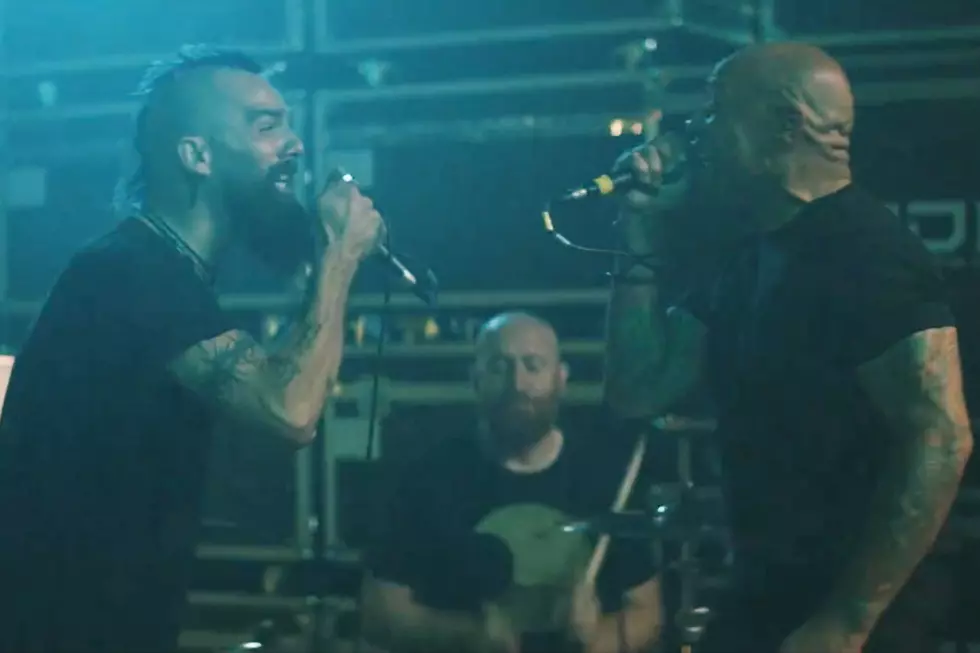 Watch Jesse Leach + Howard Jones Go Head to Head in Killswitch Engage's 'The Signal Fire' Video
YouTube: Killswitch Engage
It's been one of the more buzzed about moments for Killswitch Engage fans, who finally got to hear the band's former singer Howard Jones pair up with their current vocalist Jesse Leach on "The Signal Fire" when the Atonement album was recently released. Now, you get a chance to see how it looks up close and personal in the performance-based video for the song.
The Ian McFarland-directed clip starts off looking like a Killswitch Engage rehearsal with the band gathered on a stage in a circle to play off each other, but not long into the performance, Jones emerges from sitting upon one of the tour cases and joins Leach for the power moment in the first chorus. Watch them go head to head trading vocals in the video below.
"This video is a demonstration of solidarity and unity," says Leach. "This is for the fans and this is our testimony to all who see this video. In these times we live in, I believe this is an important message — not just for us as a band and our fans but for all of humanity. This is a call for compassion and understanding! There is strength in unity."
Leach continues, "The making of the video was a great experience as well. Just all of us guys hanging out and having fun together. Ian McFarland did a hell of a job capturing the vibe and energy of our performances."
"It was another silly day at the office," says Jones, who now fronts Light the Torch. "Good food, lots of wrestling talk, and hanging with the boys is a great way to spend the day and get a little work done. Shout out to Ian McFarland for making everything painless at the shoot. The day was all smiles — with a hint of metal."
"The Signal Fire" follows on the heels of the single "Unleashed" and another of the Atonement album's tracks, "I Am Broken Too." The Atonement album is available here and you can look for the band back on tour in October.
Killswitch Engage, "The Signal Fire"
See Killswitch Engage in the 25 Best Metalcore Albums of All Time