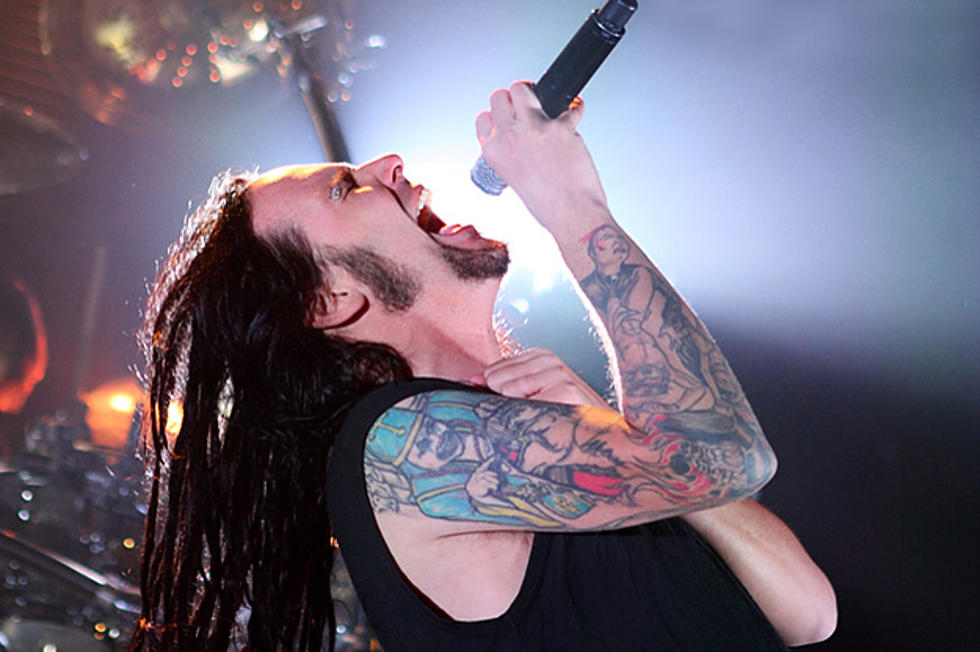 Jonathan Davis Discusses Upcoming Korn Album, Electronic Projects
Korn frontman Jonathan Davis recently sat down for an interview to speak about his current electronic solo project, J Devil, as well as his experiments with Killbot that will be revealed in an upcoming EP. Along with that news, however, Davis spoke about writing for Korn's next album and the direction they will take.
Jonathan Davis spoke with Billboard about his history of creating electronic music. "I started doing (electronic music) for fun. I didn't know what was gonna happen with it," says Davis. "Making electronic music and learning to produce and learning my new instrument -- laptop, I call it -- has been an amazing thing. I'm learning and I'm having fun playing my own tunes. I've really had to retrain myself. It's totally different than writing rock songs."
Davis also discussed how his life completely revolves around music while on tour and what fans can expect from the new Killbot EP. "After every Korn show I come offstage, take a shower and I start writing … [the Killbot EP] is ridiculous. It's the most crazy aural experience you'll have in your life. Two of the songs I'm singing on, the other two are straight-up electronic with me growling and doing other stuff beneath it. It's all over the place."
The frontman finally gave Billboard an update on Korn's current state. "We're getting ready to start writing a new record," shares Davis. "Our motto is to keep ever-evolving. I'm sure there'll still be some electronic influence in there, but I don't think it'll be like the last one and go to all those different guys again. We'll switch it up and try to do something new, 'cause that's how we work."
Jonathan Davis' electronic alter-ego J Devil is currently booked to open for Rob Zombie and Marilyn Manson's 'Twins of Evil' co-headlining tour, which begins on Sept. 28 in Phoenix, Arizona.