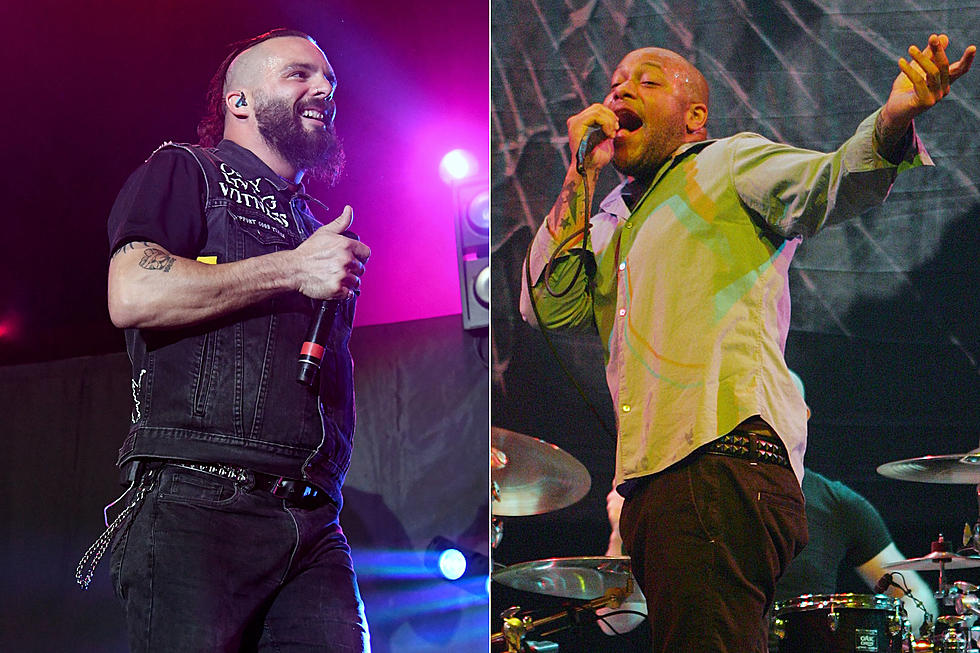 Killswitch Engaged: Current and Former Vocalists Become Friends
Ethan Miller (2), Getty Images
We've seen bands change singers before, but it's not always a smoothest of relationships between those who have held the same position. However, current Killswitch Engage frontman Jesse Leach says that he and Howard Jones, the singer who initially replaced him and that he followed after Jones' exit, are good.
Leach had a chance to hang with Jones in the studio and reveals in a pair of social media posts that it's really one of the first times the two singers have been able to spend time together and bond. "You have no idea, none," says Leach in his first posting, which features a photo of the two singers posing for a shot. "Tonight was therapy and laughter. Tonight was the longest we were able to talk alone as friends. This guy is my dude! Lots of laughter and some deep stuff as well. Honored and happy! Dude ... Light the Torch is no joke. Incredible, Light the Torch. Just wait ... this man is back in full effect!!! Wow! Coming at you sooon! Chills!"
Leach added a series of hashtags to his post, including #Gratitude #Brothers, #SoMuchLaughter and #WeGood. See the post below.
And speaking of laughter, you can see some of that on display in the second posting from Leach, as Jones is seen choking his onetime Killswitch bandmate Adam Dutkiewicz in the studio as Leach holds him steady. "So we had a little venting session about working in the studio with Adam D. Howard went in, I assisted. Adam deserved it," laughs Leach. "Such good times last night man! At some point I'll talk more about it. I honestly didn't really know Howard as a person until last night. We've seriously just never hung out. A lot of really crucial stuff was said and I made a new friend ... We have a lot in common, it's crazy! It was also nice to see all of the guys hanging out in the same room sharing stories and tons of laughs. The past is the past and when you let go of certain things, forgive and move on ... life gets a whole lot sweeter. Really really cool hangs, my heart is full today." See that post below.
Leach appeared on the band's self-titled debut and their sophomore set, Alive or Just Breathing, before exiting Killswitch. Jones took over on vocals for The End of Heartache, As Daylight Dies and their 2009 self-titled set before exiting in 2012. That set the table for Leach's return on Disarm the Descent and Incarnate. Jones went on to form Devil You Know, who recently changed their name to Light the Torch after a lineup change.
Killswitch Engage Albums Ranked
Jesse Leach Plays 'Wikipedia: Fact or Fiction?'