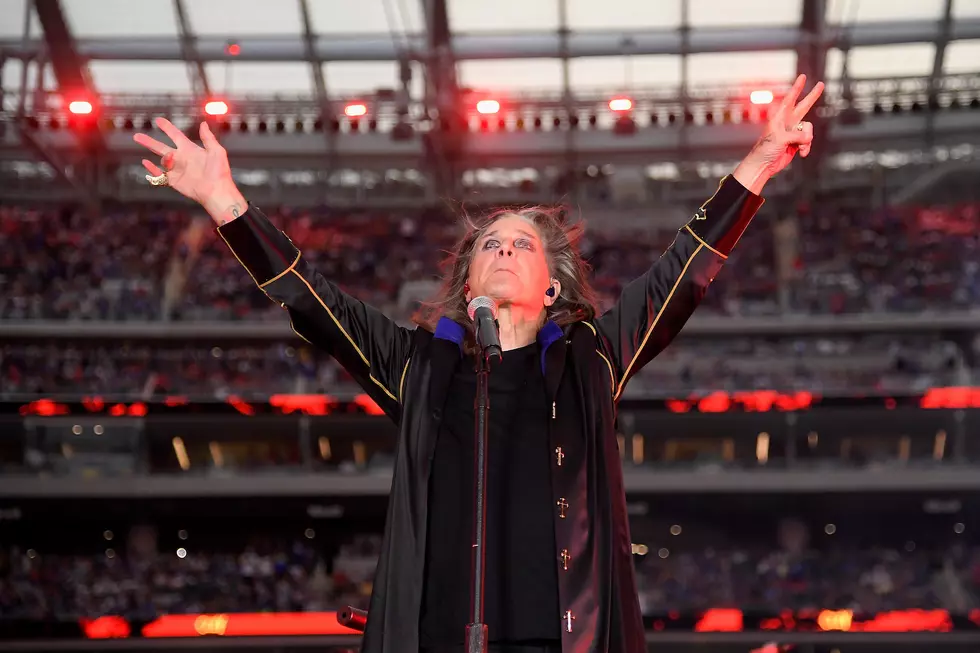 The Martial Arts Form Ozzy Osbourne Hopes Will Help Get Him Back Onstage
Kevork Djansezian, Getty Images
Ozzy Osbourne has been adamant about his desire to return to the concert stage amidst his many health issues in recent years. And during the most recent edition of The Osbournes podcast (viewed below), Ozzy Osbourne shared a positive health update, revealing the latest measure in which he hopes will help him return to performing live.
In the opening moments of the podcast, Ozzy reveals that during a recent trip to the doctor, it was revealed that he is now blood clot free. "I'm feeling happier," explained the singer. "Yesterday I was light as air when I heard the news about my blood clots. It takes forever to get rid of them."
Within the health discussion, he also revealed that he was going to take up tai chi as a measure that might help him return to the concert stage. "I'm gonna try to do it. It's good for balance," said Osbourne, noting, "It's a new adventure."
Osbourne, who will have undergone seven operations in the last four years, has repeatedly tried to find ways to return to the concert stage, but so far only brief onstage appearances with Post Malone at the 2019 American Music Awards, playing the 2022 NFL Kickoff Game in Los Angeles, appearing with Tony Iommi at the 2022 Commonwealth Games have been the extent of his stage activity.
As Kelly Osbourne expressed the benefits of tai chi, Ozzy shared his receptiveness to it, explaining,  "Well I wanna get back. All options are open for me."
What Is Tai Chi?
Tai chi is an internal Chinese martial art, often used in the practice of self-defense. But it also has health benefits. The art form is known for its slow, intentional movements and is viewed as a bit of moving meditation. The goals of tai chi are to foster naturalness by relaxing, attending inward, and slowing mind, body, and breath.
Tai chi is often characterized by slow movements in Taolu practice, and one of the reasons is to develop body awareness. Accurate, repeated practice of the solo routine is said to retrain posture, encourage circulation throughout students' bodies, maintain flexibility, and familiarize students with the martial sequences implied by the forms.
READ MORE: Lars Ulrich Shares Impact of Tai Chi on 'Lulu' Creation With Lou Reed
Ozzy Osbourne Recently Shared His Desired Plans for the Future
Though he recently bowed out of his planned Power Trip festival appearance, which is set for this weekend, Ozzy has continued to express his desire to continue his music career. Just last month, Osbourne shared that he just underwent successful spinal surgery and that he's hoping to make a new solo album in 2024.
READ MORE: Ozzy Osbourne Backs Out of Power Trip Festival, Issues Statement
"I've had all the surgery now, thank God," Osbourne told Metal Hammer in late September. "I'm feeling OK. It was just dragging on. I thought I'd be back on my feet months ago; I just couldn't get used to this mode of living, constantly having something wrong."
Though stating that he couldn't walk properly yet, he added that thankfully he was "not in any pain anymore, and the surgery on my spine went great." As for the future, he continued, "I'm getting myself fit. I've done two albums fairly recently [2020's Ordinary Man and 2022's Patient Number 9] but I want to do one more album and then go back on the road."
Ozzy's recent string of surgeries all stem from a 2019 fall that aggravated injuries he suffered in a 2003 ATV accident.
Ozzy Osbourne Shares New Health Update on The Osbournes Podcast
The Best Album by 30 Legendary Metal Bands
Gallery Credit: Joe DiVita