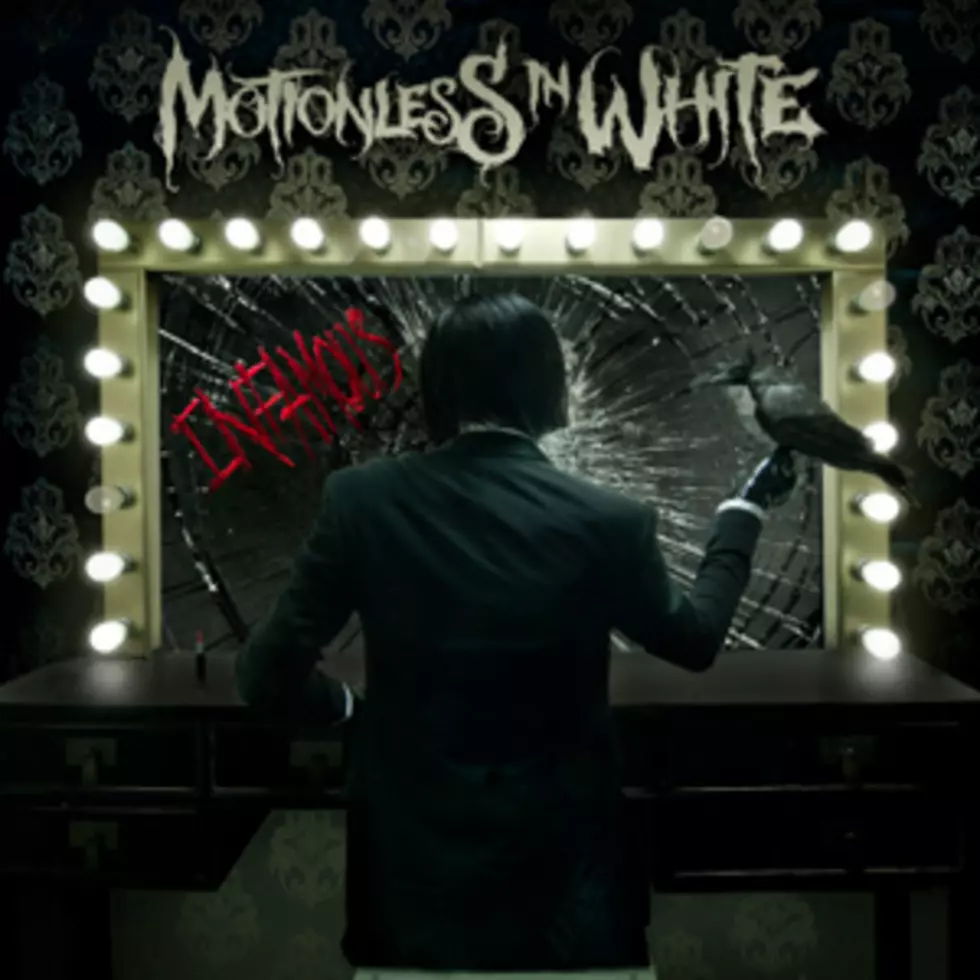 Motionless in White Reveal Tour Specifics, Sophomore Album Title + Release Details
Motionless in White are ready to take the next step in their career, as their sophomore set, 'Infamous,' is now on schedule for a Nov. 13 release. The group has been busy putting the final touches on the disc and preparing their touring support.
Making sure not to play it safe, the group has challenged themselves to make their music as intense as it is intricate. The new effort was helped along by producers Jason Suecof and Tim Skold.
In advance of their new record, the group will squeeze a little more life out of their last disc. A limited edition vinyl version of 'Creatures' with black spatter and grimace purple copies will arrive on Sept. 25. Also, a standard pressing of 'Creatures' will be available in grimace purple at retailers worldwide. Pre-orders in the U.S. are available here and for Europe here.
Doing their best to build their fan base both in the U.S. and in Europe, the group has booked tour dates into 2013 on both sides of the pond. After a handful of U.K. dates later this month, the group will pick things up stateside around their November release date. The first North American show takes place Nov. 8 in Burlington, Vt.
Chelsea Grin, Stick to Your Guns, Crown the Empire and Upon This Drawing will all provide support during the November and December run. The trek ends Dec. 16 in Philadelphia. Then, to begin 2013, it's back to Ireland, Scotland, and the U.K. for shows in January and February.
Motionless in White 2012/13 Tour Dates:
9/12 -- Southampton, U.K. -- Joiners
9/13 -- London, U.K. -- Underworld
9/15 -- Birmingham, U.K. -- Asylum
9/16 -- Manchester, U.K. -- Roadhouse
9/17 -- Glasgow, U.K. -- Ivory Blacks
9/18 -- Leeds, U.K. -- Cockpit
11/8 -- Burlington, Vt. -- Higher Ground
11/9 -- Worcester, Mass. -- The Palladium
11/10 -- Stroudsburg, Pa. -- Sherman Theatre
11/11 -- Sayreville, N.J. -- Starland Ballroom
11/12 -- Springfield, Va. -- Empire
11/13 -- Charlotte, N.C. -- Amos
11/15 -- St Petersburg, Fla. -- State Theatre
11/16 -- Orlando, Fla. -- Club 57 West
11/17 -- Ft. Lauderdale, Fla. -- Culture Room
11/18 -- Atlanta, Ga. -- Masquerade
11/20 -- Cincinnati, Ohio -- Bogarts
11/21 -- Cleveland, Ohio -- Peabody's
11/24 -- Montreal, Quebec -- Le Tulipe
11/25 -- Toronto, Ontario -- Virgin Mobile Mod Club
11/26 -- London, Ontario -- London Music Hall
11/27 -- Pontiac, Mich. -- The Crofoot Ballroom
11/28 -- St. Louis, Mo. -- Fubar
11/30 -- Dallas, Texas -- The Door
12/1 -- San Antonio, Texas -- White Rabbit
12/2 -- Odessa, Texas -- Dos Amigos
12/4 -- Tempe, Ariz. -- Nile Theatre
12/5 -- West Hollywood, Calif. -- House of Blues
12/6 -- Pomona, Calif. -- Glass House
12/7 -- San Diego, Calif. -- Soma
12/8 -- Sacramento, Calif -- Ace of Spades
12/10 -- Salt Lake City, Utah -- In the Venue
12/11 -- Denver, Colo. -- Summit Music Hall
12/12 -- Des Moines, Iowa -- Wooly's
12/13 -- Chicago, Ill. -- The Bottom Lounge
12/14 -- Pittsburgh, Pa. -- The Ironworks
12/15 -- New York, N.Y. -- Irving Plaza
12/16 -- Philadelphia, Pa. --TLA
1/15 -- Dublin, Ireland -- The Academy
1/16 -- Belfast, Ireland -- Mandela Hall
1/17 -- Glasgow, Scotland -- Barrowland
1/19 -- London, U.K. -- O2 Academy Brixton
2/10 -- Birmingham, U.K. -- O2 Academy Birmingham
2/11 -- Manchester, U.K. -- Manchester Academy