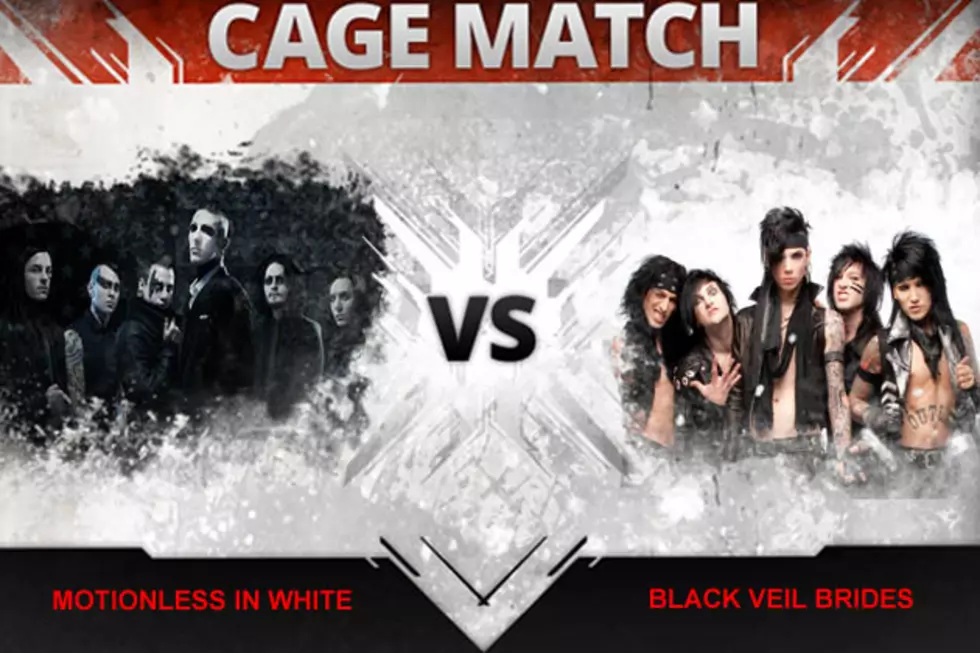 Motionless in White vs. Black Veil Brides – Cage Match
Photos: Fearless Records / Lava Records, Universal Republic
Motionless in White and their latest track 'America' earned another Cage Match win, defeating I See Stars. Since the last Cage Match, MIW have unleashed the full video for 'America,' directed by Slipknot's Clown. Can they win again as they face a new competitor?
Black Veil Brides heat things up with their new song 'Revelation,' a previously unreleased track that appears on the new deluxe edition of their latest album 'Wretched and Divine: The Story of the Wild Ones.' The band is gearing up for a massive trek around the States as part of this year's Warped Tour. For a full list of dates, go here.
So will Black Veil Brides and their army take a win with 'Revelation' or will Motionless in White continue on the path for gold with 'America'? Get in on the action by voting for your favorite track below!
(This Cage Match will run until Friday, June 7, at 8AM ET. Fans can vote once per hour! So come back and vote often to make sure your favorite song wins!)
Motionless in White, 'America'
Black Veil Brides, 'Revelation'
Rules of Cage Match:
Fans can vote once per hour for their favorite song. If a song remains the reigning champ for five straight cage matches, it is retired to the Loudwire Cage Match Hall of Fame. With so many great songs out there, we have to give other bands a chance!