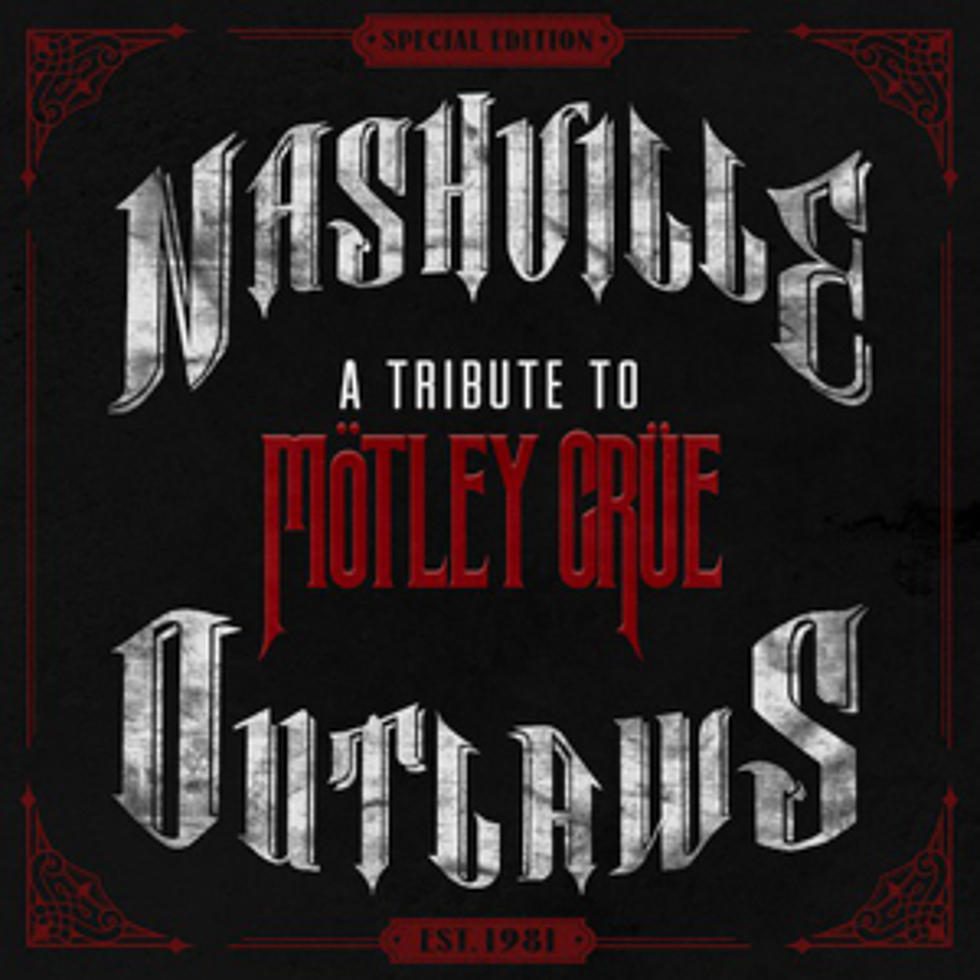 'Nashville Outlaws: A Tribute to Motley Crue' Release Date, Track Listing + Album Art Revealed
Motley Records / Eleven Seven Music / Big Machine Records
One of the big takeaways from Motley Crue's press conference announcing "The Final Tour" earlier this year was the fact that there was a band-endorsed country music tribute album en route. Now details of that disc are starting to be revealed.
Motley Records, Eleven Seven Music and Big Machine Records are collaborating to put out the disc, which is titled 'Nashville Outlaws: A Tribute to Motley Crue.' The country covers collection features 15 songs featuring such country superstars as Florida Georgia Line, Big & Rich, Gretchen Wilson, Darius Rucker, Rascal Flatts and more and it will be released on July 8.
"We did not make this record for Motley Crue fans, but for country fans who are also rock fans," said bassist Nikki Sixx in a statement. "I believe that there's going to be a lot of synergy and excitement for Motley Crue fans hearing different artists covering their favorite songs. People will be surprised how these artists made the songs their own and we couldn't be happier with how the album turned out."
Justin Moore, who covers 'Home Sweet Home' on the disc, says, "It has been a blast becoming friends with the Motley guys and learning how much they appreciate the history of country music. They are truly one of the most disruptive bands of their generation and I am honored to be able to cover one of my favorite Crue songs of all time, 'Home Sweet Home.' It has been pretty unreal singing with Vince Neil." Moore recently performed the track live onstage with Neil and video of the performance can be seen below.
See who all is contributing to the 'Nashville Outlaws: A Tribute to Motley Crue' covers collection by checking out the track listing below the Justin Moore / Vince Neil video.
Watch Justin Moore Perform 'Home Sweet Home' With Vince Neil
'Nashville Outlaws: A Tribute to Motley Crue' Track Listing
1. Rascal Flatts - 'Kickstart My Heart'
2. Florida Georgia Line - 'If I Die Tomorrow'
3. Leann Rimes - 'Smokin' in the Boys Room'
4. Justin Moore - 'Home Sweet Home'
5. Cassadee Pope with Robin Zander - 'The Animal in Me'
6. Aaron Lewis - 'Afraid'
7. Big & Rich - 'S.O.S'
8. Sam Palladio and Clare Bowen - 'Without You'
9. Eli Young Band - 'Don't Go Away Mad'
10. Lauren Jenkins - 'Looks That Kill'
11. The Cadillac Three - 'Live Wire'
12. The Mavericks - 'Dr. Feelgood'
13. Brantley Gilbert - 'Girls, Girls, Girls'
14. Gretchen Wilson - 'Wild Side'
15. Darius Rucker - 'Time for Change'