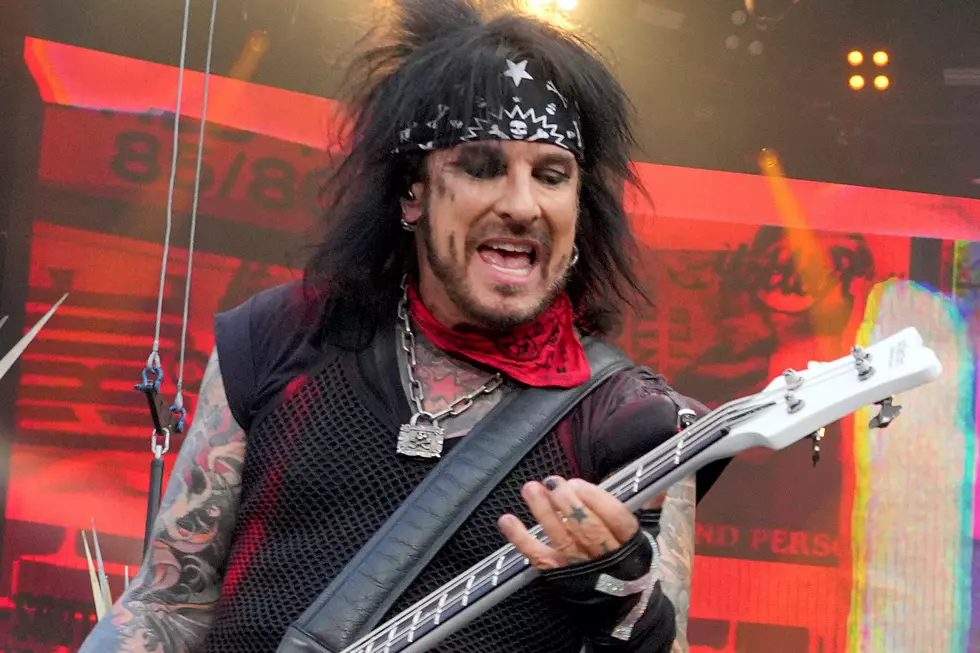 Nikki Sixx Issues Statement After Multiple Stalker Incidents
Kevin Mazur, Getty Images
UPDATE: Nikki Sixx has confirmed, "Another win in court today with a 2nd restraint order now in place to protect our family."
Motley Crue bassist Nikki Sixx has issued a statement publicly thanking a judge, his legal team and public officials in how they've handled multiple scary stalker incidents involving his family.
In his posted statement, Sixx revealed that one of his stalkers has now been arrested after defying a restraining order against his family. Meanwhile, a second stalker has also made threats against the musician's family, and Sixx revealed that the FBI is currently investigating.
Sixx's statement reads as follows:
Like many other public figures, myself and my family were harassed and threatened by a stalker.

A deranged woman from Tennessee, who I have never met or seen before, targeted my wife and child with threats of death and bodily harm.

This was not some internet troll but someone who was convinced that she was somehow connected to me.

Her harassment went on for a long time and got progressively more scary, forcing me to go to court several times and obtain restraining orders. She violated the restraining orders multiple times. As a result, the court found the conduct serious enough to hold her in contempt of court and order that she be arrested.

I want to thank the judge, the court staff and my legal team for protecting my family.

Now another stalker from a different part of the country started doing the same thing going so far as to travel to my house and threaten our lives again. The FBI is currently investigating.

It's one thing to threaten my safety but when it comes to serious threats against my wife and children it just becomes beyond alarming. They do not deserve this.

Thank you to the FBI, law enforcement, the detectives and the legal and court system for treating these threats with the severity and urgency they require.

I will go to any lengths to protect my family.
READ MORE: Nikki Sixx Reveals Five of His Favorite Motley Crue Deep Cuts
Recent years have seen Sixx returning to Motley Crue for a massive North American stadium tour, followed by a world tour along with co-headliners Def Leppard this year. The band has also spent time writing and recording new music earlier this year, with new guitarist John 5 added to the creative process.
Sixx also spent time working with country legend Dolly Parton on her first rock album. The Motley Crue bassist worked along with John 5 and Judas Priest singer Rob Halford on the song "Bygones," earning him a congratulatory letter from Parton after the song's initial success.
Motley Crue: A Timeline of Their Storied Career
A photo timeline of Motley Crue's career.
Gallery Credit: Lauryn Schaffner