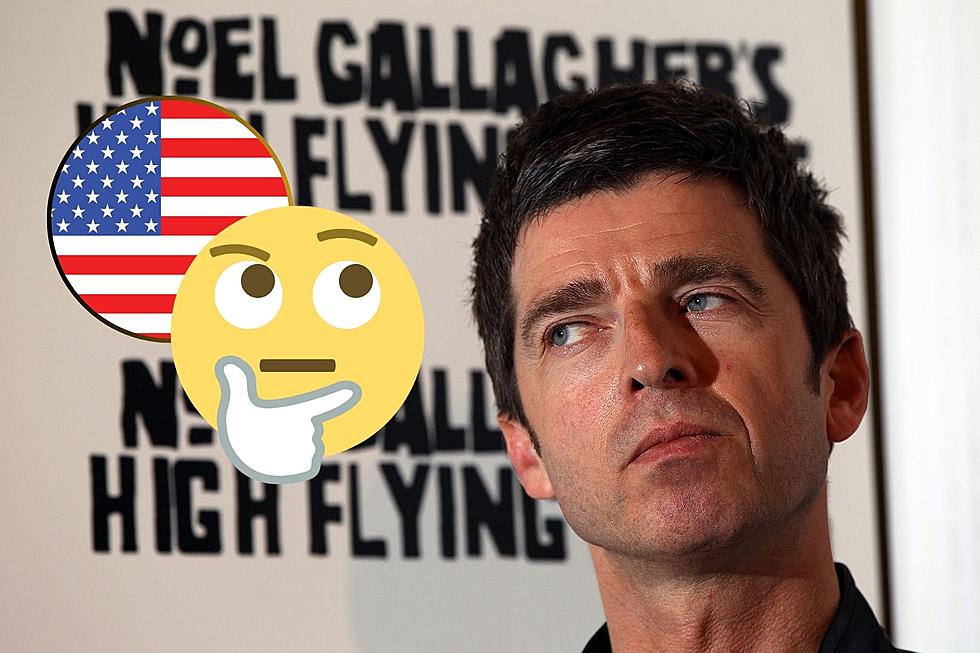 Noel Gallagher – America 'Couldn't Handle' That Oasis 'Didn't Give a F–k About Anything'
ADRIAN DENNIS/AFP via Getty Image / Canva
According to guitarist/vocalist Noel Gallagher, Oasis never got the attention or accolades they deserved in America – at least compared to the U.K. – because the beloved Britpop/rock troupe "didn't give a fuck about anything."
You see, Gallagher was talking to iconic rock photographer Jill Furmanovsky – whose work spans 50 years and includes artists such as Pink Floyd, Stevie Wonder, The Police and of course, Oasis – in anticipation of her 2024 exhibition: No Music No Life.
Per NME (on Nov. 9),  Gallagher was "asked about Oasis' relationship with [the U.S.]," to which he responded:
America, they couldn't handle the fact that we didn't give a fuck about anything. I mean, I think that's the reason we've never really had a number one album in America – they wouldn't go the extra mile for us because we wouldn't go the extra mile for them. That's why we've never been nominated for a GRAMMY – you've got to do all that stuff over there, you've got to kind of fake it a little bit and we just we couldn't do it which is why we'd always stall at number two.
READ MORE: Noel Gallagher Says Oasis Final Year Was 'Dreadful,' Claims Liam Trying to Rewrite History

To his point, all of Oasis' seven studio records reached No. 1 on the U.K. Albums Chart; in contrast, none hit No. 1 on the Billboard 200 (their 3rd LP, 1997's Be Here Now, debuted at No. 2, though). As for their latest compilation – The Masterplan, which released on Nov. 2, 2023 – it's peaked at No. 2 in the U.K. and No. 51 in the U.S.
While it's true that none of their albums were nominated for a Grammy Award, they did receive two nominations: Best Rock Performance By A Duo Or Group With Vocal (for "Wonderwall") in 1997 and Best Short Form Music Video (for "All Around the World") in 1999.

Last month, Liam Gallagher weighed in on whether Noel will join the Definitely Maybe 30th anniversary tour (which'll take place in June 2024). Around the same time, Noel himself declared that Oasis' 1994 debut LP – which spawned sings such as "Supersonic," "Live Forever" and "Cigarettes & Alcohol" – is "the last great punk album in many respects."
So, what do you think of Gallagher's latest comments? Let us know!