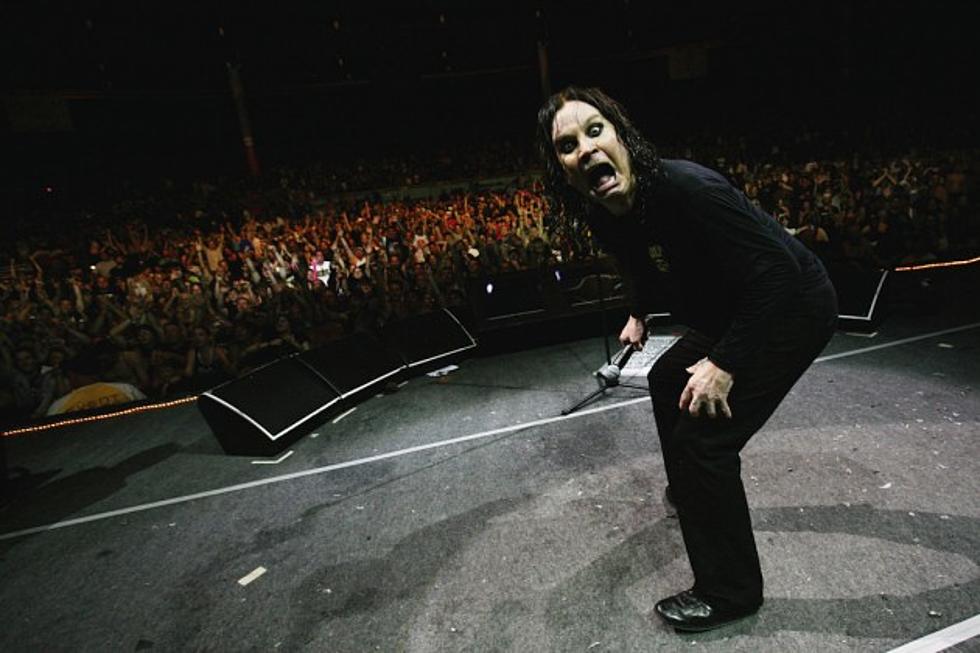 Ozzy Osbourne Talks 'Memoirs of a Madman,' Black Sabbath, Bill Ward + Randy Rhoads
Photo by Mark Weiss
Ozzy Osbourne is taking a look back at his solo career with the new 'Memoirs of a Madman' CD and DVD compilation. The iconic vocalist recently spent some time chatting with 'Loudwire Nights' host Full Metal Jackie about the release and he also reflected on the late Randy Rhoads, shared his thoughts on the state of Black Sabbathand discussed the future of his solo work, as well. Check out the chat below.
Ozzy, there's a lot of really cool stuff on the 'Memoirs of a Madman' DVD that fans will love. What emotions does all that footage bring up?
Well to be perfectly truthful, the video I am not as big on watching myself be interviewed. It's something I've always felt. To the music side, it was a chore in itself because I've got so much stuff to choose from throughout the range of my career. I know people are like, "Why didn't you do this one? Why didn't you do that one?" I can't please everyone. I did the best I could, but it's not a bad package. And the reason why I did it. Since I have been doing the Black Sabbath thing, fans have been going, "Oh is it the end of the Ozzy thing?" It is like, "No." It is to let people know that I am still actively doing a solo career. With the Black Sabbath tour and another Black Sabbath album, but that's the last thing I'm going to do with Black Sabbath and then I am going to go back to being solo again.
A singer is only as good as the musicians around him. You've always surrounded yourself with the best. Over the years, how have the players in your band pushed you to be the best singer you can be?
Well it just seems to happen. Zakk [Wylde] was with me longer than anybody. He was the longest player with me, ever. But as I am getting older time goes by so quickly. Sharon and I went to dinner with Zakk and his wife, it's like family. Randy Rhoads was something special. He was a special guy. Just sad he's no longer with us. Jake E. Lee was great.
What's changed most about the way you've used your voice now compared to the early years?
My range has dropped considerably. I have listened to some old demos the other day. Recordings from years ago. My range was what made me sing so hard in the '80s. I am in a much more comfortable zone. At the Black Sabbath tour, my voice never went out but one song. That was really, 90 shows. I was really good. I've come to the realization that as I am getting older my range has changed. That is the only significant change I need to tell you.
You recently revealed that Sabbath would release one more album and do another tour. Have you already started writing?
No, we are going to start in the New Year. I can't really give you [an answer] because I haven't spoken to them yet. Rather, I have texted Tony he is getting new riffs. I am not worried because Tony Iommi is the best guy in the world for coming up with heavy metal riffs.
Is there a timeline for the record or the tour?
I haven't discussed it with anyone yet. I left him alone for a while because the last thing we did, the tour he was diagnosed with lymphoma. So, I didn't want to worry him. I didn't want to put pressure on him.
Will there be any more Ozzy solo albums, as well?
Oh yeah. The reason why we released 'Memoirs of a Madman' out was because people along the way when I was doing the solo thing, said are you ever gonna do anymore Ozzy albums? I am not finishing my [music] career with Black Sabbath. After the Black Sabbath thing, I am doing an Ozzy album and a Ozzy tour. Along the way I've been doing bits and pieces of writing, I have written three songs so far. So when this Sabbath thing is finished. I am going straight back in the studio to do an Ozzy album. But now the requirements for record companies are a lot more material than what I had to do before. In other words, in the older days you could write eight songs and it's an album. But now you have to have 15 to 20 songs. So they can put them in different tracks in different places. What I am saying, after the Sabbath thing, I am not going to sit there and write 20 songs. From time to time, I get a friend of mine and we do some writing. The Ozzy thing won't take too long to do. Time ain't on my side anymore.
There's a concert in there from Rochester with Randy Rhoads on guitar that was filmed back in 1981. What kind of emotions did seeing Randy stir up?
You know I've seen that piece from Rochester so many times, I get sad. He was a great guy. He was a great player. It seemed like he'd be with me forever and he was only with me for a couple of years. Sharon and I still go see his mom from time to time. She is old now, she is in her 90s. But it's the kind of responsibility because I feel somewhat kind of responsible because for the fact that he had not been with me he might still be alive. I know you can't live like that. But I feel sad. He was a great guy.
Do you remember clearly when you first found him?
Yeah well, not first. When I first found him I was drunk in Los Angeles in a hotel room. And this guy said I got this fantastic guitar player you won't believe it. This little guy came into my room, 11 o'clock at night. I saw him, at first I thought is that he was a girl. He was so little then. I heard him play and I was like wow! I couldn't believe how amazing he was.
For the last Black Sabbath tour [and album], did it feel like you guys never took a break when you got back together?
The only down thing was that Bill Ward, the drummer, was not on tour with us. It would have been great for the four of us. I supposed something went on business wise. I don't do my business, my wife does my business. Everybody has managers. It was like I never left. It's better than before. There is no drinking, I think Geezer took a drink from time to time. But no drugs, no late night parties. In fact, if I never do anything, I ended that chapter in my life. It was sad how we all fell apart. We're gonna go out again. I hope this helps.
[Editor's Note: To clarify what Ozzy means by "I hope this helps," in a separate interview with Esquire, Ozzy is quoted as saying, "I hope Bill Ward can get his stuff together to do this."]
How do you feel about how some of these young and upcoming bands who cite Black Sabbath as an influence? How does it feel today to see what a huge mark that band has left?
When I was doing Ozzfest, the kids [would] say that to me all the time. Some of the bands [made sense but] other bands [I'd think] 'How can that be?' Saying that, I was a Beatles fan. None of my records sound like the Beatles. It gave me the inspiration to do what I ended up doing.
Thanks to Ozzy Osbourne for the interview. Pick up 'Memoirs of a Madman' at Amazon and iTunes. Tune in to Loudwire Nights With Full Metal Jackie and Tony LaBrie' Monday through Friday 7PM through midnight online or on the radio. To see which stations and websites air 'Loudwire Nights,' click here.