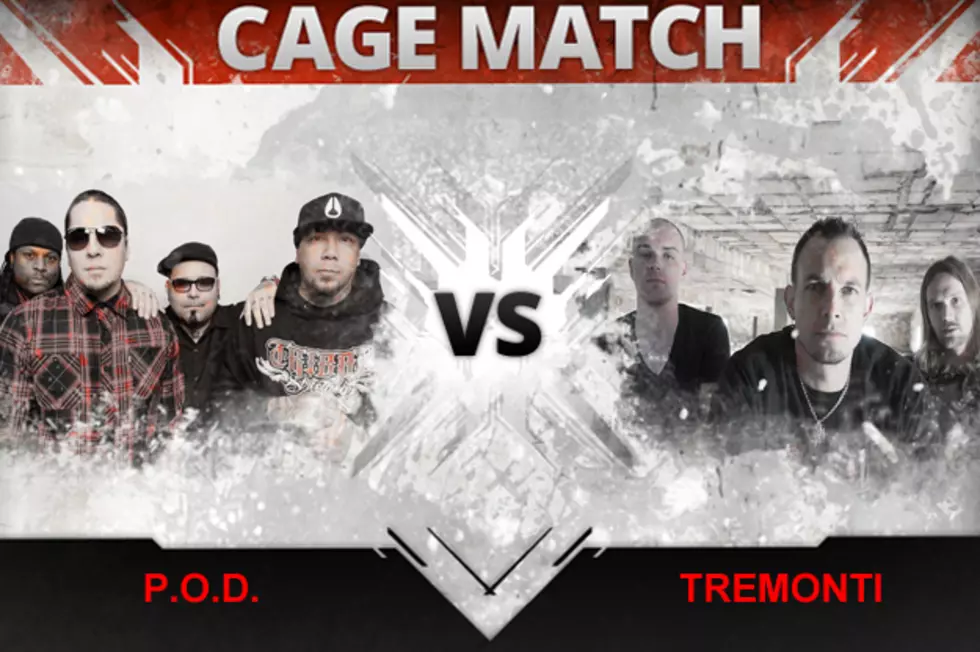 P.O.D. vs. Tremonti – Cage Match
Photos: Razor & Tie Records / Daniel Tremonti
P.O.D. and their latest single 'Higher' beat out Hinder in the last Cage Match, but can they take down today's challenger?
Mark Tremonti, guitarist of Creed and Alter Bridge, enters the Cage Match with his solo project Tremonti and the new single 'So You're Afraid' off of his debut album 'All I Was.' In the song, Tremonti goes to work on both vocals and guitar riffs; check out the video here. Tremonti  is currently on tour in Europe; for a full list of dates, go here. Also check out our photo gallery of the outfit's stop in New York City.
So will P.O.D. continue to soar to victory with 'Higher' or will Tremonti scare off the competition with 'So You're Afraid'? Get in on the action and vote for your favorite track below!
(This Cage Match will run until Monday, Oct. 15, at 8AM ET. Fans can vote once per hour! So come back and vote often to make sure your favorite song wins!)
Listen to P.O.D., 'Higher'
Listen to Tremonti, 'So You're Afraid'
Rules of Cage Match:
Fans can vote once per hour for their favorite song. If a song remains the reigning champ for five straight cage matches, it is retired to the Loudwire Cage Match Hall of Fame. With so many great songs out there, we have to give other bands a chance!