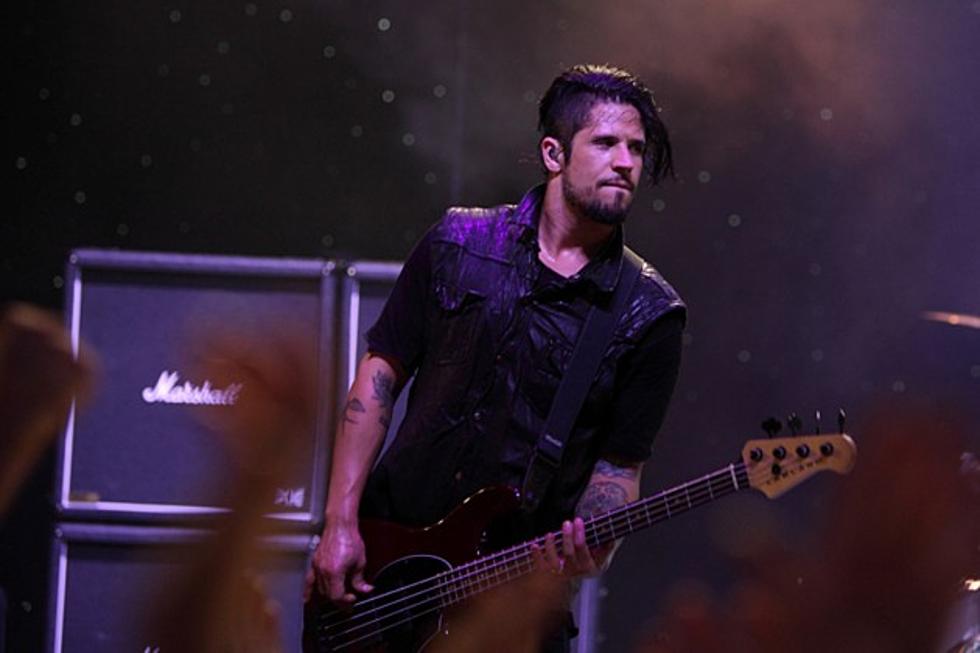 Papa Roach's Tobin Esperance on Touring With FFDP, Crazy Neck Warm-ups + More
Mary Ouellette, SheWillShootYou.com
Papa Roach, Five Finger Death Punch, In This Moment and From Ashes to New will hit the road together in early September for what promises to be one of best tours of the season. Loudwire had a chance to speak with Papa Roach bassist Tobin Esperance about the upcoming trek and he shared his excitement over finally touring with FFDP, hanging out with old friends In This Moment again and the opportunity to spice up their show with more production. Check out the chat below.
Congrats on this tour! Sounds like an amazing tour you've put together. Can you tell me your thoughts on this bill?
I think you've got three of the biggest rock bands at the moment going on a big tour. You've got a new band that's up-and-coming opening the show. It's a recipe for a badass tour. I think it's going to be one of the biggest tours of the year. You've got Five Finger with their new record, we just dropped a new record and we've got a new single coming out which features Maria Brink from In This Moment. You know there's going to be that anticipation for the performance of that single "Gravity."
We're looking forward to it. Just hanging out, making new friends and fans, and really adding a whole new element and a whole other dimension visually for Papa Roach because we've always been the kind of band that toured and just kept it really simple. We never really relied on much production. I think this tour we're really going to go all out and really bring something that's new and fresh visually, with production. Make it just an all out f--king crazy wild tour.
You've bare-bonesed it to keep it simple. But how fun is it to say, "Hey let's see what kind of ideas we might throw into this production?"
That's a lot of fun. There are so many options and things you can do. But for a band like us, who maybe hasn't done that so much in the past, I don't think we realized how expensive and how stressful it is as well. There's a lot of work and a lot of preparation that goes into that stuff. We still have months before the tour even starts and we're already having these crazy meetings about all this stuff. There's just a lot that goes into it. There's a lot of people there to make that stuff happen. It adds on another three or four people to the crew.
When we spoke last fall about the F.E.A.R. album, you, in particular seemed really psyched about having Maria Brink on the album. Now, getting a chance to go tour with her as well, can you talk about your thoughts about getting her up onstage and having her be a part of the Papa Roach show?
I think it's gonna be a highlight. We're definitely going to make that happen. She's such an amazing performer and her presence, it's gonna be badass. I think we're gonna make something really magical happen. When she comes out, who knows, maybe she comes flying through the air. Voice of an angel. Twisted, sick, crazy, sick wild angel.
Love the video you guys did for "Gravity" as well. If you want to talk about seeing the final product and seeing Jacoby and Maria go head-to-head there.
I thought the video was great. Making the video was a trip because we made this video in our hometown. It was actually directed by Jacoby and his partner -- they have a production company that it's in Vacaville, Calif. which is where the whole band is from. I hadn't been back home in probably 10 years to really hang out for a few days. I saw Maria as she was arriving, because it was a three-day shoot and she came on the last day as I was leaving. So it was hi and bye. I knew it was going to be a great video because we got her in there, her and Jacoby going back and forth. I saw the room they built, Jacoby was there actually gluing stuff to the ceiling, burning things with a torch and getting the set all ready. The set was a tedious thing.
It was a lot of fun being back home and hanging out with all my old school homies and driving around my old neighborhood. I was trying to get the courage to go knock on the door of the house I grew up and see if it was cool if I came inside and sit in my old room -- but I never did do that.
That'd be a trip for whoever lives there.
I thought about it, but I thought it'd be kinda creepy, too.
One of the things you guys did with this tour, which is kind of cool, is the fan routing contest where the fans helped to determine what's going on with the routing of the trek. What inspired that and did you learn anything about your fanbase that maybe you didn't already know?
Really, it's just an opportunity to get our fans worked up. It's maybe the best city could be -- you got the certain markets that are pretty much given that bands come to because they've got proper venues. Sometimes you gotta create awareness from the people to demand their favorite rock bands come to their city. It's a chance for them to get worked up and talk about it on social media and get them involved. I think it's cool opportunity to get involved.
Saw you earlier this year with Seether and you guys are such a tight band at this point. It just seems like you're enjoying it and having fun onstage. Can you talk about what the feeling is like in Papa Roach as far as you touring at this point.
It's just what we do. We're a live band. We tour a lot. We look forward to that moment -- we play at the edge of the stage, the very edge. For anyone who hasn't seen Papa Roach, we're just that kind of band. We're just in your face. We light up when we're onstage. Traveling the world, we play all over, worldwide. It's just the thing we do. We don't even think or talk about it, it's just that thing that's completely automatic. We walk onstage -- we've been doing it for so long, it's just crazy.
There's not a lot of preparation that goes into that. It's just a thing we know how to do, we get up there and explode on stage. It's a total natural energy. It builds up, man. It unleashes. We have a lot of fun. I think on this coming tour, just because we're bringing arena rock and full fledged, production, you've got the biggest bands all on one bill. There's gonna be a lot of fans coming out. The energy will be tenfold this summer.
I know that In This Moment kind of led you to the Churko brothers for your album and there's a camaraderie there. But have you toured with Five Finger Death Punch before?
No. Never have. The first time I ever met the guys was on ShipRocked, which we did a couple of years ago. Since then we've been playing a lot of festivals. We've never toured together, so this will be a first. I know that we have slightly different fan bases and that'll be really good for us to co-mingle all of our fans and make new fans, them as well.
With In This Moment, we go way back because we've toured Europe, geez, man probably 10 years ago I think was the first time we toured with In This Moment. We had them out. We go way back with them, it's cool. As far as the Churkos go, when the idea of the tour came up I called them and told them we should name the tour after them because it's all their bands that are on this tour. They produced Five Finger, our last record, In This Moment. I don't think they did Ashes To New. He was excited to kill a lot of birds with one stone and come out and say hi to everybody at one show.
I came across this insane video of your neck warm ups. Wow ...
My wife hates it. She says that's why I'm always complaining about my back. I'm like, "I know, I know." Then I watched this video of me from 2000 or 1999 performing somewhere in New York, maybe at CBGBs or something. I was like, going off onstage and my neck, I was watching the video, it just hurt watching it. I thought, "Oh, that young energy, that's how I was back then," but I still do it! After all these years, my wife, she cracks up all the time saying I'm going to be one of those old men she'll have to push me in one of those rockers with the tennis balls at the bottom because my neck and back is jacked up from all those headlining years.
When you're up onstage and you're obviously grooving on the music, are you pretty much in a zone of your own or are you cognizant of everything going on around you?
For me, maybe I'm not aware of what's going on around me unless something catches my eye. For the most part, some people feed off the energy from the crowd directly. They look into their eyes. I just can't do it. As much as I love being onstage, I just don't. I like to just close my eyes, get in a zone and concentrate more on my own emotional thing and the rhythms and vibrations that are happening onstage. For me it's my own world. It's different for everyone. It's a trip man, I love performing. I love getting up there feeling the energy and it's gonna be cool too, when you get lights going. I love the smoke and lights, all mysterious and creepy.
You've been touring F.E.A.R. for a while now. What's a favorite song to play live off the record?
We just started playing "Falling Apart." I really like playing that song live. It's a very dynamic song. It's got some cool progressive moments where I think about the rooms I'm playing and it's got some more simple moments where the crowd is jumping up and down. Then it's got this cool breakdown, kind of like this moody moment and then it goes heavy again. It's like everything all in one song.
You've just passed the 15 year anniversary of Infest recently. Thoughts on having that album reach the mark at this point and thinking back to that period of time of what it was like to see that album take off?
Wow! It took off so quickly and I don't think any of us were really expecting it for prepared for it. We were caught up in the whirlwind of going from being a band and playing small clubs to being in arenas and selling us a lot of records. We were having a lot of fun and super excited that we were playing with these huge bands and we were meeting people that we had grown up seeing on TV and whatnot. I just remember having a lot of fun. Maybe we partied a little too much at the time, I think that's what you do when it's your first taste of success.
Musically we were coming from a real honest and pure place. We had this love of hip-hop music. Especially East Coast hip-hop and hardcore, punk rock and putting the two together in a fashion that maybe a lot of other bands weren't doing at the time. We thought it was cool and so did a lot of other people. I think the honesty in the songs, "Last Resort" especially, just really hit home with people. We still play that song to this day and no matter what -- the crowd -- there's not one person sitting down when that song gets played. Definitely proud of that.
Our thanks to Papa Roach's Tobin Esperance for the interview. The band's tour with Five Finger Death Punch, In This Moment and From Ashes to New kicks off Sept. 4 in Lexington, Ky. You can find those dates, along with all of Papa Roach's upcoming shows, at this location.
Papa Roach Play 'Wikipedia: Fact or Fiction?'