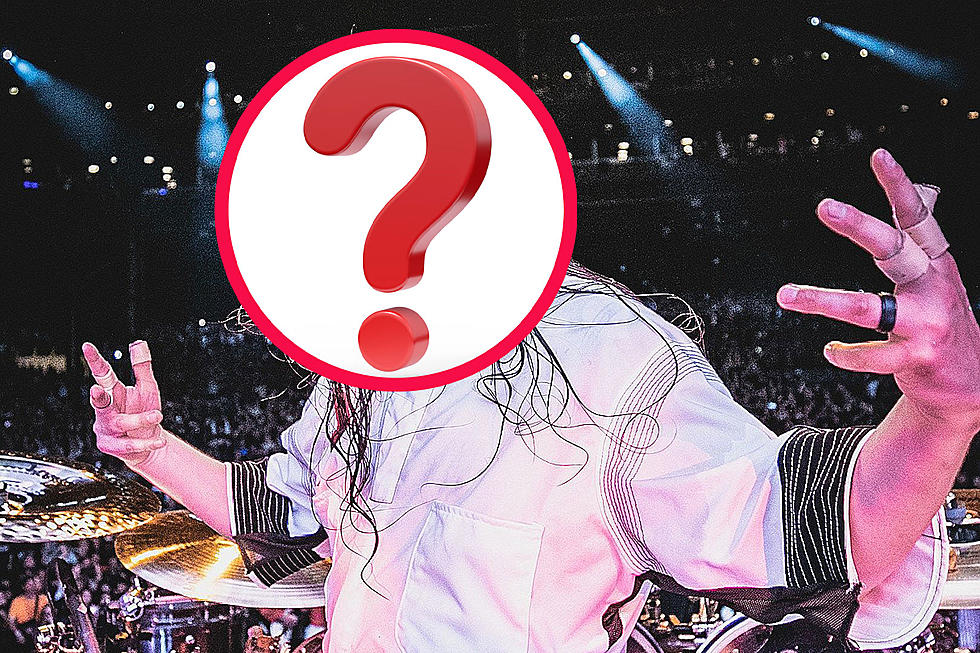 Slipknot Drummer Jay Weinberg Unveils New Mask for 2023 Tour
Photo by Anthony Scanga / Getty Images
While there's a lot going on in the Slipknot camp right now, one item that's been somewhat overlooked is that Slipknot drummer Jay Weinberg has debuted a new mask this week with the start of a new tour.
Weinberg began teasing the new mask on Tuesday (June 6), sharing an artistic video that spliced together performance footage with close up bits of his mask as he remained with his back to the screen before turning to display the mask just prior the the clip's conclusion.
A day later, Weinberg posted a portrait photo of himself with the new mask, noting that touring resumed that evening at the Nova Rock Festival. In it, Weinberg is seen with the white mask complete with a spikey tooth grin literally from ear to ear. Another artistic photo of the new mask looking down on Weinberg's face from an elevated view then followed after the show.
While the mask is not totally visible, Weinberg has also posted video footage of himself back behind the drumkit for Slipknot's tour opener Wednesday night (June 7) at the Nova Rock Festival that can be seen below.
READ MORE: Jay Weinberg Explains the Stories Behind Every One of His Masks
As stated, things have been a bit chaotic for Slipknot over the last 48 hours, with percussionist Clown bowing out of the band's European tour to be home with his wife who was dealing with health issues. Then, shortly before the band was set to hit the stage, the group revealed they had parted ways with keyboardist/sampler Craig Jones in a brief statement, which was later removed though it remained posted via their Knotfest accounts.
The group then shared what appeared to be a photo of a new band member and mask, while performing with the unknown musician at the Nova Rock festival. A teaser posted Thursday morning (June 8) led to a special website that revealed an atmospheric new song and video for a track called "Death March," and there's been rumors of an EP arriving tomorrow (June 9).
Head to the Slipknot website to see all of the band's upcoming shows and get your tickets here.
Every Slipknot Song Ranked
Push your fingers into your eyes.
*Last updated July 29, 2022. We still need time with the rest of the new album!