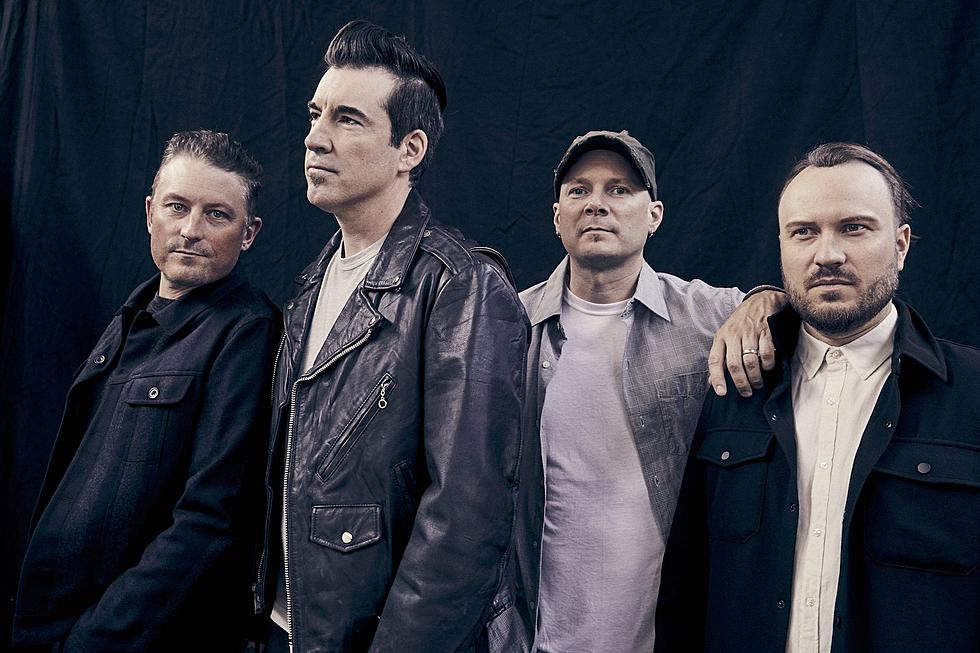 Tyler Connolly Reveals Struggle He Faces Every Time He Writes Music – 'It's an 'I Quit' Kind of Thing'
Jimmy Fontaine
As he continues to celebrate a big year for Theory of a Deadman — the band he helped form in 1999 — Tyler Connolly joined Chuck Armstrong on Loudwire Nights Monday night (Oct. 30).
Along with the release of their eighth studio album, Dinosaur, this year has also brought with it two major live runs, both part of the Rock Resurrection tour.
"It's crazy because every time I go to start writing new material, I hit the same wall where I'm like, 'I'm done,'" he revealed to Chuck. "It's an 'I quit' kind of thing. And then you get one under your belt. Alright, alright. I like this. This is good. I'm excited."
This "wall" isn't anything new for Connolly. He admitted that it's something he's been experiencing his whole career.
"[It happens] every time," he said. "I remember on our sixth album, [Wake Up Call,] I was just so unenthused and uncreative and I decided to come up with this silly thing where I was going to write a song a day and see how far I could get. I got to day two and was just so bored because I felt like it was so forced."
As he felt that on the second day of this journey, he explained that the next song he wrote ended up becoming "Rx (Medicate)," Theory's biggest song.
"You just never know. Sometimes you have to almost be a little diabolical and kind of gross and just really pessimistic. And then all of a sudden, something comes out of you."
What Else Did Theory of a Deadman's Tyler Connolly Discuss on Loudwire Nights?
What it's like touring with Skillet and Saint Asonia: "We were like, 'We need to do this again. Don't mess with anything.'"
Why he's feeling great about the future of Theory of a Deadman, nearly 25 years into the band's life: "I think we're in the best place we have ever been. You don't see it that often, but we're super excited."
Why he wants to release music as soon as he writes it: "You just want to get stuff out. Let's go, let's get it out. I think sometimes if you have something that's really cool and unique, you get afraid that someone's just going to release the song called [the same thing] or with the same hook."
Listen to the Full Interview in the Podcast Player Below
Tyler Connolly joined Loudwire Nights on Monday, Oct. 30; the show replays online here, and you can tune in live every weeknight at 7PM ET or on the Loudwire app; you can also see if the show is available on your local radio station and listen to interviews on-demand. Stream Dinosaur at this location and then check out Theory of a Deadman's full tour schedule.
11 Music Venues That Are Reportedly Haunted
Have you been to one of these venues?
Gallery Credit: Loudwire Staff
10 Signs You're a Fan of Tool
Gallery Credit: Jordan Blum