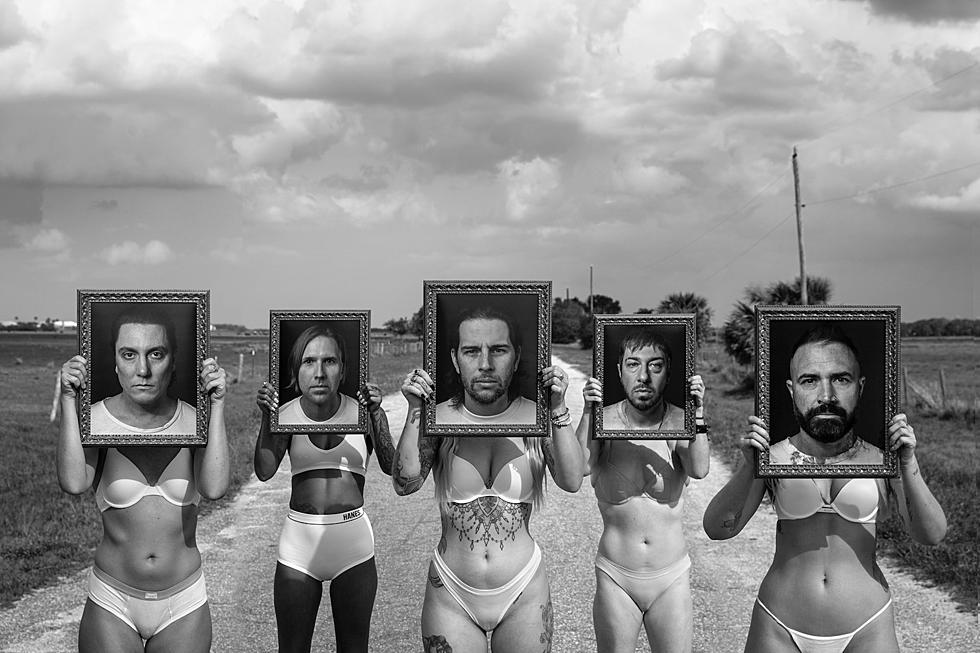 5 Things We Love About Avenged Sevenfold's New Album, 'Life Is But a Dream'
Warner Records
In the nearly seven years since Avenged Sevenfold released their seventh studio album, The Stage, a few things have happened in the world — Donald Trump was elected president, Tool finally gave fans their first new LP in 13 years and Hollywood dished out three new Fast & Furious movies — but nothing was more universally experienced than the COVID-19 pandemic.
The fear, confusion, pain and chaos of the pandemic was felt by every human being on the planet, and it still shapes our interactions today.
And, it still shapes the new music that is being created on this side of the chaos.
Whether intentional or not, the chaos of the pandemic is felt throughout Avenged Sevenfold's new album, Life Is But a Dream. While some fans may hear the record and scratch their heads over the disorder that is strewn across it, the reality is that the mayhem is actually quite cohesive, rooted in the band's inspiration, Albert Camus' 1942 novel, The Stranger.
At one point in The Stranger, the narrator, Meursault, says, "I may not have been sure about what really did interest me, but I was absolutely sure about what didn't." That mentality seems to be the guiding force for Life Is But a Dream; it is clear that Avenged Sevenfold have no interest in meeting other people's expectations.
Instead, they have pushed their music past any boundary that may have existed previously.
No matter what you may think you know about Life Is But a Dream, listening to it from start to finish creates a brand-new world for the listener — one that is far from devoid of chaos and conflict, but one that is clearly of incredible interest to Avenged Sevenfold.
And so, after finishing the chaotic journey, we stand by these five things we love about Avenged Sevenfold's new album, Life Is But a Dream.
Life Is But a Dream is Very, Very Different
At this stage in the life of Avenged Sevenfold, it's pretty amazing to say that their new record is different. They formed in 1999 and this marks their eighth full-length record, and the second fans heard the first single, "Nobody," they knew this one was going to be different. From the opening hectic ride that is "Game Over" to the closing piano instrumental title track, the record is unlike anything you've heard before. There is no formula here, there are no obvious "singles." Instead, what you have is an entire experience — one that truly requires you to listen intently, from the first guitar strings being plucked to the fading of those piano keys.
The Chaos of Flamenco Guitars and Thrash Metal on Album Opener, "Game Over"
That opening track sets the stage for the chaos that's to come on the rest of Life Is But a Dream. Chaos — how else would you describe a song that opens with a flamenco-style guitar riff and spirals downward into a legit thrash epic? The insanity of the music is only amplified when the thrash dies down and M. Shadows sings, "It strikes me that I don't belong here anymore / As I observe my own reflection, try a happy face." Then, with a flute-filled bridge, he throws in the eerie and cryptic lyric, "And here I swing to my family tree / Say good night / Can't you see / Life is but a dream anyway." And with that, the listener is officially taken to another world.
Being Transported Into a New Dimension on "Mattel"
The second track on Life Is But a Dream is the heavy "Mattel," a song named after the toy company and one that introduces the listener to the new world they inhabit. There's a fake feeling to this world — or is it the fake feeling of the world we currently live in? Regardless, Shadows' vocals will be stuck in your head long after the record stops spinning, reminding you of this new dimension Avenged introduced you to: "Now I know this might sound crazy / But I've smelled the plastic daisies / And it seems we've found ourselves in hell."
"Beautiful Morning" Serves as a Frantic Halfway Point
"Beautiful Morning" catches the listener halfway through the album, though it feels as though the narrator is already facing his end, which is good, because the next three tracks bring him — and the listener — closer to the Divine. But before anyone comes face-to-face with G-O-D, the chaos of normal life has to be confronted and Shadows does an expert job of that as he lays out the danger of seeking power: "You walk on water / But the water swallows you."
The G-O-D Progression is Absolutely Epic
There's no way a few sentences can capture the bizarre experience of these three tracks, "G," "(O)rdinary" and "(D)eath," but we'll try. The G-O-D progression on Life Is But a Dream helps bring the album's story to a close; it's not necessarily a happy ending, but the chaos of the record begins to come in contact with a higher being. In the opening track of this three-song vignette, Shadows sings with a haunting power, "I am man / Six days of bullshit, a wave of my hand / Don't you know what I need / Put your hands together, get down on your knees." That blatant cynicism is followed with an absolute Nile Rodgers vibe on "(O)rdinary," which almost feels too happy given the darkness of the album.
Though, nothing feels quite as calming as the conclusion of G-O-D as Shadows takes on the role of a lounge singer, bringing the listener back to reality from the dimension they just traversed. "In my dreams, I awake as daylight breaks and wash my face / Put my bedroom back in its place," Shadows sings as the chaos doesn't exactly subside, but instead, becomes the new normal.
Over the course of 11 tracks, Avenged Sevenfold haven't merely transported the listener to a new world, they've made this world a reality. It's a wild ride and one that is worth taking many, many more times.
Watch Avenged Sevenfold's Official 360-Degree Video For "I Love You"
READ MORE: M. Shadows Says He Would 'Love to Give Up' His Voice For AI
Life Is But a Dream is out June 2 and can be purchased here. Avenged Sevenfold's full tour schedule for 2023 can be found at this location.
The 32 Songs Avenged Sevenfold Have Never Played Live
Avenged Sevenfold have never performed these songs live.
The History of Smashing Guitars in Rock 'n' Roll
Who was the first person to smash a guitar onstage? And how did it become a trend for musicians since then? Loudwire dug deep to uncover what we know about the history of destroying instruments in rock.