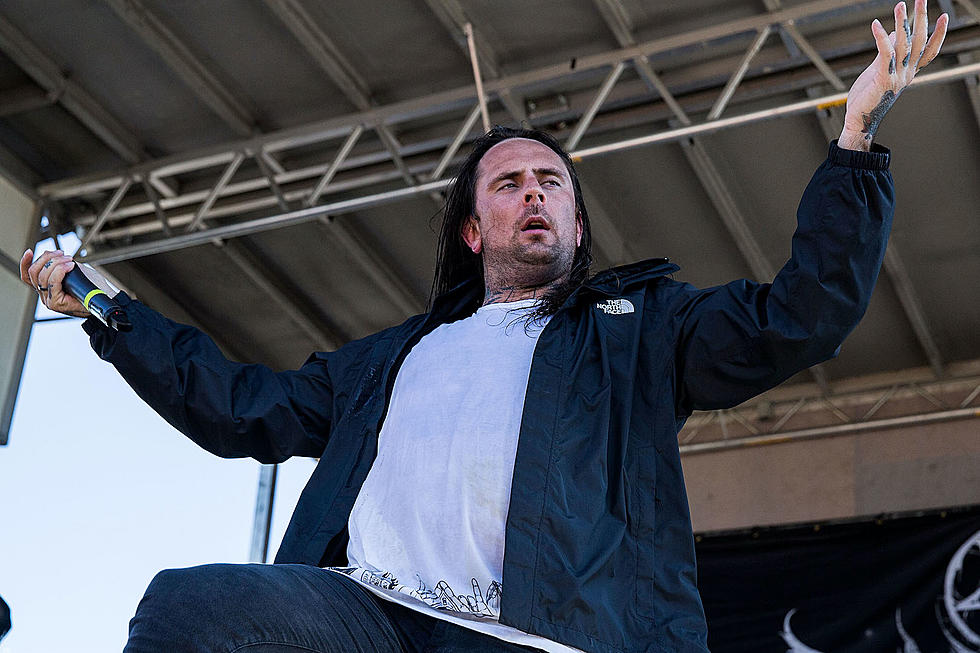 CJ McMahon Claims He Was 'Forced' to Make Apology Video for Thy Art Is Murder
Suzi Pratt, FilmMagic / Getty Images
Dismissed Thy Art Is Murder lead vocalist CJ McMahon says he was "forced to make" his Aug. 25 apology video for the band due to the backlash he received that month for sharing and supporting anti-trans content online.
At the time, the public reaction had persuaded him to temporarily quit social media.
Then, last week, Thy Art Is Murder suddenly announced that McMahon was no longer in the band. The Australian deathcore act released their new album Godlike without his contributions, seemingly employing a new mystery vocalist in a surprise move Friday (Sept. 22).
Now, in an update from the excommunicated vocalist, McMahon says he has nothing to apologize for, and that what he did "wasn't targeted at the trans community. It was there to protect children." The rhetoric echos that of the panic in the U.S. around drag shows and their portrayal as sexual and harmful to children, which can obscure the art form and its rich history, according to PBS.
READ MORE: LGBTQIA+ Icons in Rock + Metal
What happened? In August, McMahon posted a video shared by right-wing political commentator Matt Walsh in which a mother asks her young child if they are a boy or a girl and accepts the child's answer regardless, with the exchange portrayed negatively. In a comment, McMahon said the mother "should be burned to death." Thy Art Is Murder responded by denouncing the remark and affirming their support for trans rights. But from his latest update, it appears the vocalist himself is not exactly sorry for posting it.
What CJ McMahon Has Now Said
"This is the 2nd video I made weeks ago the band never posted, the apology video you all saw I was forced to make," McMahon captioned a new video of himself he posted to Instagram on Sept. 22.
He continued, "I actually told the band to fire me as I didn't want to apologize as I didn't have anything to apologize for, the band said that if I left [it] the band would be done so for the band I made the apology video you saw but this is the video I meant. I was shut down about posting this."
In the ensuing clip, while still apologizing for offending anyone, McMahon says, "The thing I don't back is … people force-feeding these things that I feel are highly inappropriate for children to begin with at these young ages. I feel it's inappropriate — that is my opinion. And I stick by my opinion. I'm sure some of you, if not all of you, have seen videos of the LGBTQ+ family doing burlesque slash stripping shows in front of children." (via ThePRP)
He continues, "Whether it's at a daycare center or a center that's been hired out for mothers to bring their infant and extremely young children to these events. I also feel that this is highly inappropriate. Whether the woman identifies as a woman and is straight in gender and sex, and that is still highly inappropriate."
McMahon adds, "In Australia, you can't go to a burlesque show or a strip show until you're the age of consent, and the age of being able to drink alcohol, which is 18. I feel that this is the age in America would be 21, and I feel sure you're allowed to make that conscious decision for yourself. That is me being a parent of two kids. I find that this behavior is completely inappropriate."
CJ McMahon Video Statement - Sept. 22, 2023
10 Metal Bands Who Followed Up a Classic Album With a Total Dud
Following up greatness is not easy. At least, not for these 10 metal bands.