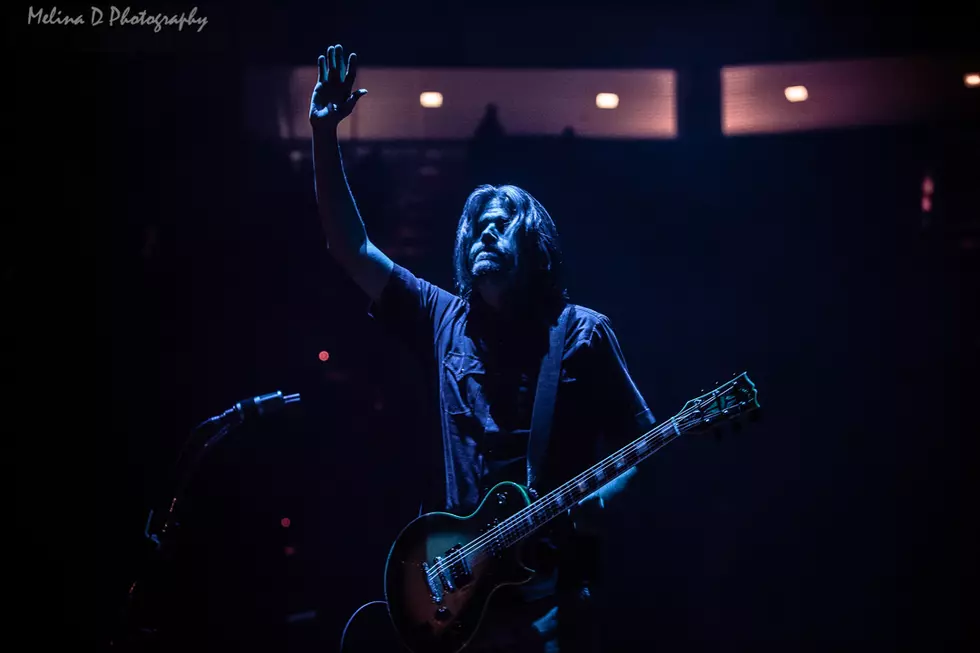 Tool Electrify 'San Diego Bay' With Primus + 3Teeth – Exclusive Review + Photos
Photo Credit: Melina Dellamarggio
With a much-anticipated new album in the works, what more could Tool fans ask for but a tour to accompany it?
On a cool January night, San Diego's Viejas Arena provided a packed house. Attendees from all over the country flocked to see the show, waiting outside the doors as early as 3PM with their tickets in hand. After two dates in San Francisco, it was San Diego's turn, and fans were ready.
Taking their seats, concertgoers were in for a treat as 3Teeth took stage. Hailing from Los Angeles, the band, fronted by Alexis Mincolla, has a dark, industrial feel inspired by the likes of Nine Inch Nails and KMFDM. Many were surprised by their powerful stage presence and there is no doubt that they gained a new following that night.
After a brief change over, excited fans were ready for the next act, Primus. With the familiar "Wonka-Factory" set that the band has been performing the past couple tours, it came as no surprise that this was a recurring theme. Giant mushrooms accompanied Les, Ler and Tim on stage as they played classics like "My Name Is Mud" and "Mr. Krinkle."
Finally, the long-awaited Tool set was about to begin. A few shouts and screams could be heard from the crowd as the stagehands set up Tool's equipment and prepared for what was to be a night to remember. Without warning, the lights shut off and the arena went dark as familiar shadows walked onstage and positioned themselves in their respective places, acknowledging the crowd with a wave as they reached for their instruments.
A familiar sound then came from Adam Jones' guitar as the start of the eleven-minute song, "No Quarter," rang out, serving as a fitting tribute on the anniversary of Jimmy Page's birthday. Danny Carey could be heard tapping on his ride cymbal, as Justin Chancellor's bass came in and Maynard James Keenan began to hum. The night continued on with Maynard's antics, making fun of a prior night's show in San Francisco by changing the lyrics in "Opiate" to "metaphorically rape" (with a metaphorical rhinoceros tusk) and "Aenima" lyrics to "San Diego Bay," saying that we were all doomed because we share the same fault line as San Francisco.
With a range of songs played dating from 1996's "46 & 2" to 2006's "Vicarious" to the new, unidentified song "Descending," one common denominator still stands for Tool: After 25 years they still put on an incredible show that combines intense musical collaboration with stunning visual effects designed to stimulate the senses. From San Diego, Tool's tour will continue into Texas and onto parts of the Midwest. This is definitely one concert you will not want to miss.
See Where Adam Jones Ranks Among the Top 50 Hard Rock + Metal Guitarists
10 Weirdest Maynard James Keenan Onstage Outfits