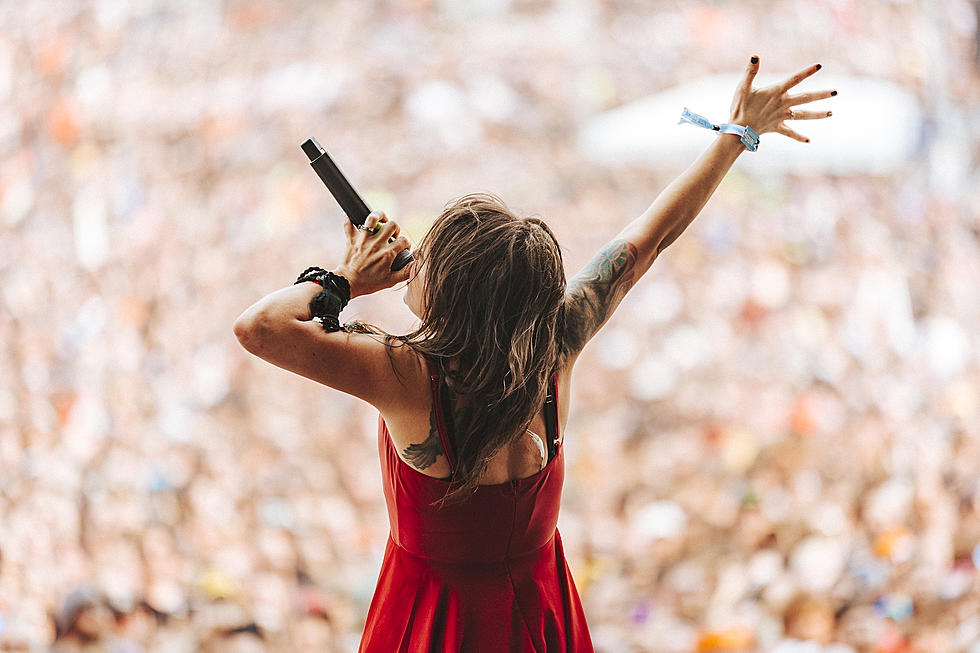 Lacey Sturm Explains Why Flyleaf Only Have One More Reunion Show Planned
Steve Thrasher for Inkcarceration Festival
Late last year, Flyleaf announced they had reunited with classic singer Lacey Sturm, eyeing a return to the stage in 2023. But it appears that a handful of festival appearances and a couple other gigs could be all this reunion has in store for fans, meaning there might be just one chance left to see this lineup for now.
In an interview with Iowa's Rock 108 (KMFW), Sturm reveals that there are a litany of circumstances surrounding Flyleaf's brief return with her at the vocal helm for the first time since 2012.
The classic lineup that recorded the 2005 platinum self-titled debut and 2009's Memento Mori played their first show back together in April earlier this year in Belton, Texas at Schoepf's Backyard, a BBQ restaurant that is also home to live music. Since then, it's been almost all festival stops, the most recent being Inkcarceration Music & Tattoo Festival, which was held last weekend (July 14-16).
On July 1, before stepping onstage at Summerfest in Milwaukee, Wisconsin, Flyleaf performed a brief acoustic set earlier in the afternoon at American Family Insurance House, also in Milwaukee.
"We just have these five festivals [Sick New World, Rock Fest, Upheaval, Inkcarceration and Blue Ridge] — actually, we just added these two on last minute — but we just had the five festivals booked with Flyleaf. And that was all that we had," Sturm tells Rock 108 of the band's immediate plans (transcription via Blabbermouth).
The rest is uncertain however as Sturm goes on to say, "Moving forward, again, with the families, and the band members have families, it's hard to figure out how to, like… what does it look like? So that's all we have planned with Flyleaf."
Balancing family/personal lives amid the demands of being a touring and performing band has layers of complexities and it sounds like Flyleaf are in no rush to upheave that harmony.
The band's next and only other scheduled show is at the Blue Ridge Rock Festival in September. See the fill lineup here.
Sturm, however, has other plans to remain musically active and is approaching the release of a new album, made in collaboration with her husband Josh. Together, they released Soundtrack Vol. 1 under the moniker Reflect Love Back in 2019.
"The solo project stuff I do with my husband. It's been in the works for, like, five years, another album. And so we just put out a song a couple of days, which coincided with these shows, which was just — I don't know — it just all converged. It was not intentional, really. But it all worked out. So here we have a song coming out, and hopefully we'll have an album out at the end of August that we've been working on for five years. It's sort of all coming together," the singer explains.
Watch the full interview below.
Lacey Sturm, Interview With Rock 108
Flyleaf Setlist — July 16, 2023 at Inkcarceration Festival (via setlist.fm)
01. "Fire Fire"
02. "Again"
03. "Chasm"
04. "Freedom"
05. "Something I Can Never Have" (Nine Inch Nails cover)
06. "Cassie"
07. "Call You Out"
08. "Sorrow"
09. "Fully Alive"
10. "Arise"
11. "Cage on the Ground"
12. "I'm So Sick"
13. "All Around Me
Best Rock + Metal Albums of 2023 (So Far)
A chronological look at the very best albums in heavy music to come out so far in 2023.