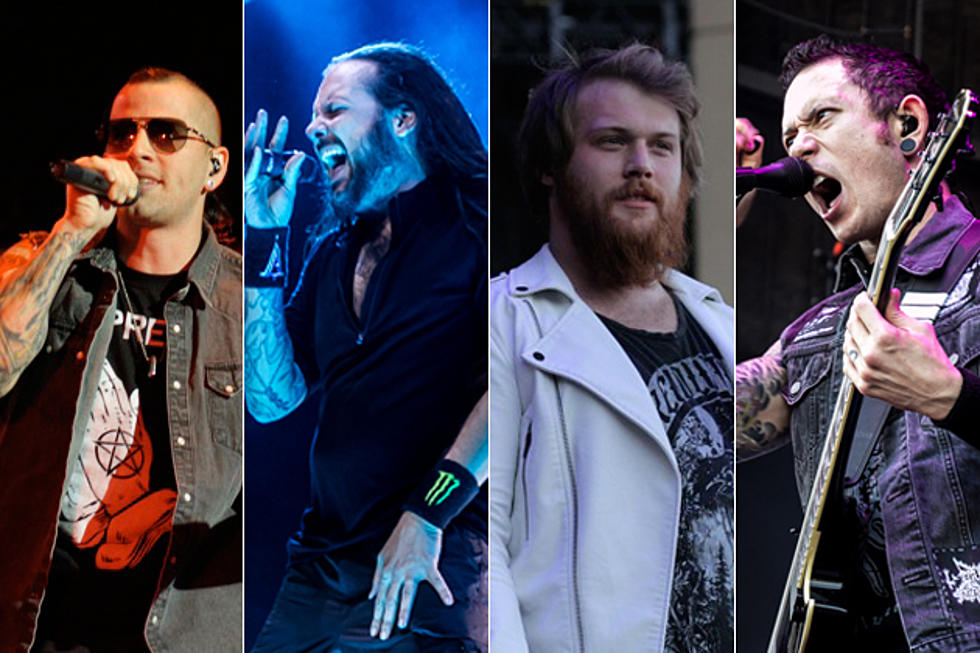 Avenged Sevenfold + Korn Rock Main Stage at 2014 Mayhem Kickoff: Recap + Photos
Charles Epting, Loudwire (2) / Kathy Flynn, WickedGoddessPhotography.com (2)
Closing out the night, Avenged Sevenfold played an incendiary headlining performance that kicked off with the recent single 'Shepherd of Fire,' followed by fan favorites 'Nightmare' and 'Bat Country.' The band offered up a tribute to their late drummer The Rev by playing 'Seize the Day,' a change of pace from their past tributes to the drummer -- 'So Far Away' and 'Fiction.' Their performance also included the title track of the 'Hail to the King' album plus 'This Means War,' and fans went crazy for the live show rarity 'Burn It Down' making its way into the set. After taking a breather, the band returned for an encore that included 'A Little Piece of Heaven' and the 'Waking the Fallen' standout 'Unholy Confessions' as the show closer.
Despite being the second-to-last act on the lineup, Korn played the longest set of the night. The group played an electric set, with the energy level significantly raising when they took the stage. 'Falling Away From Me' opened the night, while the driving 'Got the Life' got the crowd moving. 'The Paradigm Shift' played a big part in the band's shift, as 'Love and Meth,' 'Spike in My Veins' and 'Never Never' all received big responses, while the brand new single 'Hater' proved to fit right in with the band not missing a beat. Korn's set concluded with Jonathan Davis crediting the crowd with dancing along to 'Freak on a Leash' and then acknowledging 20 years since the release of their first album by playing the set closer 'Blind.' Making it a family thing, Davis and bassist Fieldy brought their kids up onstage to let them rock along with the band during the finale.
Asking Alexandria took the stage as the sun was setting in San Bernardino, doing their best to pump up a crowd beaten down by the heat during the day. The stage was decorated with a pair of giant colored "A's," as they opened their show with 'Don't Pray for Me' off the 'From Death to Destiny' album. The set was heavy on their latest album, with 'Breathless' serving as the only older song turning up during the performance. Frontman Danny Worsnop eventually got the crowd back into it, with many pogoing along to 'Break Down the Walls.' The band also used their set to serve up the live debut of 'Moving On' from the 'From Death to Destiny' collection.
Trivium opened the main stage playing a pummeling set. Highlights included the 'Vengeance Falls' favorite 'Strife,' the brutal 'Anthem (We Are the Fire)' and the set closing 'In Waves.'
Check out our photo gallery from Day One of the Rockstar Energy Drink Mayhem Festival Main Stage below. And see our recap of the various side stages by clicking the red button at the bottom of this post. For tickets and a list of remaining dates, click here.
Loudwire's Chris Epting, Charles Epting, Kathy Flynn and Chad Childers contributed to this report + gallery.