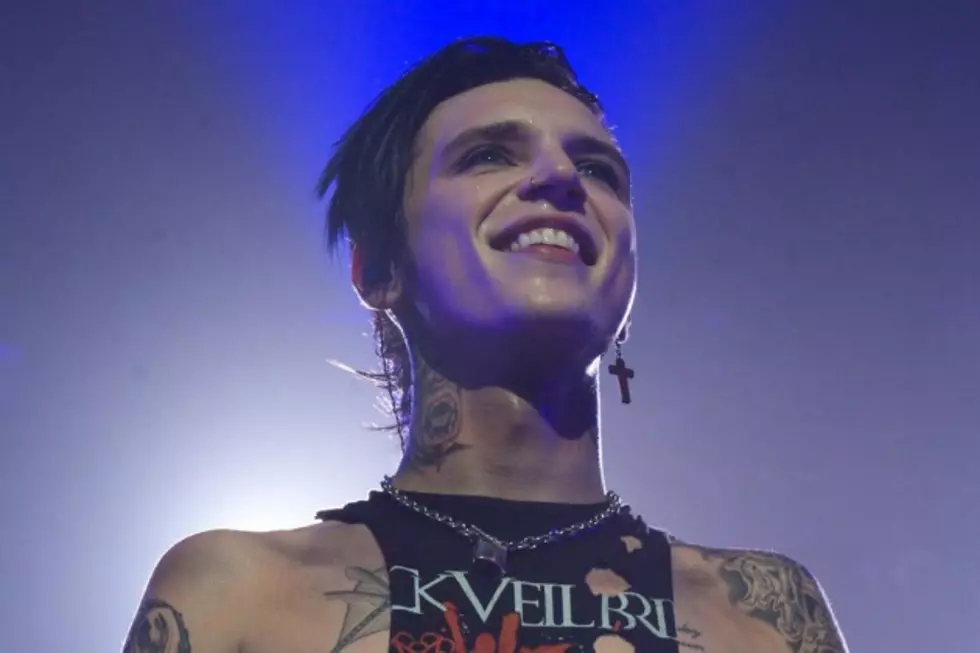 Black Veil Brides' Andy Biersack Talks 'Alive and Burning' DVD, Warped Tour + Future Plans
Eagle Rock / Photo by Scott Uchida
Black Veil Brides are having a pretty stellar summer. The group is headlining the Vans Warped Tour, they're supporting a new concert DVD called Alive and Burning (which was voted by Loudwire readers as the July Release of the Month) and behind the scenes, the creativity just keeps flowing. Loudwire had a chance to chat with Black Veil Brides frontman Andy Biersack about the new DVD and we also got updates on Vans Warped Tour and his future recording plans. Check out the interview below.
First, I have to congratulate you, Black Veil Brides - July Release of the Month here on Loudwire for your DVD. Very cool.
That sounds good, I like that.
What does it mean to you knowing the fans are out there voting for you, supporting you and how much anticipation there is for the new DVD?
We've always been very fortunate for the last 6-7 years in that anytime there's been any kind of online voting type situation, our fans have always showed up and helped us out to achieve awards or whatever you want to call them. I'm real pleased and humbled by the support that the fans show. Particularly for something like a live DVD, which obviously isn't a record release -- it's a collection of songs that have already been released. But, it's something the fans have been real excited about. Today we got the numbers back and the DVD debuted at No. 1 in the U.K., and we'll get the numbers back for the States later this week. It's just been a lot of fun releasing it.
I know you guys are from L.A. Can you talk about what it meant to be able to shoot at The Wiltern and make this DVD a hometown show?
It was actually an interesting situation with the DVD, where we were out on the "Black Mass" Tour and we were contacted about a week into the tour by Eagle Rock who produced the DVD and they were asking if we had any interest in doing a live DVD and we had tried for years to get something together, but we never really felt like the live show or the presentation was really up to par to what we wanted it to be, but on that tour, I really felt like the show and the staging and setlist was really something which merited a live DVD release or a live video release. We jumped at the chance, and the obvious thing was to do it in Los Angeles and the fact that the Wiltern show had sold out well in advance, we knew it was going to be an exciting show. It all came together really well.
The production value is something that's grown for you over the years. Can you talk about how enjoyable it was to know that this was going to be what people were seeing as your live representation?
Any band that starts out, you have aspirations to think the band is going to be able to have pyrotechnics, video screens and all that stuff. We'd played in clubs for years and tried to bring as much as we could to that show but by and large, you're playing in a basement or a place where the stage is touching the ceiling. People try interesting ways to go around that by making screens or bringing special little things here and there. We were certainly always trying to innovate in what we could do with a live show. So the fact that the fan base has allowed us to grow so much to where we've been able to afford to be in bigger venues and play for more people, and really bring the show with the pyrotechnics, the video walls and everything, it's a dream come true, really. To be on that stage and have a show that, to me, represents the same feelings I had when I was seeing AC/DC or KISS or Motley Crüe as a kid -- it's a great feeling.
I know you've been asked many times about your influences but is there anybody from a stage presence or live show standpoint that has influenced what you want to put on for your live show?
In terms of stage presence for me, I'm influenced by a myriad of things. A lot of punk performers, people like Dave Vanian from The Damned and Davey Havok from AFI was a huge influence on me when I was younger. As far as being onstage, commanding presence, I've always looked up to people like Axl Rose and Freddie Mercury and Paul Stanley -- the rock gods. I've always wanted to be able to achieve that level of commanding nature onstage and really leading people at a show.
One of the first things I ever noticed about the band is how great CC is on drums. It's a nice thing that we get a little bit of a drum solo within this DVD. Can you discuss what it's like to have that guy behind you kicking ass every night?
I remember when we were making our second record, we were playing some demos for one of the producers who was potentially going to work on the record and it was a demo that we had programmed the drums on in a keyboard, Jake had done that. The producer said, with the song "Coffin," which later came out on an EP, the producer said something along the lines of, "You'll never be able to find a drummer who can do that live." We play that song every day live and I kind of laugh to myself as I hear it. Not only does he do it perfectly but he comes up with little flourishes.
He's kind of the unsung hero in the band in many ways. I wish he got as much credit as he deserves for his talents, because he's incredibly gifted as a drummer and he's also technically incredibly savvy. He knows what he's doing. He's not one of those guys who gets exhausted during the first song because he's hitting as hard he can. He has the technical skills to play for the whole set and to play well. He never screws up and it's a lot of fun to be able to stand in front of him and know that he's going to be here.
On the DVD, there's a "Meet the Fans" feature as a bonus. I know you guys are great about putting up fan tattoos and some of the artwork that fans have shared. Anything stand out to you of a more unique tribute to the band that the fans have done for you?
There's certainly many things that people have done over the years from dressing up to getting tattoos to having their makeup every day to school or work, but I would say one of the more unique things, there's a woman in New York who has her car. It's wrapped like a vehicle wrap with a picture of us from the promotional shot of Set the World on Fire. I'll see people that I know in the touring community take pictures with the car, like "Oh I saw your car on the freeway" or whatever. It's kind of a funny, well known part of the band's fandom -- the famous BVB car.
In terms of the packaging, love the photo on the cover and there's some pretty impressive artwork within the booklet as well. Let's give some credit to the artists.
It's Richard Villa, who has done all of our album covers. He did the illustration on the cover. We're the type of band who has always had very theatrical over-the-top artwork on our record. I wanted this DVD to represent that same thing. If you look at it, it has elements from almost all of our album covers. The colorization and style is the same of Set the World on Fire. There's imagery from We Stitch These Wounds. The little beaming character, Legion is his name, from our last album cover. The imagery of us, similar to the stuff that's in the interior booklet of Wretched and Divine. It's kind of nice little amalgam of all of our album covers and I thought it would be a fun presentation for the fans and as far as the artwork inside.
One of our close friends Scott Uchida is a great photographer, he's been taking photos of us live for years and years so we thought, what better way to represent the DVD than someone who's at the venues with a very comprehensive photo booklet with lots of great live photos and illustrations inside.
You're on the Vans Warped Tour this summer. I know you've played it before but what is it about the tour that keeps you wanting to come back for more?
It's like going home in a way. We know everybody so well after years of doing it. We have such a good relationship with Kevin Lyman and everyone on the production end. I grew up going to it. I was standing there the other day and I was watching the stage and I started to think about being 12-years-old and watching Rancid and Dropkick Murphys and all these bands I grew up loving on that stage, the same stage that we go on every day. There's a feeling of, I guess, childhood accomplishment of being on the tour. Being able to be one of the headline bands on Warped Tour was a dream I had since I was in middle school. Being able to do that, any chance we get, we always like to come back.
Looking at the setlists for recent shows, obviously "Heart of Fire," "Faithless," "Goodbye Agony" are all things that have come off the album already but I'm noticing "Crown of Thorns" in there. Is that the next track now getting the spotlight for the band?
Yeah, we included that on the Warped Tour compilation CD. They included one of our songs, "Crown of Thorns." It's one of my favorites. The interesting thing about that song is that I very rarely like to reuse elements of songs if they go unused for a record. I feel in many ways that if something wasn't good enough to make the cut the first time, it's probably not good enough to make the cut the second time. But that song was actually written as a completely different songs with different lyrical content.
Just the melody was there right around the time of Set the World on Fire. It was just something that has always stuck with me and I love the melody, but there was no way to place it. It didn't really work in the context of the concept record, so we didn't really know what to do with it. Around the time we started working with Bob [Rock], we played him the demos and that was one that really stood out to him so we really started building it up and it was a real group effort. I feel like it's one of the strongest songs, certainly lyrically for me. It's one of my favorite songs that I've ever written.
On Warped Tour this summer, I saw you were hosting workshops for The Entertainment Institute. Can you speak a little more to what that is?
I was contacted by the TEI folks about doing a class and many of the people on Warped Tour do classes, and it was centered around the music industry and teaching kids guitar lessons or how to make it or any of these things. While all of them are valid, they were all things that I felt like I didn't certainly feel like I wanted to teach. The thing that I know I'm good at is, I guess, the pursuit of personal knowledge. I wanted to try and help kids that felt like maybe their school system had let them down or if they weren't getting enough or didn't feel like they were being intellectually stimulated in any way. So that's the goal of my class I'm doing this summer, is to give kids the ability and means to ask questions from someone who has gone through things not too dissimilar to what they've gone through and maybe they can find a way for getting the ultimate means of knowledge and researching things and building up their comprehensive understanding of the world around them.
One of the things that upsets me the most is that there is no cognitive reasoning classes in school. There's no way to prepare children for adulthood and with funding being cut more and more for teachers and the teachers' curriculum being shaved down. At least in the United States you're seeing stronger and stronger people who are kind of dumb, and I hate to see that. I want to encourage young kids who listen to us to get out there and read books and research things to develop their adult minds before they get to that point so they have job skills and the ability to do things when they become adults.
What's on the horizon for you? I saw there may be more Andy Black music in the works.
Yeah, I've been working on the Andy Black record really for the better part of the last year. The beauty of it is that there's no timeline, really. I can kind of take my time and put together something where I feel like I have a complete record, so I'm getting there. I feel like I'm at the point where I'm going to be pretty close to getting in the studio and actually recording the record. As far as writing, I've got 30-40 songs done that I feel are strong. Now it'll just be whittling it down to the best ones. Finding the best elements of it.
As far as Black Veil Brides, you're going pretty strong on this record but any thought about new music yet?
Yeah, to be honest, I think we'll probably finish up this touring cycle then maybe take a little time to write and then I wouldn't be surprised if early next year we're back in the studio.
That's great, thank you for your time.
Thank you, appreciate it.
As stated, Black Veil Brides' Alive and Burning DVD and Blu-Ray is out now. And you can catch the band on the Vans Warped Tour at these stops.
Black Veil Brides Play 'Wikipedia: Fact or Fiction?'
100 Metal Facts You May Not Know