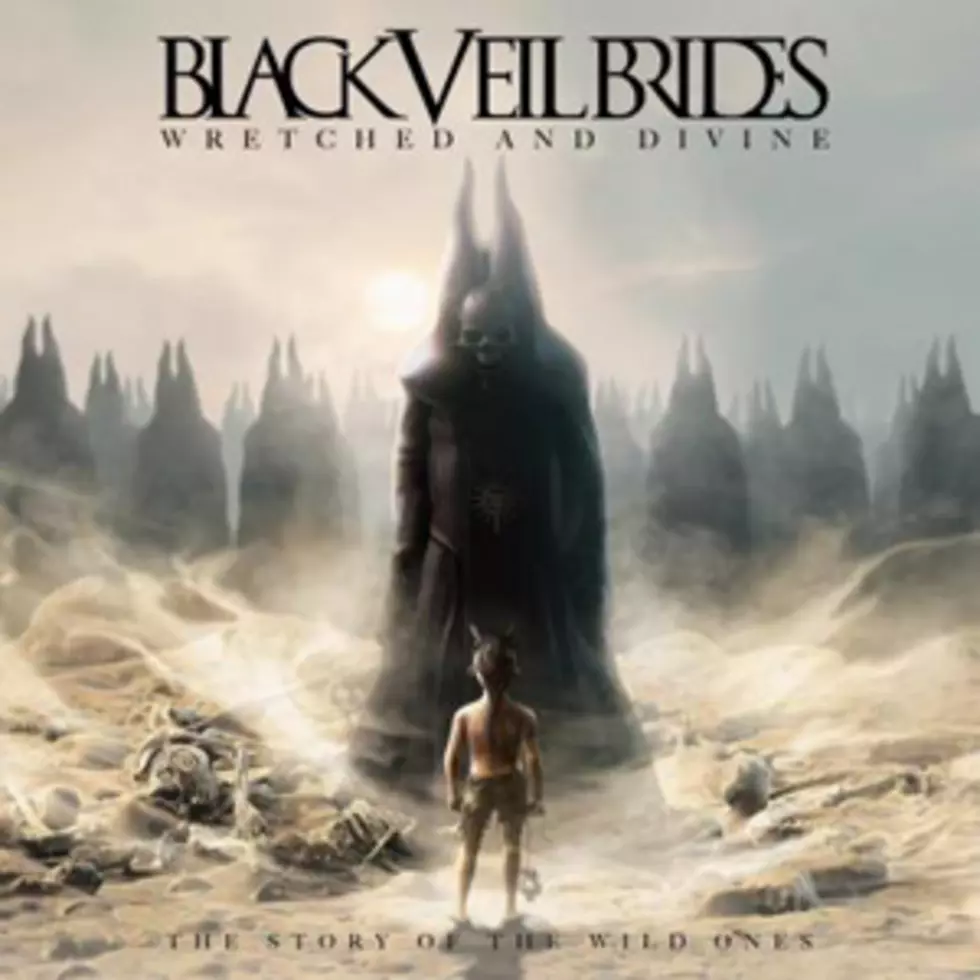 Black Veil Brides, 'Wretched and Divine: The Story of the Wild Ones' – Album Review
Lava/Universal Republic
Black Veil Brides kick off 2013 with the release of their third studio album, a concept record titled 'Wretched and Divine: The Story of the Wild Ones.'
With 19 tracks, this massive opus begins with 'Exordium,' one of several spoken word cuts on the disc. It speaks of religion, God, inner strength and more.
'In the End' is the first single off the album and leads a series of anthems such as 'I Am Bulletproof,' ' New Years Day,' 'Devil's Choir,' and 'Nobody's Hero.'
Throughout the album, guitarists Jake Pitts and Jinxx provide stellar riffs, while Ashley Purdy delivers pounding bass lines and Christian Coma offers some thunderous drum patterns on the skins. Despite the heaviness, there are also flashes of beautiful orchestration album, especially on the instrumental piece 'Overture.'
Frontman Andy Biersack shows off his softer side in tracks like 'Done for You' and 'Lost It All,' the latter of which features Biersack's girlfriend, Juliet Simms, a finalist on 'The Voice'  and member of the band Automatic Loveletter.
Black Veil Brides also call on some of their other comrades, such as the Used's Bert McCracken, who offers his raw vocals on the track 'Days Are Numbered,' which features a 'Crazy Train' like riff throughout.
Wil Francis (of Aiden and William Control) is the voice of Fear on the record's powerful spoken word tracks 'F.E.A.R.: Transmission 1: Don't Stay' ' F.E.A.R. Transmission 2: Trust,' 'F.E.A.R. Transmission 3: As War Fades' and ' F.E.A.R. : Final Transmission.'
In our interview with Biersack, he talks about the 'F.E.A.R.' tracks by saying, "I've sort of just like the whole Orwellian, dystopian future – I like the idea that it doesn't seem to crazy or far off that there could be someone who is this omnipotent, omniscient power that tells you what to do."
Biersack continues, "I like the idea of having the narrative told through the perspective of the bad guy more than anything else. You rarely ever hear something narrated through the villain's perspective and it was fun."
Other notable tunes on the album include the title track, 'Wretched and Divine,' which maintains a balance of heaviness and melody, and 'We Don't Belong,' which has soft yet menacing vocals in its verses, mixed with a catchy chorus.
Biersack shows a bit of vocal range with 'Resurrect the Sun,' where he starts off soft and almost lullaby-like, but then belts out the chorus. Meanwhile, 'Shadows Die' is a rollercoaster of emotion and tempo that is one of the best, if not the best track, on the album.
For a relatively young band that has achieved a rabid fan base in such a short time, Black Veil Brides could have rested on their laurels and delivered a standard rock album. However, 'Wretched and Divine: The Story of the Wild Ones' is an ambitious effort that shows the band is willing to take chances in their fast-rising career.