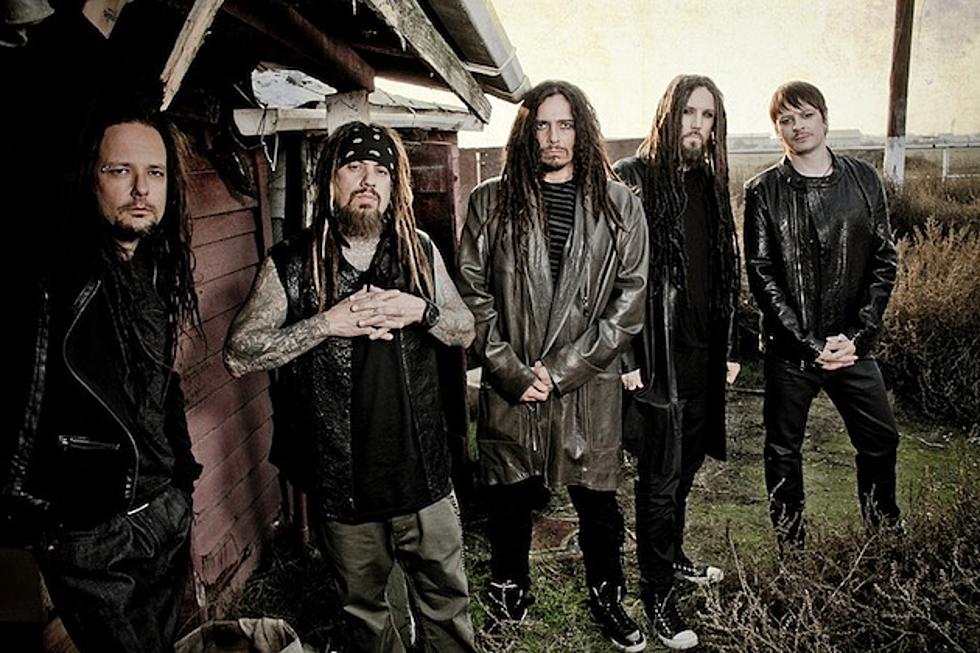 Brian 'Head' Welch Performs First Full Set With Korn Since 2005 Departure
Roadrunner
Last night (May 15), Brian 'Head' Welch returned to the stage with Korn to perform his first full set with the band since leaving the multiplatinum act in 2005. A packed crowd in Belle Vernon, Pa., were the lucky bunch to witness Welch's return, and we've got all the details from the gig for you to sink your teeth into.
Just over one year ago, Welch shocked the 2012 Carolina Rebellion Festival crowd by taking the stage with Korn to perform 'Blind.' Ever since, the reconciliation process has brought Welch back into Korn full-time, as the band is currently set to embark on a massive set of tour dates in 2013. Not only that, but Korn just announced that they have finished recording a new album with Welch on board for its entirety.
Korn began their May 15 show with 'Blind.' There couldn't have been a better launching point to celebrate the return of Welch, proven without a doubt by the Belle Vernon crowd, who exploded after singer Jonathan Davis belted out the iconic line, "Are you ready?!"
We recently recruited Welch as our newest Loudwire columnist, and the guitarist plans to keep fans in the loop as his newest journey with Korn begins. "I'd really like to journal where this road back to KoRn carries me," writes Welch. "I'd love for all of you to travel with me back into the family that I left behind so long ago. I'd love for you to be with me as I return to the boys to see if this idea totally crashes, or turns into a long-term thing — either is very possible at this point to be totally honest."
Check out Korn's full setlist from Welch's first show back with the band below. There are some low-quality fan-filmed videos of the show on YouTube, if you wanna check out some of the footage from last night.
Korn - May 15 Setlist:
01. 'Blind'
02. 'Ball Tongue'
03. 'Twist'
04. 'Chi'
05. 'Falling Away from Me'
06. 'Narcissistic Cannibal'
07. 'Dead Bodies Everywhere'
08. 'Coming Undone'
09. 'Did My Time'
10. 'Shoots And Ladders / Somebody Someone'
11. 'Here To Stay'
12. 'Kill Mercy Within'
13. 'Helmet In The Bush'
14. 'No Place to Hide'
15. 'Need To'
16. 'Lies'
17. 'Another Brick In The Wall' (Pink Floyd cover)
Encore:
18. '4 U'
19. 'Get Up!'
20. 'Got The Life'
21. 'Freak On A Leash'