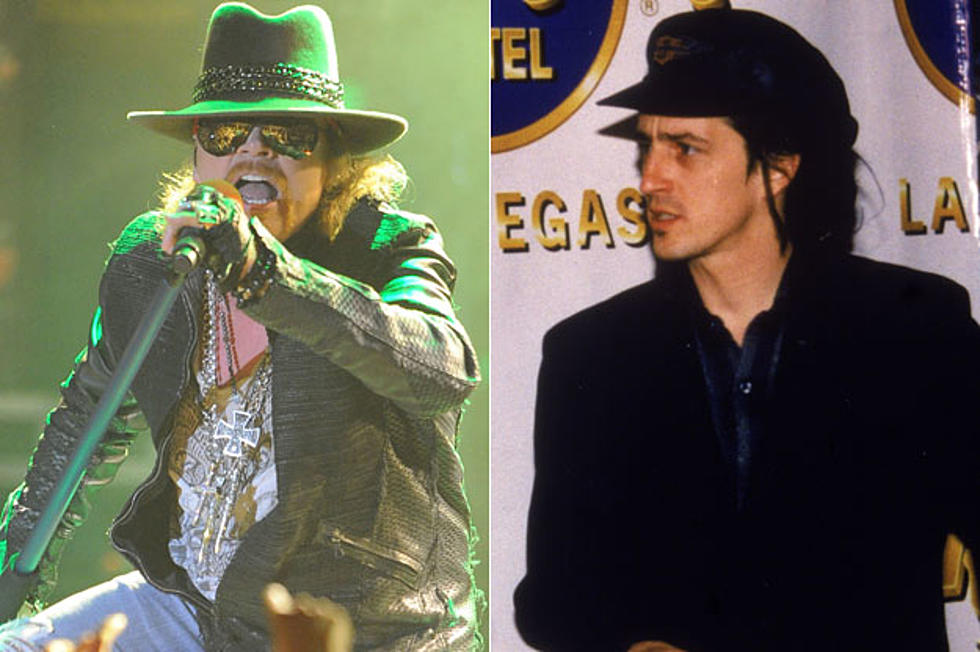 Guns N' Roses Joined Onstage by Izzy Stradlin During Final Two Las Vegas Residency Shows
Jason Merritt / Scott Harrison, Getty Images
Guns N' Roses just completed their 'Appetite for Democracy' residency in Las Vegas on Nov. 24, and fans who attended the final two shows were gifted with an pleasant surprise. Former GN'R guitarist Izzy Stradlin joined the band onstage for a number of songs throughout the band's sets, including '14 Years,' 'Knockin' on Heaven's Door,' Used to Love Her' and 'Paradise City.'
It's difficult to gauge the relationship between Stradlin and GN'R singer Axl Rose is in modern times, but there seems to be a mutual admiration for one another. In May 2006, Stradlin joined GN'R onstage in New York City for the first time in 13 years, and earlier this year, Stradlin performed with Guns at London's O2 Arena. It should be noted that both Rose and Stradlin skipping Guns N' Roses' 2012 induction into the Rock and Roll Hall of Fame.
Known to be somewhat of a recluse in his personal life, Stradlin thrilled die-hard GN'R fans during the Nov. 23 and Nov. 24 Vegas dates, playing six tracks during one show and five the following day. Check out video footage of '14 Years' below.
Stradlin has released 11 studio albums since 1992, with his most recent musical contribution being the new single 'Baby-Rann.'
Could Stradlin's increasingly frequent GN'R live cameos lead to something monumental in the future? We'll be watching for it, so stay tuned as more Guns N' Roses news continues to break.
Guns N' Roses with Izzy Stradlin Perform '14 Years'